Tau Delta Gamma
Tau Delta Gamma is an organization of nearly 60 women built on the lasting belief in the importance of sisterhood and friendship. Our organization strives to prepare and encourage people to serve both the Luther and Decorah, IA community and encourage/support one another through the obstacles and achievements of life. We work to create lasting friendships as well as helping the community around us through service projects both on and off campus. The network of sisterhood is believed to instill the strength to mature all members into strong leaders of society. Sisters. Tau Delta Gamma, not four years but for life.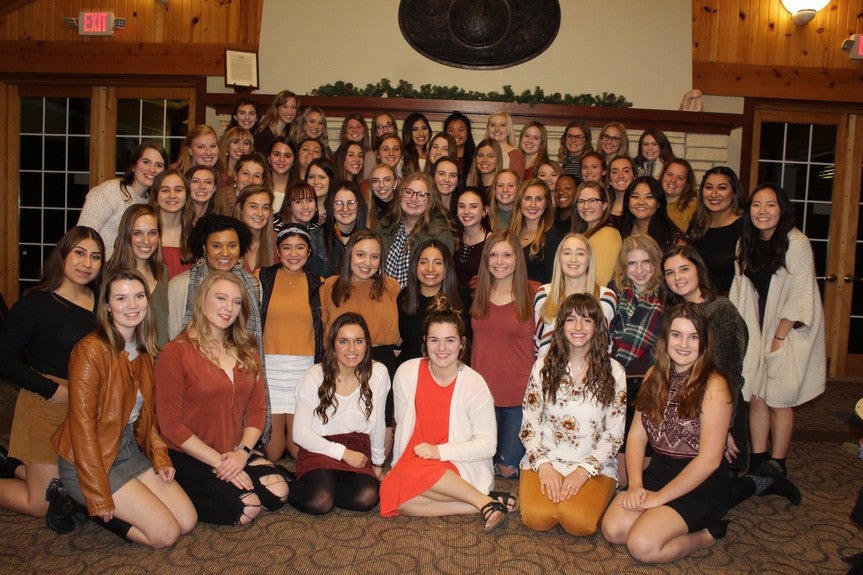 Mission Statement
Tau Delta Gamma exists as an organization due to the lasting belief in the importance of sisterhood. Within our community atmosphere we accept, support, and embrace each member's individuality through the celebration of friendship. The organization shall strive to develop leadership and citizenship within its members and to promote cooperation and fellowship that develop into lasting friendships.
Nickname: TDG, Tau Delts
Founding: 1955
Colors: Royal Blue and Pink
Symbol: Pearl and Infinity Sign
Executive Board
President: Caitlyn Hayden
Vice President: Lauren Meier
Secretary: Maya Mukamuri
Treasurer: Tamara Luna
Senior Pledge Trainer: Emma Estenson
Junior Pledge Trainer: Lucero Estrada
Inter-Greek Council Representative: Helen Roets
Sister Relations and Social Engagement Chair: Maren Gabor
Social Chair: Lilly Streich
Fundraising Chair: Maddie Gregurek
Service Chair: Stephanie Nevarez, Emma Syers
Historian: Anna Northenscold
Philanthropy and Service
Tau Delta Gamma actively volunteers in the Decorah, IA community by participating in Phonathon, Christmas Cheer, and volunteering their time at Aase Haugen Nursing Home, the Humane Society of Northeast Iowa, and Luther College Dance Marathon. Tau Delta Gamma hosts a variety of service events including a blood drive in the spring as well as putting on their annual Bowling for Boobies event that supports the local Winneshiek Celebration of Life. The sorority also sponsors and cleans up a stretch of Highway 52 just outside of Decorah.