Student Activities
Jenna Mockler-Gjerde
Director of Student Activities
Dahl Centennial Union 106
Send Email
Phone: 563-387-1567
Student Senate
Student Senate is the primary means for student participation in the governance of the Luther College community.
Our mission is to serve Luther students and student organizations by providing them with resources to achieve their goals and to connect faith with learning and service with responsibility.
To me, Senate is one of the best ways a student can try to give back to the Luther Community! It helped me feel connected to our campus in a deeper and more meaningful way. I loved that the people working on Senate all wanted to make Luther a better place for everyone

Maddy Lomprey '22

Former Luther College Student Senate President
Student Senate is Luther College's student government organization. The Senate consists of twenty-seven student representatives elected each spring, with the addition of three first-year representatives elected in the fall. As always, feel free to email Student Senate if you have any questions, comments, or concerns.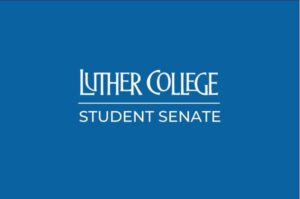 Student Activities
Jenna Mockler-Gjerde
Director of Student Activities
Dahl Centennial Union 106
Send Email
Phone: 563-387-1567