Contact Information
Habitat for Humanity
Luther College
700 College Drive
Decorah, Iowa 52101
Email:
Habitat for Humanity
"Service, sun, and smiles. What more could you want for spring break?"
"We departed to Santa Fe with the open hands of a volunteer and returned to Luther with the joint hands of a community."
Started in 1992, the Luther College Habitat for Humanity Campus Chapter (LCHFH) has been active in the community and abroad, helping to build, fundraise, advocate, and educate the Luther College community and the greater community around us.
As a Habitat for Humanity Campus Chapter, LCHFH works with Habitat for Humanity International (HFHI), in developing an ever-growing partnership with Winneshiek County Habitat for Humanity (WCHFH).  We have worked on builds in the Winneshiek area, as well as helping with fundraising and advocacy events with our county affiliate. We have also worked with a few other Habitat chapters in the region.
Luther College Habitat for Humanity organizes several awareness and fundraising events each year, as well as participating in as many house builds in the area. This gives students on campus a great opportunity to volunteer their time and to make a difference in their community.
Learn More
You can also check out Luther Habitat online in any of the following ways:
Email habitat@luther.edu if you have any questions or would like to get involved in some other way.

Official Luther College Habitat for Humanity Campus Chapter Logo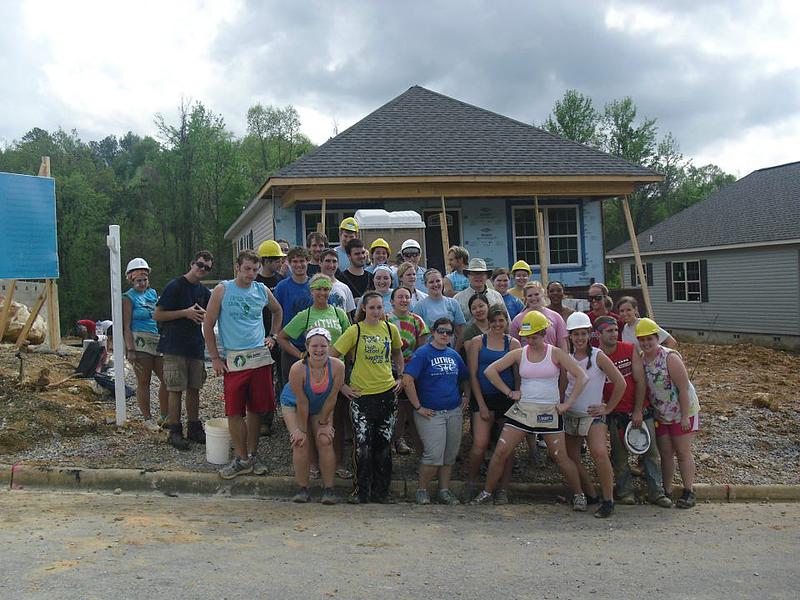 A completed house from a Habitat for Humanity trip.
Contact Information
Habitat for Humanity
Luther College
700 College Drive
Decorah, Iowa 52101
Email: