Luther Journeys
Meet six students from the class of 2023 who shaped and were shaped by their Luther experiences. Photos by Nick Greseth '23.
Economics research superstar
Cecília Gomes didn't hesitate to accept a scholarship from the United World College in Hong Kong when she was just 17—despite the fact that it would take her some 7,000 miles away from Angola, her home. "I wanted to be part of something bigger than myself," she says. "I was drawn to the mission of bringing people from all over the world together to work on peace and a sustainable future."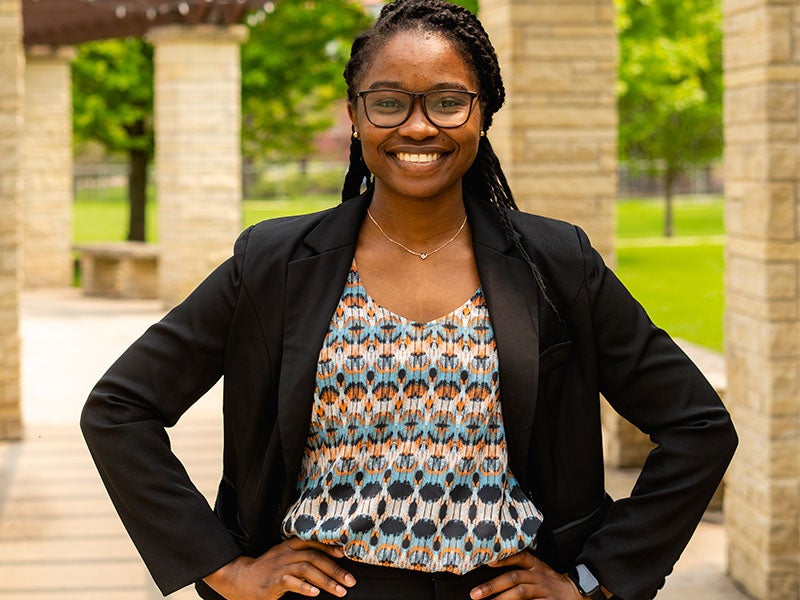 Two years later, she brought the same fearless, can-do spirit to Luther, where she majored in economics and management and discovered a knack for conducting econometrics research. Her area of interest? Development economics. "I love the idea of collecting insights from research projects to contribute to the improvement of society," she says.
Through Luther's Research Scholars Program, Cecília received a summer grant to investigate the impact of US foreign aid in sub-Saharan Africa and the Middle East and North Africa regions. She presented her findings at two conferences, including the International Conference on Sustainable Development, where her paper was recognized as one of the top seven among more than 300 authored by students worldwide. In typical self-effacing fashion, Cecília credits Luther faculty with helping her earn that honor: "My professors went above and beyond to make sure I was prepared to turn my research ideas into a high-quality paper," she says.
This past year, Cecília stretched her wings yet again, spending her final months as a Luther student in the nation's capital through the Lutheran College Washington Semester. There she took classes and completed an intensive internship with LINK Strategic Partners, a social-impact consulting firm. Upon her return to the Luther campus just prior to graduation, she was inducted into the Omicron Delta Epsilon honor society.
Cecília's journey has inspired her to set her sights on graduate degrees in development economics and business administration. "There is so much we can all learn from economic theories," she reflects. "When combined with hands-on projects, they can truly help us improve the well-being of people and the planet."
—Sara Friedl-Putnam
From the wrestling mat to the courtroom
All-American wrestler Donovan Corn may have competed in his last match for the Norse, but he isn't anywhere near ready to leave his proverbial shoes on the mat.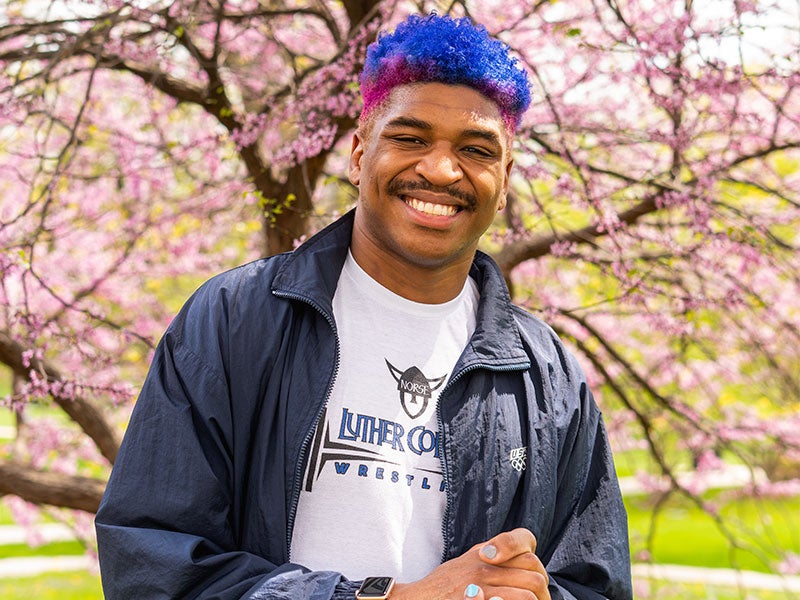 Just days after graduating from Luther with a degree in political science, he packed those shoes along with the rest of his belongings and headed to Minneapolis to train at a professional wrestling academy co-owned and operated by Ken Anderson, a former professional wrestler perhaps better known by the ring name "Mr. Kennedy."
"It sounds crazy when I tell people that I want to wrestle professionally before attending law school," Donovan says with his trademark broad smile. "But it makes sense when you see the path my life has taken."
His life has included wrestling practically from the start. Donovan, then living in Chicago, was just six when he first stepped on the mat. "My wrestling has carried me through so much, including the loss of my father," he reflects. "It has been one of the few consistent things in my life thus far."
When Donovan and his mother, LaDonna, a Luther Parents and Family Council representative, moved to Arizona in 2016, it was wrestling that helped him figure out where he would head after high school. His coach at Hamilton High was none other than Zac Bartlett '09, who captured a national championship at Luther. Zac encouraged Donovan to visit the college and meet with Dave Mitchell, head wrestling coach. The rest, as they say, is history.
At Luther, Donovan formed close friendships with many of his teammates, classmates, and professors (including Carly Foster, professor of political science). He served as a leader in the Black Student Union and Student Senate. He sang in various Luther choirs. Plus he excelled at wrestling, capping his career with a third-place finish at 184 pounds at nationals this past winter.
"I worked as hard as possible and tried to learn as much as possible here," Donovan says. "I believe Luther has helped prepare me for success, both as a wrestler in the ring and later as a defense attorney in the courtroom."
—Sara Friedl-Putnam
A masterful collaborator
The last week of classes, Eric Head of Fairmont, Minn., was leaning hard on Google Calendar: "You know the appointment feature? It's a lifesaver." In addition to his Commencement ensemble commitments, he was piano accompanying 30(!) student juries, most of which involved three to four pieces.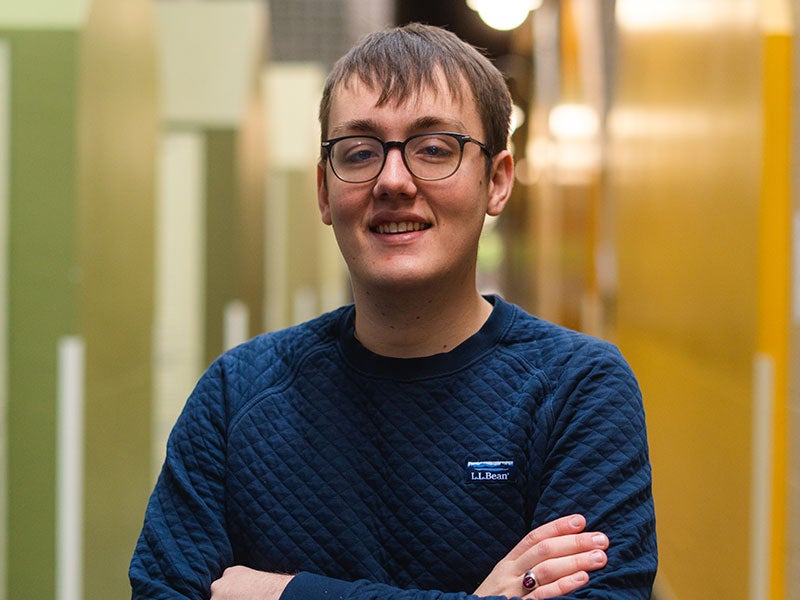 Eric has been an invaluable resource for Luther music department faculty and students. He started accompanying seminar classes his first year. Over the next few years, he played the piano for the theatre department, opera workshop, Dorian summer camps, over 150 student juries, and about 50 recitals. He also played violin for four years in Symphony and Chamber Orchestras. He won Luther's Rosholt Distinction in Accompanying Award in 2021 and 2022, Concerto Competition in 2021, and Presser Undergraduate Scholar Award in 2022.
Eric gets a lot of joy from collaborative piano, from creating something in community. He also loves the breadth of experiences that accompanying allows him. From recitals to musicals to seminars, "There are about five centuries of music that we have access to," he says.
A music and communication studies double major, Eric's diverse commitments really let his communication skills shine. Whether working one-on-one with a fellow student or acting as a leader in Symphony Orchestra—he was president or VP for three years—he fosters relationships.
His skill in this area served the college in good stead during his three years as a reunion giving student assistant in the Development Office. "It's a whole other world here that I've been a part of," he says. "Music, communication studies, and my work in Loyalty Hall have all existed in different places on campus, but they intersect in such a beautiful way." Eric was also a three-year member of Student Philanthropy Council and president his senior year.
This fall, Eric starts a master's program in collaborative piano under one of the foremost teachers in the country at the University of Michigan. In reflecting on his time at Luther, he says, "I've just been so overwhelmed by the support and the high level of musicianship of both my faculty and peers. I'm in awe of who I got to work with and study under every day."
—Kate Frentzel
Engaging with global issues
Cambridge, Wis., native Hannah Hoffmann saw Luther as a place, she says, "where I could be comfortable but still have people push me to experience new things." She played on Luther's basketball team her first year but then decided to step outside her comfort zone.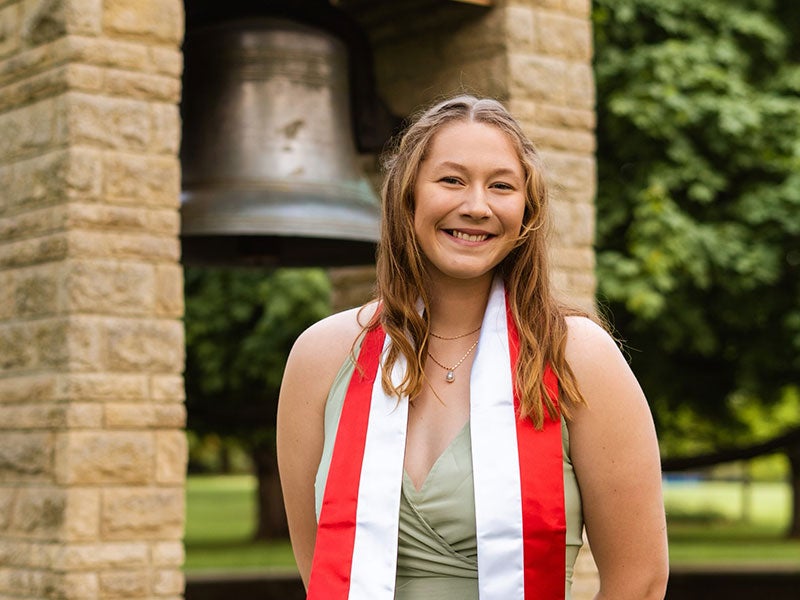 When Hannah reached out to faculty advisor Orçun Selçuk about joining Model UN, he said, "Sure! You compete in four weeks." The international studies major jumped in with both feet. That first conference, she earned an honorable mention for her representation of Sweden. In 2021 and 2022, she won exceptional representation awards for representation of Venezuela and Albania. This past year, she served as president of Luther's chapter.
Studying abroad as an undergrad was an absolute must for Hannah, and her experience in Luther's Malta program was life-changing. She wanted to do service work there so reached out to humanitarian organizations. Migrant Women Association Malta asked her to be their copyeditor.
"It made me feel like such a small cog—in a good way—in such a big machine and how important it is to listen to people who have experienced things like migration," Hannah says. "It reinforced for me that even when you're trying to help, having that posture of 'I need the context and humility to let others lead in a situation I'm unfamiliar with' is really important."
Hannah's senior thesis centered on the continued conflict in Serbia and Kosovo. Her research period coincided with a campus visit from renowned dialogue-facilitator Steinar Bryn, and Hannah took the opportunity to invite him to stage a public talk with her about it. "It was so strange, because he's a Nobel Peace Prize nominee and I'm just an undergrad. But he took me seriously and included me in this field of work," she says.
Hannah will continue her engagement with this part of the world when she travels to Kosovo this October to teach English through the Peace Corps for two years. "These are great positions to really integrate with a community, be involved with another culture, and expand your perspective," she says. "Education is such a gateway to understanding people."
—Kate Frentzel
Pursuing breakthroughs in neuroscience
Science has fascinated Katie Dore of Long Lake, Minn., ever since her mother signed her up for a children's science class when she was just five years old. "We did fun little activities that I really enjoyed," she recalls. "Afterward, I got all these books with experiments to do at home."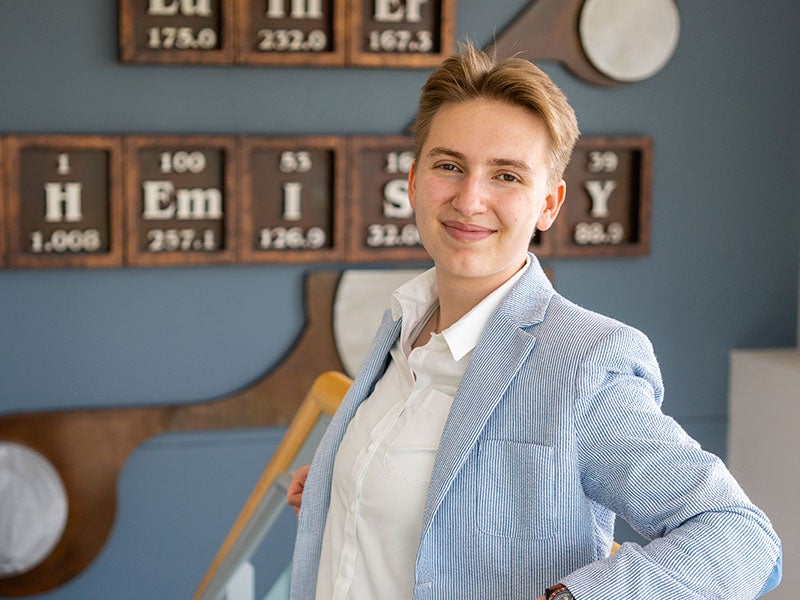 Fast forward to high school, when Katie attended "brain camp" at Muhlenberg College. There, she did psychology research involving synchronized movements to music. The fun yet formative experience spurred her to set her sights on a career in neuroscience, a goal she has tenaciously pursued ever since.
The rigorous science program led Katie to enroll at Luther, where she majored in chemistry (graduating magna cum laude) and took full advantage of research (and other!) opportunities. She signed up for the human dissection and anatomy class, which taught her the importance of collaboration with her peers. She conducted a semester-long research project in genomics. And she took a biochemistry "lab intensive" during which she spent hours every weekday during J-term conducting experiments. Ever the planner, she also made time for playing piccolo in Concert Band and competing with the Ballroom and Swing Club.
After her junior year, Katie completed a research internship at the Hormel Institute in Austin, Minn. "I was looking at how DNA repairs itself and how to disrupt that repair process so that chemotherapy can be more effective," she says. The internship inspired her application this past spring to the National Institute of Health's prestigious Postbaccalaureate Intramural Research Training Program. She was accepted and is currently hard at work at the National Institute for Neurological Disorders and Stroke in Bethesda, Md.—research made even more meaningful given her maternal grandparents' battles with Parkinson's disease.
The research program will fill Katie's next year—perhaps two. Afterward, she hopes to enroll in a dual-degree (MD/PhD) program that streamlines attaining both clinical and research doctoral degrees. Ultimately, she says, "I want to be a physician scientist who provides critical care for patients while simultaneously researching their underlying conditions to improve that care."
—Sara Friedl-Putnam
Service as a way of life
As a kid growing up in Laos, Souksakhone (Souk) Sengsaisouk earned a physics scholarship that took him to the capital of Vientiane, and then to United World College Maastricht in the Netherlands. At Luther, he switched his focus from engineering to nursing. "You can be an engineer who invents machines to treat people," he says, "but medicine is the profession where I could get as close as I can to other people."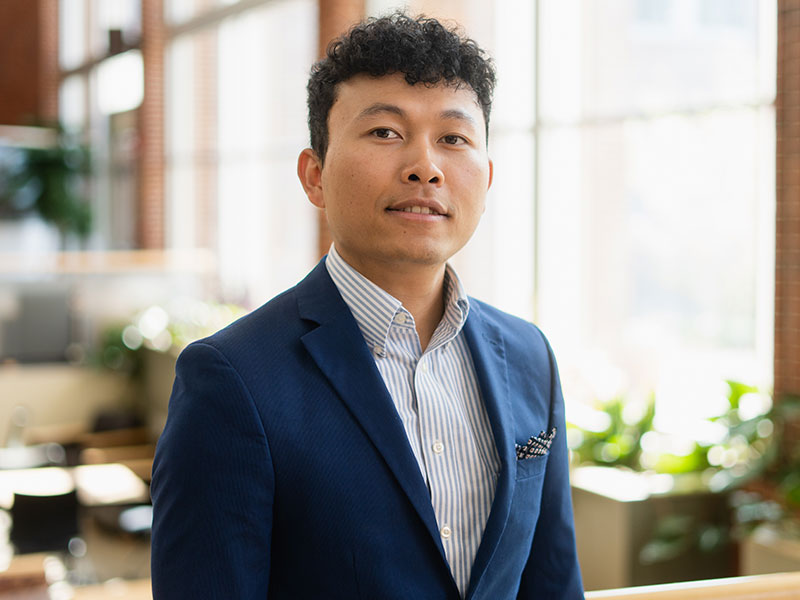 Souk's favorite quote is from Mother Teresa: "I alone cannot change the world, but I can cast a stone across the water to create many ripples." True to those words, he leaves a lot of positive change in his wake.
While at Luther, Souk organized a TEDx conference, served on several student nursing associations, co-organized two fundraisers—one for the Decorah Free Clinic and one for an oncology clinic in war-torn Ukraine—and, with a Davis Projects for Peace grant, started a seed bank in Lakhonepheng, Laos, to help offset the debt and poverty he saw among rice farmers in his hometown.
When the Decorah Community Free Clinic's director retired in 2022, Souk stepped in—as a college senior!—as interim director. He worked with staff, health care providers, and volunteers; helped treat patients or refer them elsewhere; and kept track of inventory, documentation, and legal obligations.
This fall, Souk starts work as a registered nurse at Mayo Clinic, where he interned as a junior in a profound clinical experience. While medical teams provide essential patient care and diagnoses, he was struck by the meaningful experiences nurses in particular can provide. "As you sit there, holding hands and caring for patients, that's the most memorable experience for them. That's the meaning of medicine to me," he says.
The ripples of service and care that Souk made in the past four years will continue to spread well into the future. "Luther demonstrated to me that everyone is capable of contributing," he says, "and never too small to make an impact."
—Kate Frentzel
Souk also accepted a hall director position with Luther's Rochester program, so he'll be a mentor next year for Luther students experiencing their own profound internships.