Luther College students excel at American Model United Nations Conference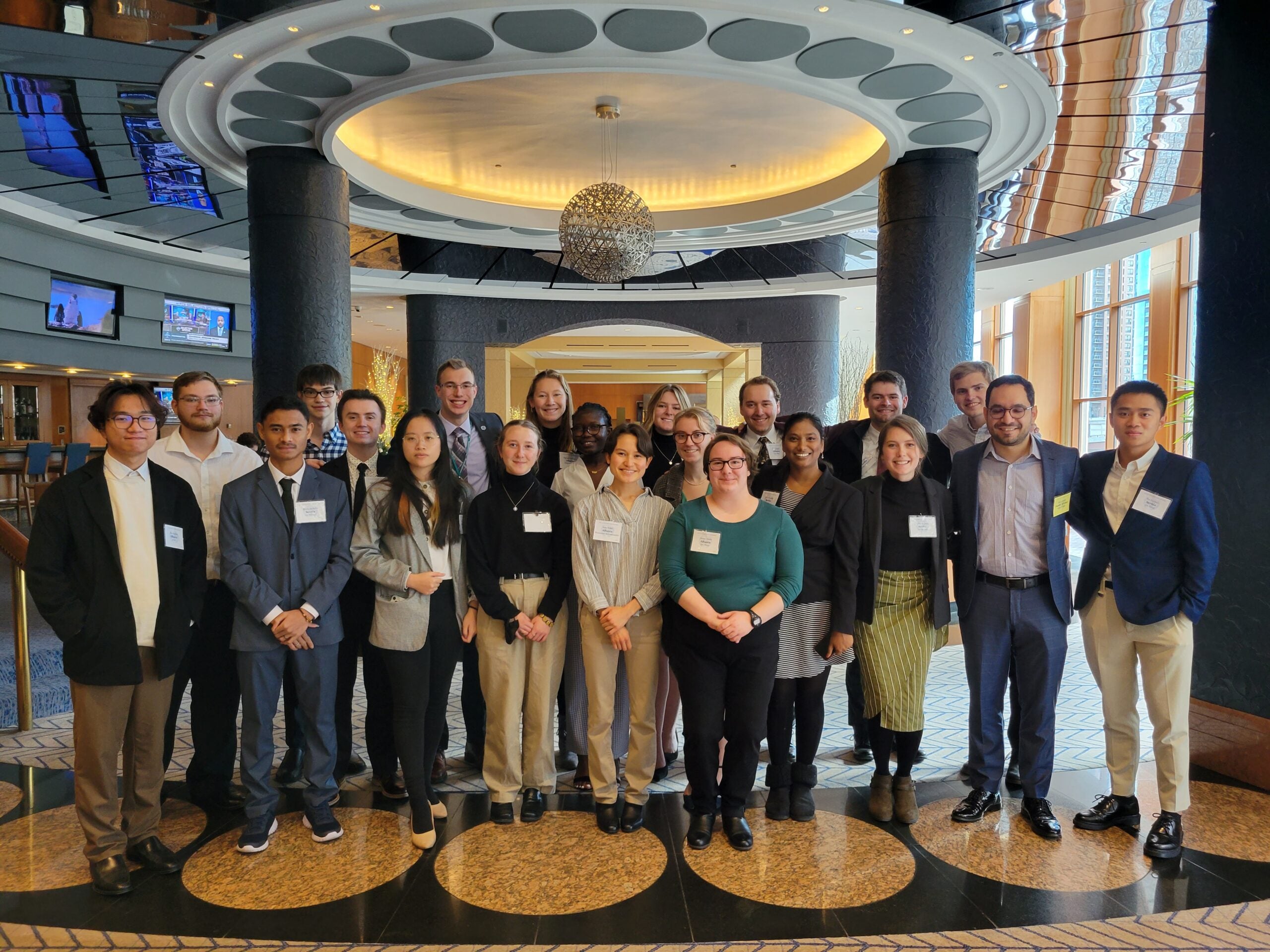 Four Luther College students were recently awarded Exceptional Representation awards at the annual American Model United Nations (AMUN) Conference. Each year, students from 95 schools across the country gather in Chicago for the conference which simulates the UN General Assembly. Each school team is assigned a country to represent and students act as ambassadors, debating topics such as climate action, global health, and security.
Due to increased participation, this year, the Luther College Model United Nations team was assigned two countries: Albania and Serbia. Luther's 22 participating students were divided into committees and within those, Exceptional Representation awards were given to: 
Hannah Hoffmann '23, Exceptional Representation of Albania on the Security Council

Jackson Geadelmann '23, Exceptional Representation of Albania on the Security Council

Cassandra Norton '23, Exceptional Representation of Albania on the Educational, Scientific, and Cultural Organization Executive Board

Verena Mueller-Baltes '26, Exceptional Representation of Albania on the Educational, Scientific, and Cultural Organization Executive Board
The Security Council is the most competitive of the committees at the AMUN Conference and this was the first time in recent years Luther College had a seat at that table. 
"Jack and I were partners last year on the Human Rights Committee and won Exceptional Representation for Venezuela, so it was great to keep our streak alive," said Hoffmann. "Model UN is such a fun club to be a part of and it really teaches people how to compromise, communicate in tense situations and gain confidence as a public speaker. Receiving an award is just the cherry on top and it feels nice to be recognized for all the work Jack and I put into the conference."
"I was shocked but honored that Hannah and I were awarded exceptional representation. Everyone on the Security Council came prepared on their position, and I think almost everyone deserved an award for their hard work during the conference," said Gaedelmann. "Model UN is such a great experience to take what we learn in class and apply it at different conferences. It's also a great opportunity to meet so many different people from around the world. Luther Model UN has helped me develop a better understanding of my course material, develop diplomacy and advocacy skills, and become better at collaborating with others to reach a consensus."  
The group is accepting new members. In 2023, the team will represent Malta. According to Orçun Selçuk, faculty advisor of Luther College Model UN, they always attempt to select a country relevant in some way to Luther. He says the team is excited to represent Malta this year because of the college's long-standing Malta study-away program and because Luther alumna, Vanessa Frazier, serves as permanent representative of Malta to the United Nations.
"The Luther College Model UN team attracts students from various majors ranging from biology to economics," said Selçuk. "Other schools often tell us that our team looks like the actual United Nations. We have domestic as well as international students who are actively involved. It's a privilege for me to advise such a diverse and talented group of global citizens."
Funding for Luther College Model UN comes from the Center for Ethics and Public Engagement. Last year the group also received funding from The Center for Sustainable Communities and the Nordic Studies program.


About Luther College
At Luther College in beautiful Decorah, Iowa, students explore big questions and take action to benefit people, communities and society. Our academic programs, experiential approach to learning and welcoming community inspire students to learn actively, live purposefully and lead courageously for a lifetime of impact. Learn more at luther.edu.