Multimedia
Preus Library
Lower Level
700 College Dr
Decorah, IA 52101
Multimedia Studio
Please email us to make an appointment.
Fall Term Staffed Hours
M-Th: 7:30 am – 9:00 pm
F: 7:30 am – 5:30 pm
Sa: 2:00 pm – 6:00 pm
Su: 2:00 pm – 5:00 pm
multimedia@luther.edu
Digital Media Center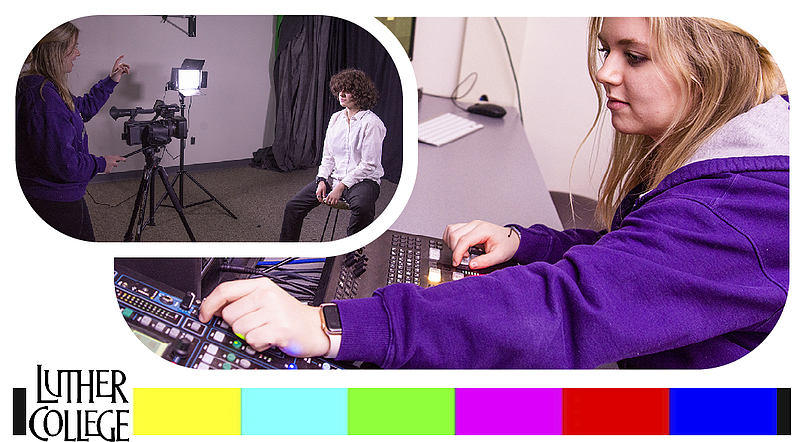 Get your creative juices flowing and join us at the Digital Media Center!
The Digital Media Center is on the lower floor of Preus Library. Luther faculty, staff, and students are welcome to use the multimedia lab and multimedia studio. The lab is available for use whenever the library is open. The studio is available by appointment. Learn more about our space and our services:
Examples uses of the Digital Media Center
Video and news production classes including video journalism, documentary film, and creation of instructional and promotional videos
Digital art classes, such as digital photography, 3D animation, and vinyl graphics
Other classes using the resources of the multimedia lab and/or multimedia studio
The editing of sports footage (games and practices) for athletic training and performance improvement
The production of training videos for Residence Life student RAs
The creation of student counseling videos by Counseling Services and Student Life
The production of digital images, blogs, and videos by students and faculty studying abroad
Multimedia
Preus Library
Lower Level
700 College Dr
Decorah, IA 52101
Multimedia Studio
Please email us to make an appointment.
Fall Term Staffed Hours
M-Th: 7:30 am – 9:00 pm
F: 7:30 am – 5:30 pm
Sa: 2:00 pm – 6:00 pm
Su: 2:00 pm – 5:00 pm
multimedia@luther.edu