Multimedia
Preus Library
Lower Level
700 College Dr
Decorah, IA 52101
Multimedia Studio
Please email us to make an appointment.
Fall Term Staffed Hours
M-Th: 7:30 am – 9:00 pm
F: 7:30 am – 5:30 pm
Sa: 2:00 pm – 6:00 pm
Su: 2:00 pm – 5:00 pm
multimedia@luther.edu
Multimedia Studio
The multimedia studio is ideal for creating projects that include video, audio and photography.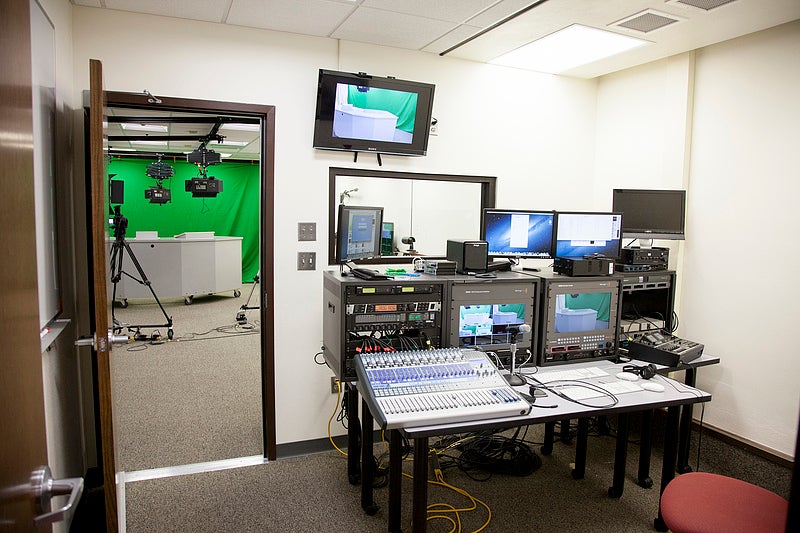 In the studio, LED lights are installed on a flexible, movable 9×12 foot ceiling grid, making them easy to adjust and move when recording. A green screen, among other backdrops, gives greater flexibility to photo and video shoots.
The control booth (pictured) has a digital mixer with the ability to do multitrack recording and a video switcher for live production. This technology in the control booth allows those creating media projects to direct the production in the multimedia studio.
Multimedia
Preus Library
Lower Level
700 College Dr
Decorah, IA 52101
Multimedia Studio
Please email us to make an appointment.
Fall Term Staffed Hours
M-Th: 7:30 am – 9:00 pm
F: 7:30 am – 5:30 pm
Sa: 2:00 pm – 6:00 pm
Su: 2:00 pm – 5:00 pm
multimedia@luther.edu