Program Highlights
As an art major, you're eligible for several scholarships available only to art majors. These are based on merit, involvement, and financial need.
Whether you want to study studio art, art history, or create your own path, Luther's art faculty will guide you through our program, helping you explore and discover the kind of art that matters to you.
Private Studio Spaces
As a senior art major, you're guaranteed a private studio space to help you grow as an artist and prepare your senior project.
What You'll Learn
Art Major
As an art major, you're encouraged to follow your calling. The program has fully outfitted studio areas in ceramics, graphic design, painting, printmaking, and photography (digital and darkroom).
Luther's introductory courses engage you in the meaning and understanding of visual discourse. You'll use this knowledge to develop and make artworks. The advanced courses will help you prepare for your senior project exhibition work.
You might also decide to pair your major with a related minor and/or double major with a focus on your specific career goals. Art majors commonly pair with: visual communication, art history, biology, creative writing, identity studies, management, museum studies, psychology, social work.
Art Minor
As an art minor, you'll take two introductory courses and four four-credit courses in art, at least two at the 200 level and one at the 300 level.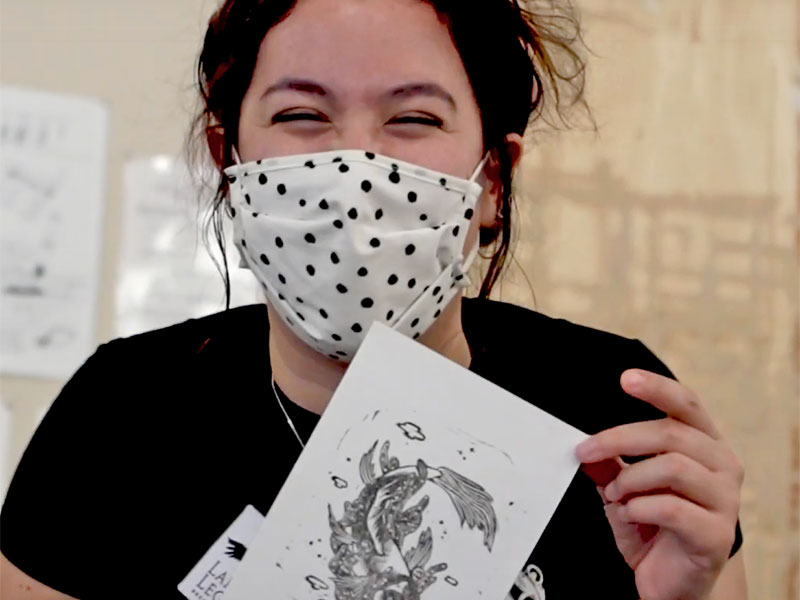 Play Video
The art department encouraged me to explore many different interests and facets of my work and myself. ... The art faculty taught me how valuable it is to have patience with self-growth.
Jasmyn Linn '21
Art and Visual Communication Major
Stories
Careers and Outcomes
More than 96% of Luther College art majors are employed, continuing their education, seeking advanced degrees, or engaged in meaningful volunteer work within one year of graduating. Many Luther art alumni find success in careers in fine arts and commercial arts.
Career Fields
Practicing fine artists
Art education
Art therapy
Art curation
Art gallery and collections management
Studio photography
Architecture (structural and landscape)
Graphic design and other digital arts-related careers
---
Art Management Concentration
Art management, or art administration, is the field of using business and organization principles to lead in an artistic setting. To complete the art management concentration, you must complete a major in art and a minor in management, or a major in management and a minor in art or art history.
Ultra Mega Mega
Ultra Mega Mega is a pop-up art show at semester's end to showcase our students' creativity in visual art, theatre, and dance. Paintings, sculpture, photos, prints, dance, theatre, and more fill the Center for the Arts for one evening. Student creators are on hand to share and answer questions about their art.