Program Highlights
Get professional work experience beyond the classroom walls by completing an internship. Luther social work majors have a variety of options in the United States and abroad.
The Don Kemp Memorial Scholarship and Jessa Slostad Memorial Scholarship are awarded annually to social work majors.
Expand your professional network by joining the Social Work Association, the Social Work Advisory Board, or the Lambda Theta Chapter of the Phi Alpha National Social Work Honor Society.
What You'll Learn
As a Luther social work major, you'll get the skills needed to begin as an entry-level generalist social worker. You'll also be ready to pursue master's degree programs in social work.
Your education will span nine areas of emphasis:
Social work values and ethics
Human diversity
Social and economic justice
Populations at risk
Social welfare policy and services
Human behavior and the social environment
Social work research
Social work practice
Field practicum
These areas do not necessarily represent specific courses. They cover the skills and knowledge you will develop to provide effective social services.
Field Experience and Practicum Requirements
You will complete two hands-on internships that will bookend your social work major. Your initial field experience takes place at the beginning of the major. It will involve at least 100 hours of job-shadowing a social worker in the field.
The second practicum occurs during your final semester in the major. Practicum locations have included Decorah, Denver, Chicago, Rochester, or Minneapolis. You must complete at least 400 hours working in an organization, gaining experience at the individual, family, group, organization, and community levels.
Careers and Outcomes
Luther social work graduates are prepared for lifelong learning. Within a year of graduation, 93 percent of our graduates are seeking advanced degrees or are employed.
Career Fields
Child welfare, juvenile justice, and youth services
Community organizing
Domestic violence and corrections
Health and mental healthcare
Housing and homelessness
Refugee and immigrant services
School social work and out-of-school activities
Senior and disability services
Many Luther social work majors go on to pursue a master's in social work (MSW) degree. Some go to graduate school after several years of professional practice, and others go immediately after graduating from Luther. Graduating with a social work major from Luther can save you up to a year of MSW tuition and coursework. Our program will make you eligible for advanced standing in most MSW programs.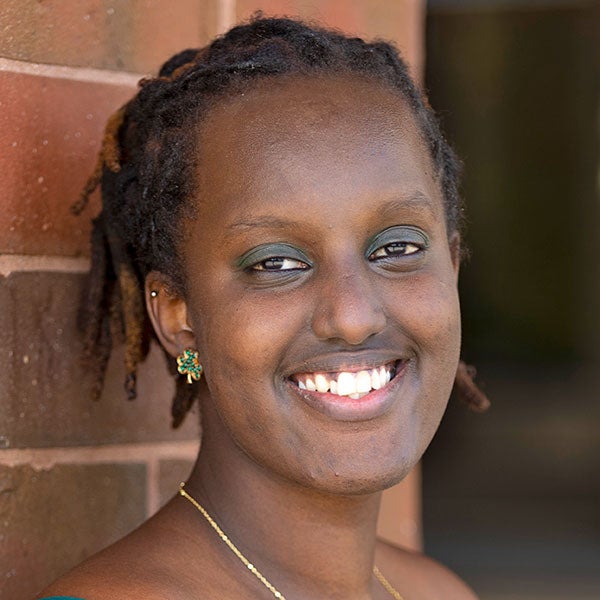 Play Video
I tried to use my education not only to benefit people in the US but also to make it something I can carry into the world to be useful.
Peilla Ishimwe '21
Social Work Major