Heritage Club
Established in 1978, the Luther College Heritage Club is an informal organization for those persons who have been moved by their interest in Luther to make provisions for future gifts to the college. The Heritage Club is a way for donors with this common interest to meet one another, share their interest in Luther, and perhaps find other shared interests.
The Heritage Club is also a symbol and an inspiration. Because planned gifts are so vitally important to the future of Luther College, and because membership in the club is only for those persons who have made planned gifts, the Heritage Club is a symbol of the importance Luther places on this kind of commitment. It also serves as an inspiration for others to make similar gifts and join this important group. The Heritage Club is one way Luther says "thank you" to all those who have made the college a part of their future. We are extremely grateful for your support and dedication.
New Heritage Club Members 2022
Anonymous (2)
Joseph Bagnoli
Clara Bergan '13
Stephen '07 and Elizabeth Hansen Cox '09
David Crowe '82 and Katie Hanson '82
Julie Heberlein-Reveley '72 and Robert Reveley
Maxwell Hull '13
James '70 and Kathleen Jespersen
Stacey Johnson-Dichter '94 and Michael Dichter
Mark Magnuson '75 and Lucile Houseworth
Brian '77 and Karen (Thulin) Rude '78
Karen Smith-Emerson '72
Mark Strohbehn '07 and Aaron Jost
Daniel '79 and Kristin (Skoglund) Tjornehoj '80
Randeen Torvik Ragan '78 and Frank Ragan
David '72 and Lynn (Narveson) Tryggestad '72
Norris '72 and Hollis Krug Waalen
John and †Joy (Andresen) Wetzel '65
James '72 and Joanne Wilde
Heritage Club Members Making Additional Planned Gifts 2022
Charles '73 and Ann (Christensen) Beatty '75
Karen (Kiland) Erlander '61
James Field '54
Larry Freeze
James E. Johnson and Lucy Rosenberry Jones
Karen Julesberg '60
Kerry Knodle '72
Warren Luckner '68 and Mary Carr Luckner
Barbara Lueder '70
Kymberly Oltrogge '83 and James Dodrill
In Memoriam
We have been notified of the passing of the following Heritage Club members. We extend our sympathies to their families and friends. We are grateful for their dedication and legacies to Luther College.
Alvin Brekken '54
Joan Bungum
Dennis Bushkofsky '80
Eleta Donaldson
Daniel Erlander
Ilene (Knutson) Forde '46
Rolfe Gjellstad '64
Darvin Hacker '59
Norma (Olson) Hacker '52
Karen (Hellekson) Hanson '58
Charles Hulsether '56
Kathy (Selzer) Johnson '71
Kevin Kelley
Alice (Hogenson) Kienberger-Iverson '54
Lawrence Kipfer '54
Walter Laughlin '57
Richard Lind '60
Russell Loven '58
John Mork
Donald Nelson
Colleen (Voehl) Peterson '58
J.W. Reinertson '48
Ruth Reitan
Thomas Rossing '50
Dorothy (Erickson) Stoskopf '62
Mark Stuart
Priscilla Giere Teisberg '51
Diane (Mallu) Thompson '65
Ralph Thompson '70
Howard Tollefsrud '59
Richard Torgerson
James Womeldorf '66
(March 1, 2022 through March 31, 2023)
Pioneer Memorial Award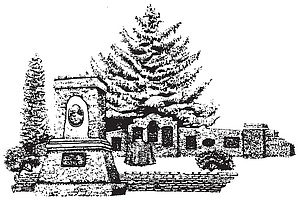 The Pioneer Memorial was built to honor the Norwegian pioneers who had the vision to establish Luther College and the determination and strength to build it. This stone memorial was erected on campus in 1936 by alumni and friends for Luther's Diamond Jubilee. Also honored on the large pillar at the front of the Pioneer Memorial is Laur Larsen, one of the principal leaders during the college's first 50 years. Because of the significance of the Pioneer Memorial to the history of the college, it was chosen as the symbol for the Luther College Heritage Club.
The Pioneer Memorial Award was established in May 1988 to recognize those individuals whose vision and commitment have moved them to provide for Luther College's long-range needs through planned gifts. The award honors individuals who have characterized the spirit of the Heritage Club and have served to inspire others through their generous support. Just like Laur Larsen and other early leaders of the college, recipients of this award have been judged to have the vision of continued success for Luther College.
A full list of Pioneer Award Recipients can be viewed here.
The 2022 Pioneer Memorial Award recipient was James Field '54, click here to read the citation.