Give Now
Contact Information
Kelly A. Sorenson, CGPP
Assistant Director of Legacy and Gift Planning
Send Email
Phone: 563-387-1066
Heritage Club
Established in 1978, the Luther College Heritage Club is an informal organization for those persons who have been moved by their interest in Luther to make provisions for future gifts to the college. The Heritage Club is a way for donors with this common interest to meet one another, share their interest in Luther, and perhaps find other shared interests.
The Heritage Club is also a symbol and an inspiration. Because planned gifts are so vitally important to the future of Luther College, and because membership in the club is only for those persons who have made planned gifts, the Heritage Club is a symbol of the importance Luther places on this kind of commitment. It also serves as an inspiration for others to make similar gifts and join this important group. The Heritage Club is one way Luther says "thank you" to all those who have made the college a part of their future. We are extremely grateful for your support and dedication.
Heritage Club Membership
A full list of Heritage Club members can be viewed and downloaded here.
New Heritage Club Members 2021-22
Anonymous (2)
Eric Allen '85
Frank '72 and Janet Andersen
Brent '90 and Susan Asplin
Kathryn (Melcher) '71 and Bradley Benke
Stephen '69 and Gracia (Kraabel) Blanchard '69
Wilfred Bunge '53
Edith Copley '74
Kenneth Dahlberg '84 and Mari Espeland
Harold and Michele Dane
Karen (Madsen) '77 and Patrick Egan
Joseph and Susan Everson
Kristopher '82 and Kathryn (Willi) Gregersen '81
Laura (Olson) '92 and Randy Heuer
Mavis Hoffman
Timothy and Amy Hohulin
Janice (Anderson) Horn '57
Harris '56 and Diane Hostager
Arthur '67 and Jacqueline Johnson
Karen (Gulsvig) Johnson '61
Jon Lund
Sara McGah '62 and Kenneth Roehrs
Jay '73 and Cynthia (Flak) McLaren '72
Pauline (Amundson) '72 and Les Miller
Connie (Jolstad) Nelson '60
Christine Olsen '78 and Tom Rothengass
Brian '77 and Karen (Thulin) Rude '78
Roger Skatrud '57
Mark Strohbehn '07 and Aaron Jost
Alan Ulrich '74
Ragna Urberg '86
Todd '97 and Emily (Foster) Velnosky '98
William '71 and Marjorie (Olien) Watts '71
James and Elizabeth Wheeler
Heritage Club Members Making Additional Planned Gifts 2021-22
Anonymous
Elizabeth Andress '81 and Steve Solbrack
George and Joann Hagen
Amy (Michaelson) '91 and Patrick Igou
Kerry Knodle '72
Warren Luckner '68 and Mary Carr Luckner
John '70 and Barbara Melin
Jonathan '74 and Jeanette (Bialas) Strandjord '74
Rachel Vagts
In Memoriam
We have been notified of the passing of the following Heritage Club members. We extend our sympathies to their families and friends. We are grateful for their dedication and legacies to Luther College.
Colleen Darby
Lynne (Jordan) Enerson '63
Norma Engelhardt
Elsa Groe '64
Norman Gunderson '55
Jane Herndon
Louise (Naeseth) Hubbard '39
Haldis (Solem) Kaasa '81
Camille Kundert
Lois Leffler '59
James Limburg '56
Louise Maakestad
Jari Norris
David Preus '43
Linus Rothmeyer
Marilyn (Sorlien) Skatrud '58
Donna (Ferden) Suby '59
Mary Jo (Iverson) Wilke '55
(June 1, 2021, through March 7, 2022)
Pioneer Memorial Award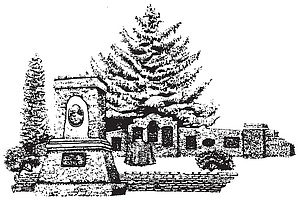 The Pioneer Memorial was built to honor the Norwegian pioneers who had the vision to establish Luther College and the determination and strength to build it. This stone memorial was erected on campus in 1936 by alumni and friends for Luther's Diamond Jubilee. Also honored on the large pillar at the front of the Pioneer Memorial is Laur Larsen, one of the principal leaders during the college's first 50 years. Because of the significance of the Pioneer Memorial to the history of the college, it was chosen as the symbol for the Luther College Heritage Club.
The Pioneer Memorial Award was established in May 1988 to recognize those individuals whose vision and commitment have moved them to provide for Luther College's long-range needs through planned gifts. The award honors individuals who have characterized the spirit of the Heritage Club and have served to inspire others through their generous support. Just like Laur Larsen and other early leaders of the college, recipients of this award have been judged to have the vision of continued success for Luther College.
A full list of Pioneer Award Recipients can be viewed here.
The 2022 Pioneer Memorial Award recipient was James Field '54, click here to read the citation.
Give Now
Contact Information
Kelly A. Sorenson, CGPP
Assistant Director of Legacy and Gift Planning
Send Email
Phone: 563-387-1066