Zero Waste
Luther takes an innovative approach to reduce waste generation on campus by implementing a variety of unique and effective projects to keep items in circulation and out of the landfill.
These initiatives emphasize the education of the Luther community on the importance and practicality of waste reduction. There are a number of environmental, social, and economic benefits to each of these projects as well. The Center for Sustainable Communities continues to collaborate with students, faculty, staff, and community members to facilitate a transition to a greener future.
Efforts to Reuse
Office Supplies Reuse Station
Located in Valders 364, recycle or reuse a number of office supplies available to all students, faculty and staff. The closet is open from 8 a.m.-5 p.m. during the week and contains binders, folders, notebooks, scissors, staplers, hole punchers, pens, pencils, paper clips, thumb tacks, and more. Before tossing your old supplies, consider someone else can get another use out of them and bring them to the Office Supplies Reuse Closet. Simply place the supplies in an orderly fashion on the shelf to the right of the door. Remember, the more you give and the more you take, the more successful this project is!
Free Supplies Cupboard
New in 2021, Preus Library has created a cupboard of free, used office supplies for students and library users, located by the printer/copiers on the library's main floor–right where someone might be in immediate need of a binder or folder. The cupboard is also stocked with withdrawn library magazines and newspapers for art projects.
Efforts to Reduce
PaperCut Print Management
PaperCut is Luther's print management solution deployed by Information Technology Services (ITS) in 2016. Print management services allow us to more accurately track individual usage and allocate costs in providing print services on campus. They are part of our effort to help cut down on waste and encourage better management of printing resources. The cost of double-sided printing is $.04/side, as opposed to the $.05 charged if printing single sided.
Water Bottle Filling Stations
Luther College has installed a number of water bottle filling stations in these locations in order to reduce the need for single-use plastic water bottles. These filling stations encourage students, faculty, and staff to carry reusable water bottles and avoid unnecessary waste generation. Between September 2019 and September 2020, our water bottle filling stations saved 164,808 plastic water bottles from being used. That would cover the length of over 400 Luther football fields!
Dieseth 4th floor
Dieseth 5th floor
Farwell 8th floor
Jenson 1st floor
Larsen – Center for Global Learning
Larsen – Health Services
Loyalty 2nd floor
Main 1st floor
Miller 5th floor
Olin 1st floor
Olin 3rd floor
Olson 2nd floor
Preus Library 1st floor
Regents – Concession Stand
Regents – Legends Gym
Regents – Information Desk
Regents – SRC
Sampson-Hoffland 1st floor
Union 2nd floor
Union – Office of the President
Valders 2nd floor Nursing hallway
Valders 2nd floor Atrium
Ylvisaker 1st floor
Efforts to Recycle
Office Recycling and Waste Collection
Each faculty and staff office is equipped with a personal recycling bin and a hanging waste basket. Place all of your recyclable material in the blue recycling bin and non-recyclable waste in the hanging waste basket. The custodial staff will sort your recycling after you leave the office for the day. Please only place dry waste into the hanging waste basket.
Your Blue Bin Project
Each student residence received a recycling bin at the beginning of the year. The bins included recycling instructions on what can and cannot be recycled. Students are responsible for sorting their recyclables and bringing them to the nearest recycling roll-off outside of their residence hall. With the help of a Department of Natural Resources Solid Waste Alternatives Program Grant and a partnership with Winneshiek County, Luther College installed new recycling roll-off dumpsters outside of each residence hall.
Get Involved
Featured News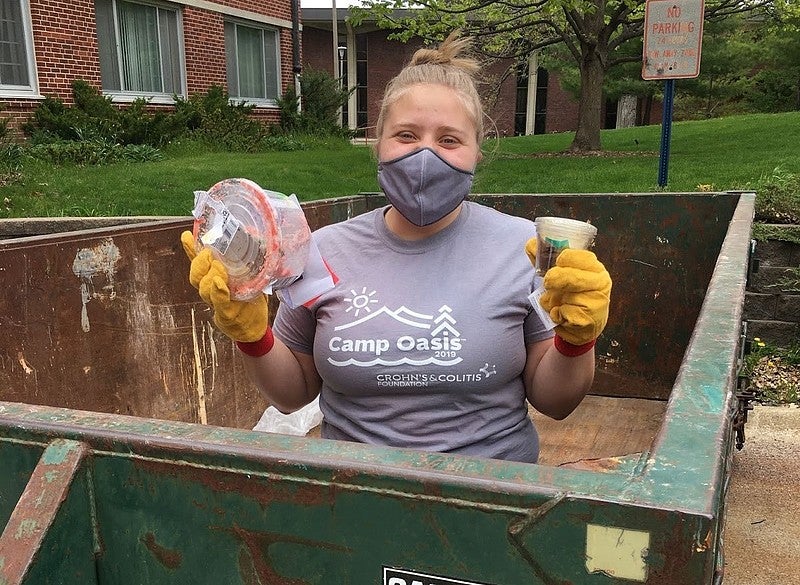 During move out week student workers and volunteers implemented various tactics in an effort to reuse and recycle, rather than waste.