College Pastor and Staff
The Office for College Ministries (CFL, room 106) is open 8:00 a.m. - 5:00 p.m., Monday through Friday. Stop by or make an appointment with Pastor Melissa by calling 563-387-1040.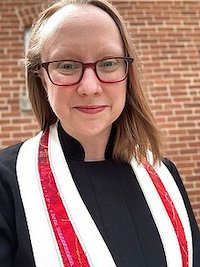 Melissa Bills
Director of College Ministries and College Pastor
Pastor Melissa Bills received her Master of Divinity degree from Princeton Theological Seminary, and she received her B.A. in religion and English from St. Olaf College. She completed her Lutheran seminary residency at the Lutheran School of Theology at Chicago. Bills received the David Allan Weadon Prize in Sacred Music at Princeton Theological Seminary. She is the co-author of "Families Celebrate Advent and Christmas" and a contributor to "A Place For You Interactive Edition: My Holy Communion Book," both published by Augsburg Fortress Press / 1517 Media.
Prior to coming to Luther, Bills served as associate pastor for First Lutheran Church in Decorah, associate pastor of St. Timothy Lutheran Church in Naperville, Illinois; and pastoral intern at Trinity Lutheran Church in Rockford, Illinois. Her ministry is dedicated to nurturing people through faith and formation journeys and to furthering the church's role in working for social justice.
Pastor Melissa is available to students, staff, and faculty in times of crisis, change, sadness, joy, or just the happenings of everyday life. She is available for private conversation, spiritual care, and prayer.
Alexander Meszler
Assistant Professor of Music
In 2020, Alexander completed his Doctor of Musical Arts Degree at Arizona State University under Kimberly Marshall. He finished his Master's in Organ Performance and Music Theory at the University of Kansas where he studied organ with Michael Bauer and James Higdon and his Bachelor's in organ with Kola Owolabi while at Syracuse University. Before Luther College, he served as an Adjunct Professor at Syracuse University and Hamilton College. With Kimberly Marshall, he is the General editor for a forthcoming online Encyclopedia of the Organ that will contain 4,000 articles about the organ.
Katrina Matth
Office Coordinator, College Ministries
Prior to coming to Luther College, Kate worked in the business and customer service fields for fourteen years. Her last three years she served as a Project Development Coordinator and Office Coordinator.
As the Office Coordinator for Luther College Ministries, Kate is excited to be a part of creating an all-inclusive environment for Luther College Students, Faculty, and Staff.
In her spare time Kate enjoys training and working with her dogs, reading about a variety of topics from historical biographies to spiritual health, and golfing with her husband Erik.
Kate and Erik were married in 2013 and reside in Decorah with their two dogs Marley and Kaya.