Ultimate Frisbee Camp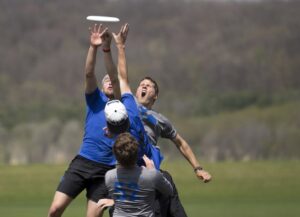 About Ultimate
Ultimate Frisbee is a sport that combines speed, grace, and endurance, but the spirit of sportsmanship under competitive pressure is what sets the game apart. Ultimate's spirit of the game is an honor code of fair play and sportsmanship. Without referees, players are responsible for resolving their own disputes. This creates a spirit of honesty and respect on the playing field.
About Ultimate Camp
Our nationally recognized men's and women's ultimate teams will help players of all levels as they develop and improve skills and learn more about Luther and its ultimate programs. You'll leave camp with tired legs, plenty of bids under your belt, and greater knowledge of ultimate. Until then, happy bidding! (Not sure what "bidding" is? Come to camp to find out!)
Dates
July 14–16, 2023
Ages
Grades 9–12
Cost
Full Resident: $200 (Early Bird: $175 until May 20)
Commuter: $165 (Early Bird: $140 until May 20)
Application Deadline: July 7, 2023
Register today!
Camp Schedule
Camp check-in will take place in Dahl Centennial Union beginning at 2 p.m. on Friday, July 14. The camp will conclude at 3 p.m. on Sunday, July 16.
Check back for a complete schedule soon.
Housing and Meals
Campers live in a comfortable, air conditioned residence hall on the Luther campus, and eat in the Dahl Centennial Union dining hall.
Ultimate Frisbee Staff
Camp Staff
College athletes serve as camp counselors and provide full supervision and help direct all camp activities. An athletic trainer will be present at all camp practices to ensure safety and to provide care if needed. The Camp Director is Bradley Phillips.
Camp Director — Bradley Phillips — phone: 563-419-5501, or email: phillibr@luther.edu
Summer Conferences and Camps Office — phone: 563-387-1309, or email: summercamps@luther.edu