Luther College's Dorian Summer Music Camps see strong growth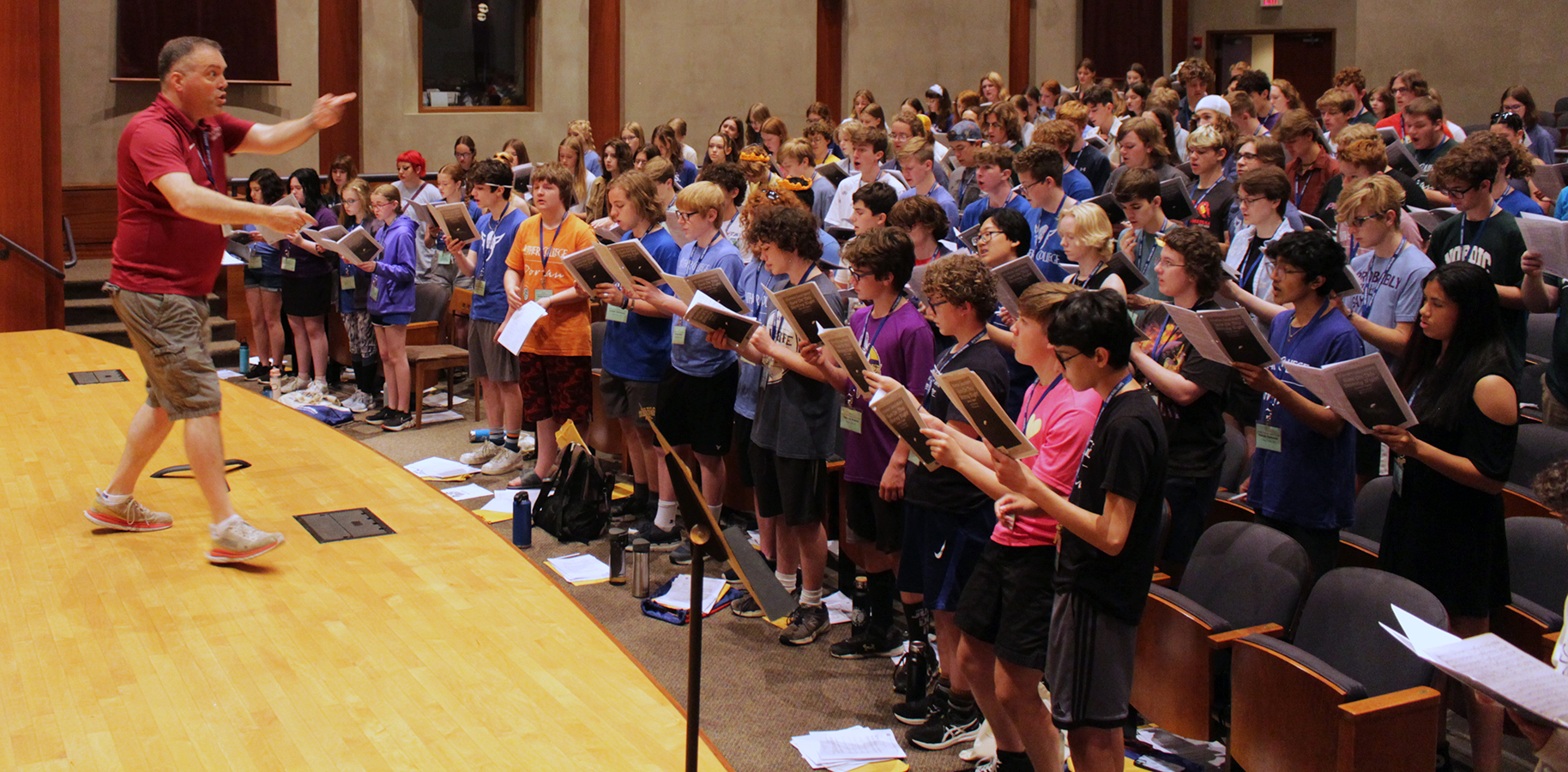 More than 600 high school and middle school students attended Luther College's Dorian Summer Music Camps June 11-24—up from 500 students in 2022.
The camps attracted students from 12 states, representing Iowa and all of its border states (Illinois, Minnesota, Missouri, Nebraska, South Dakota and Wisconsin) and beyond (Kansas, Maryland, North Dakota, Oklahoma and Texas).
"Our world-class faculty and guest instructors coached the students in ensemble rehearsals, applied lessons, music classroom settings, fine arts environments and in grappling with disciplines that transcend music making," said Mark Potvin, camp director, assistant professor of music and conductor of the Cathedral Choir and Norskkor at Luther. "I am never more proud of this college than during the two weeks of Dorian."
This year's camp staff included 36 current Luther students and recent graduates, who served as counselors, with leadership from Luther alumni and Iowa music teachers Shelly Scheufele, Casey Tecklenburg and Cecelia Schutt. Scheufele, assistant camp director and dean of students, teaches middle school choir in the Waukee Community School District and has participated in Dorian for 33 summers. Tecklenburg is the choir director at Union High School, and Schutt serves as the choir director for the Grundy Center Community School District and Gladbrook-Reinbeck Community School District.
"It is my great joy to work alongside folks who empower our counselors and teaching staff to build relationships with students in a way that inspires them to stay connected to Luther and continue making music," Potvin added.
The Dorian All Band Reunion also returned to Luther this summer for the first time since 2011—in a new format—and had 150 people in attendance. The former Luther band members played their instruments in a large ensemble, honored past Luther band conductors and premiered two new band commissions honoring Fred Nyline, former Luther band director for 38 years.
Dorian programming—with a rich history and robust series of festivals and camps—is unique to Luther. Summer camps are open to all families, and scholarship opportunities are available. Festivals for high school music students include the Dorian Band Festival, Dorian Choral Invitational Festival, Dorian Keyboard Festival, Dorian Orchestra Festival and Dorian Vocal Festival, where participants are nominated by their school music teacher or private teacher.
"As a high schooler, I knew nothing about Luther until I came to Dorian through a friend," said Luther rising senior Patrick Carew, who also served as a camp counselor this year. "I had no idea that Dorian would provide an experience that would set up the next path of my life. The connections I made were extremely impactful."
Dorian began in 1949 when Luther Professor Weston Noble invited regional school music directors to bring selected band students to campus for a two-day honor band festival. A vocal festival was added in 1950, and the family of Dorian festivals and camps has grown in scope and participation ever since. More than 90,000 students have shared in a Dorian musical experience since the first festival was held.
About Luther College
At Luther College in beautiful Decorah, Iowa, students explore big questions and take action to benefit people, communities and society. Our academic programs, experiential approach to learning and welcoming community inspire students to learn actively, live purposefully and lead courageously for a lifetime of impact. Learn more at luther.edu.