Mark Potvin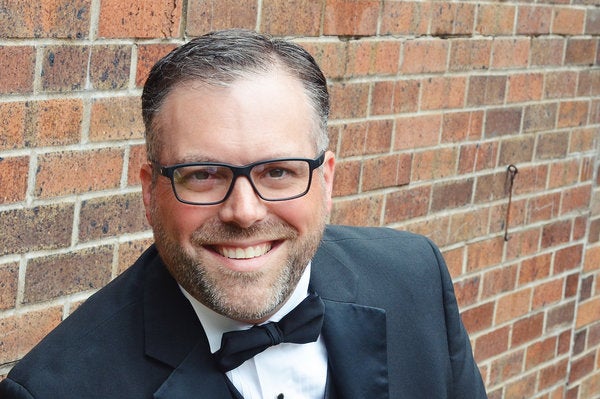 Assistant Professor of Music
Norskkor, Cathedral Choir
Biography
Education: D.M.A., Music Education, Boston University; M.M., St. Cloud State University (St. Cloud, MN); B.A., Luther College
A native of Detroit Lakes, Minnesota, Mark Potvin is conductor of Cathedral Choir and Norskkor at Luther College in Decorah, Iowa. He holds a DMA in Music Education from Boston University (Boston, MA), a MM in Choral Conducting from St. Cloud State University (St. Cloud, MN), and a BA in Music from Luther College. Dr. Potvin's conducting mentors include Weston Noble, Timothy Peter, Sandra Peter, Lee Nelson, and Matthew Ferrell. Mark is in demand as a clinician and adjudicator throughout the Upper Midwest, and recently served as guest conductor for the Twin Ports Choral Project's encore performances of Considering Matthew Shepard in February 2020.
At Luther College, Dr. Potvin teaches conducting, secondary choral methods, musical theatre, and assists in the supervision of student teachers. He is actively involved with the award-winning productions of Christmas at Luther as a member of the artistic team, technical director, and primary drama coach. Dr. Potvin has co-chaired the department's COVID-19 task force since May 2020 and helped shape the protocols that have safely guided music operations during the pandemic. He also facilitates the work of the faculty music marketing team and coordinates that work with campus-wide marketing and communications efforts.
From 2001-17, Dr. Potvin was director of choirs at Princeton High School (Princeton, Minn.). He served as the K-12 and high school department chair, taught three curricular choirs, four extracurricular jazz/pop choirs, two chamber ensembles, and music theory, and directed the district's annual musical theatre productions, Madrigal Dinner, and summer drama camp. Under Potvin's direction, the Princeton High School Concert Choir was invited to perform for multiple conferences of the Minnesota Music Educators Association and the American Choral Directors Association (ACDA) of Minnesota, as well as for the 2014 conference of North-Central ACDA. Concert Choir twice performed at Luther College's Dorian Choral Invitational and made similar appearances at both the Wartburg College Meistersinger Festival (Waverly, Iowa) and Concordia College Choral Festival (Moorhead, Minn.).
Aside from his duties at Princeton High School, Dr. Potvin served as Artistic Director for the East Central Minnesota Chorale (ECMC) from 2007-14. ECMC is a civic choir representing more than ten East Central Minnesota communities in Chisago, Isanti, Kanabec, Mille Lacs, and Pine counties. He is the founding director of Unum Vox, ECMC's regional high school honor choir, and led that ensemble through its first three seasons. From 2008-11, Mark fulfilled various teaching duties at St. Cloud State University (SCSU). At different times, his positions included assistant conductor of the SCSU Concert Choir and as conductor of both the SCSU Chamber Singers and Men's Chorus.
An active member of ACDA, Potvin was named "Outstanding Young Choral Director" by the ACDA of Minnesota in 2008, edited ACDA-MN's statewide journal, Star of the North, from 2008-11, and served as Repertoire and Standards Chair for Men's Choirs from 2011-13. He currently serves the Iowa Choral Directors Association as Repertoire and Resources Chair for College and University Choirs.
Mark is happily married to Susan Potvin, Associate Director of Music Marketing and Tours at Luther College. They are the proud parents of Noah and Simon.
D.M.A, Music Education, Boston University
M.M., Choral Conducting, St. Cloud State University
B.A., Luther College
MUS 115
Class Instruction- Voice
For voice majors and nonmajors with little or no background in those areas. Beginning guitarists will study music notation, tablature, chording, and classical guitar literature. Additional fees will be assessed for this course.
MUS 116
Class Instruction- Voice
Continuation of MUS 115. For majors and non-majors who have had some piano or voice. Emphasis is on developing good reading and practicing skills. Additional fees will be assessed for this course.
MUED 387
High School Choral Methods
Students learn choral literature, pedagogy, rehearsal techniques, rehearsal planning, music literacy strategies, assessment and grading, rehearsal management, and administration of a high school choral program.
MUED 486
Teaching Practicum
Observation and teaching in area schools. Student teaching experiences are offered in each of the following areas: elementary education, secondary education, and K-12 student teaching in music. Those who do 18 weeks of MUED 486 to meet the Wisconsin certification and additional licensure endorsements will register for 2 additional credits during January term.
Norskkor is one of five auditioned choral ensembles at Luther College and is conducted by Mark Potvin. Established in 1981, the group is primarily comprised of first-year tenors and basses, selected each fall and spring by audition. The ensemble participates in worship services, performs at the Family Weekend concert, participates in Christmas at Luther and Dorian Vocal Festival, and presents an annual spring concert with Aurora, Luther's choral ensemble for sopranos and altos.
Cathedral Choir is one of five auditioned choirs at Luther College.  The ensemble is comprised of select singers drawn mostly from the rich talent of the college's sophomore class. Cathedral Choir participates actively in campus worship, in the Christmas at Luther concerts, and at special events and concerts during the academic year, including an annual spring tour.