From the Norse to NFL Rivals
As undergrads, Milt Hendrickson '96 and Dan Ridenour '12 spent Saturday afternoons on the gridiron fighting for the Norse. Today, they're on opposing sidelines on Sunday afternoons. Hendrickson sports the green and gold of the Green Bay Packers as director of football operations. Ridenour wears the gold and purple as sports science coordinator and assistant strength and conditioning coach for the Minnesota Vikings.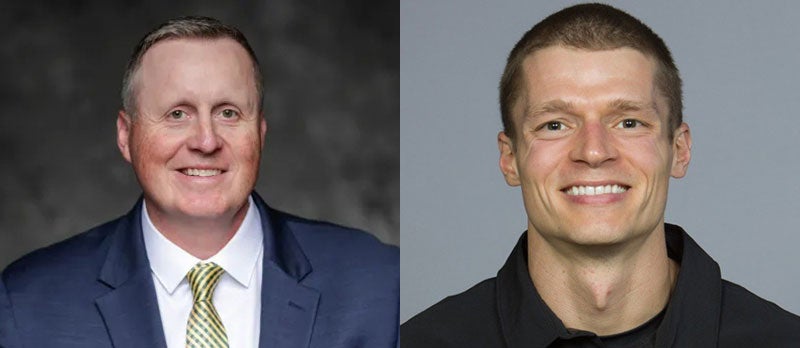 Director of operations for the Packers
A native of Blanchardville, Wis., Hendrickson was a two-sport athlete at Luther, playing both ways for Coach Bob Naslund '65 and offensive coordinator Paul Hefty '86 and taking the diamond for the late Coach Paul Solberg '61. In the classroom, Hendrickson double majored in history and elementary education.
Following a volunteer coaching stint at the University of Wisconsin–La Crosse and a position at De Soto High School, he returned to Luther as an assistant football and baseball coach. In 2005, he broke into the big leagues as a player personnel assistant with the Baltimore Ravens. "Sometimes you just have to jump in with both feet. It was a lot of treading water those first few years, but it's been everything I've ever hoped it would be," he says. In 2019, the Green Bay Packers hired him as director of football operations.
When Hendrickson looks back at Luther, he says it's all about the people. "The people I met at Luther were so pivotal in my life. The teammates I had there, those guys are still some of my best friends on the planet," he says.
The advice he received at Luther was also pivotal—Hendrickson says he's guided today by some of the lessons Solberg taught him: "He was just a grounding force for me in terms of how you treat people, how you work hard every day. The days aren't always going to be perfect, but you get up and go to work and make the most of it."
Sports and science for the Vikings
Ridenour started his collegiate career at Capital University in Columbus, Ohio. As a sophomore in 2010, he transferred to Luther, where he was a star running back.
At Luther, he fell in love with the training side of sports preparation. He double majored in communication studies and physical education with an exercise science emphasis, with the goal of becoming a strength coach.
Ridenour held several collegiate positions, including as assistant director of the Nebraska Athletic Performance Lab at the University of Nebraska, before joining the Minnesota Vikings staff. "My job is basically quality control and asset protection," he explains. "It's so much about making sure the guys are able to stay healthy. It's how to use all different kinds of data and finding areas where athletes can get better."
Ridenour credits his Luther coaches and advisors with setting him on this path. "It all started with my first J-term internship in strength and conditioning," he says, "learning there was a field where I could make a living doing something I was really passionate about. I really benefited from that."