Kate Narveson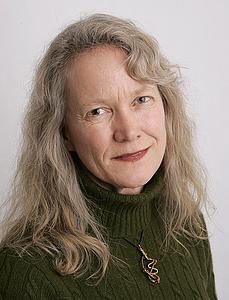 Professor of English
English Department Head
Biography
Education: Ph.D., M.A., English, University of Chicago; M.Phil., Renaissance Studies, The Warburg Institute, University of London; B.A., History, Washington University in St. Louis
Professor Kate Narveson—an M.Phil in history from London's Warburg Institute and a Ph.D. from the University of Chicago in Renaissance lit—loves introducing students to medieval and Renaissance literature. A scholar who has written on seventeenth-century devotional poets such as John Donne and George Herbert, she also studies the history of reading and writing, and has recently published Bible Readers and Lay Writers in Early Modern England: Gender and Self-definition in an Emergent Writing Culture (Ashgate, 2012). In it, she explores how immersion in the Bible among layfolk gave rise to a non-professional writing culture, one of the first instances of ordinary men and women taking up the pen as part of their daily lives. A classical violinist who now fiddles at local folk dances, Kate also designs and knits her own sweaters and helps run a resort on a Minnesota lake. Kate's recent marriage to a solar electric specialist has added to the department's voltage.
"Like a foreign culture, fascinating in its strangeness and yet somehow still compelling and human, medieval and renaissance literature can open up our minds in ways that literature closer to home might not. Bon voyage!"
ENG 260  Shakespeare
For four centuries Shakespeare has been celebrated as the greatest writer in English. This course will help students more fully understand the power of his plays, both as literature for reading and scripts for performance. Reading plays in each major type (comedies, tragedies, and histories; typically seven to eight plays) we will explore such topics as language, moralvision, gender, politics, and historical context. Students will have the opportunity to explore their interpretations in writing and by staging a scene.
ENG/WGST 361  Chaucer & Medieval Literature
From heroes fighting monsters to Arthurian romances, medieval literature is best known for its stories of chivalry. Less well-known but equally wonderful are the comic tales of sex in trees and greedy friars dividing a fart. We will read Beowulf, narrative poems about love and adventure by Marie de France, the tale of Sir Gawain and the Green Knight, and much more, with in-depth attention to Chaucer's Canterbury Tales.
ENG 362 Renaissance Literature
English literature came into its own during the Renaissance, as Sidney, Spenser, and Raleigh courted Queen Elizabeth's favor through love poetry, and sonnets were all the vogue. The period also produced the counter-cultural poetry of Donne and Marvell, and profound religious lyrics of Herbert, and the golden age of English drama with the plays of Marlowe, Shakespeare, and Jonson. The course will explore this rich body of literature through both literary and cultural analysis, with options for a range of student writing.
HON 220  From Ancient to Modern: Transitions and Encounters
This course examines intellectual developments between antiquity and the beginnings of the modern period. It explores such developments as the attempt to reconcile Christianity with ancient Greco-Roman philosophy, the rise of Islamic thought, new intellectual movements in South and East Asia, theological debates of the European Reformation, and encounters among peoples and cultures as a result of global exploration and migration. Prerequisite: consent of instructor.
ENG 185  What Tolkien Read
In The Lord of the Rings, JRR Tolkien attempted to recreate a native mythology for England. To do so, Tolkien drew on the medieval poems and stories he studied as an Oxford professor. In this course, we will read some of the works that fed his imagination, including The Wanderer, Beowulf, Gawain and the Green Knight, and stories from the Icelandic sagas. Through class discussion, small group projects, and seminar presentations, we will think about how those works provided Tolkien with his materials and how they were transformed in his own work. It would be good if students could read (or re-read) the Lord of the Rings before the term starts.
PAID 450  English Theory-Mirror Soc Humanity
This course is a study of London and Stratford theatre in its contexts – the history, culture, and values of England and the modern world. The theatre, the richest in the world in its variety and depth (from highbrow to farce, Shakespeare to Stoppard), serves as focus for exploration of the cities London and Stratford, and of the intellectual, aesthetic, and moral territory of drama.
My field of specialization is Elizabethan and early Stuart literature, and I have teaching expertise in medieval literature and Milton as well. I've published articles on poets like John Donne and George Herbert, on the trope of poetic immortality, and on conceptions of the body in devotional writing, among other topics.
All of these studies have grown out of a fascination with the ways that senses of identity were shaped by reading devotional texts and attempting to apply their teachings. Devotional works mapped out how to act and they served as a lens through which people examined and explained their inner lives.
Ultimately, I'd like to focus my research into two book-length studies. One looks at the results in England of the Reformation call for lay people to read Scripture. I'm studying how the clergy attempted to direct (and limit) lay reading, and how lay people, both men and women, transferred the skills and reading methods they were taught to their own writing projects, sometimes to the dismay of the clergy.
The "reading and writing culture" that I'm studying is one of the first in western history in which ordinary people, not professional writers or scholars, gained the necessary literacy to embrace writing as a way to explore and record their ideas. At the heart of the study is a 900-page manuscript by an Elizabethan gentlewoman. It's never been published, and I've been working, along with student research assistants, to transcribe the manuscript and analyze her writing practices.
I've also started work on a book about how identity and emotion were understood in religious discourse, with special attention to where physiology and religion, body and soul, intersect. Scientific knowledge of the human body was changing dramatically during the seventeenth century, and poets sought new ways to talk about embodied experience.
Research interests:
John Donne and George Herbert
Early modern women
History of reading and writing
Devotional literature
Grace, Lady Mildmay and her meditations