Jill Wilson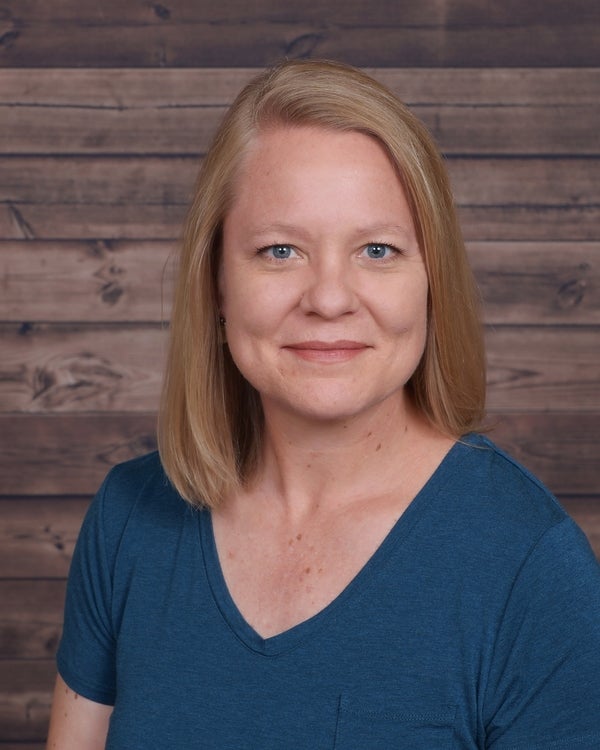 Associate Professor in Education
Coordinator for Music Education
Biography
Education: D.M.A., Music Education, Boston University; M.M.E.,  Music Education, University of Northern Iowa; B.M.,  Music Education, St. Olaf College
Jill Wilson is Associate Professor and Music Education Program Director at Luther College. She also currently serves as vice president of the Minnesota Society for Music Teacher Education. Current research interests include music teacher education program curricula, popular music pedagogy, mentor programs, dispositions, and music literacy pedagogy. Peer-reviewed research publications include Research Issues in Music Education, Gender Research in Music Education, Visions of Research in Music Education, Arts Education Policy Review, Choral Journal, and the Journal of Music Teacher Education. Jill is a proud Modern Band Fellow thanks to Little Kids Rock!
MUS 121L Ear Training I
A study including sight singing, rhythmic performance, dictation (melodic, harmonic, rhythmic), and related skills, all designed to develop the student's musical ear to the highest degree possible. Music 131L is the honors section of Ear Training I.
MUS 122L Ear Training II
Continuation of Mus 121L. Taken concurrently with Mus 122. Music 132L is the honors section of Ear Training II.
MUED 232 Music Education Curriculum and Strategies
Students will learn the origins of music curriculum, and fundamentals of instructional planning. Student will converse with school music educators, and examine their own experiences as music learners to begin framing their teacher identity. Students will begin their teaching portfolio.
MUED 361 Clinical Experience in Music Education
This practicum is taken as part of the methods practicum sequence. Students work under the direction of a cooperating teacher and plan, teach, rehearse, and reflect on the teaching of music in a vocal/orchestra/band program at the elementary, middle/high school level. Course objectives are formulated from the core competencies of the teacher education program at Luther College.
MUED 371 Elementary General Music Methods and Lab
Survey of the K-5 general music program. Study of the music student, content, materials, and methods of instruction. Includes Orff and Kodaly approaches, technology, and classroom management. This course provides practical experience in elementary general music methods through a teaching partnership with area schools. Required of all music education minors.
MUED 372 Middle School General Music Methods
Study of the middle school learner and the content, materials, and methods of instruction in the middle school general music classroom. Includes technology and alternative ensembles as well as classroom management. Required of vocal music education minors only.
MUED 383 Middle School Choral Methods
Study of the middle school learner in the choral classroom. Students learn choral literature, pedagogy with special emphasis on the changing voice, rehearsal planning, music literacy strategies, assessment, and rehearsal management techniques.
MUED 486 Teaching Practicum
Observation and teaching in area schools. Student teaching experiences are offered in each of the following areas: elementary education, secondary education, and K-12 student teaching in music. Those who do 18 weeks of MUED 486 to meet the Wisconsin certification and additional licensure endorsements will register for 2 additional credits during January term.
MUED 490 Senior Project
This senior project option is open to seniors in the music education program only. Focus is on creation of a research-based Developing Portfolio.
DMA, Music Education, Boston University
MME, Music Education, University of Northern Iowa
BM, Music Education, St. Olaf College