50-Year Reunion
Congratulations, Class of 1973, on 50 years in Luther's alumni community!
We are excited to welcome you back to campus to celebrate your Luther College 50th reunion this fall during Homecoming: October 6-8, 2023.
The Class of 1973 Reunion Committee is hard at work to make your reunion events, from Friday afternoon through Saturday evening, a fun and meaningful time to reconnect with each other and with Luther. Below are the details you need to know make the most of your time in Decorah this fall!
Registration is open for Homecoming Weekend and your reunion.
FRIDAY, OCTOBER 6
CLASS RECEPTION 
3:00-5:00 P.M.
Oneota Market and Terrace, Dahl Centennial Union
Launch into the weekend by gathering informally with your classmates. This popular open house style event is a wonderful time to mingle and reconnect! There is no cost to attend.
During the reception, catch a ride on the Luther bus for a tour of Decorah with Bob Naslund '65. An announcement will be made at the reception when it is time to board the bus.
CELEBRATION OF DISTINGUISHED SERVICE AND AWARDS PRESENTATION
4:30 P.M. Reception, Bentdahl Commons (rain location: Lobby, Center for Faith and Life)
5:30 P.M. Ceremony, Main Hall, Center for Faith and Life
Honor classmates Ken Abraham, Denny Amundson,  Patricia (Holtorf) Branstad and Janet (Purmort) Tollund.
STUDENT & FACULTY PERFORMANCE: THAT 1973 CONCERT
7:30 P.M. | Noble Recital Hall, Jenson-Noble Hall of Music
Part of the "Music in the Shape of a Pear" composition concert series, the concert will feature students, staff, faculty and community members performing a wide range of songs from 1973.
CLASS KICK-OFF PARTY
8:00 P.M. | Impact Coffee, Mezzanine
Wrap up Friday night by meeting your classmates in downtown Decorah. There is no cost to attend. Wine, beer, cocktails, and non-alcoholic beverages will be available for purchase.
SATURDAY, OCTOBER 7
CLASS DISPLAYS
11:00 A.M. – 9:00 P.M.
Peace Dining Room, Dahl Centennial Union
The class of 1973 is certainly a creative crew! Take time to look through a collection of classmates' creative work in the Class of 1973 Creativity Showcase. Are you an artist or creator yourself? Fill out this form to participate in the exhibit!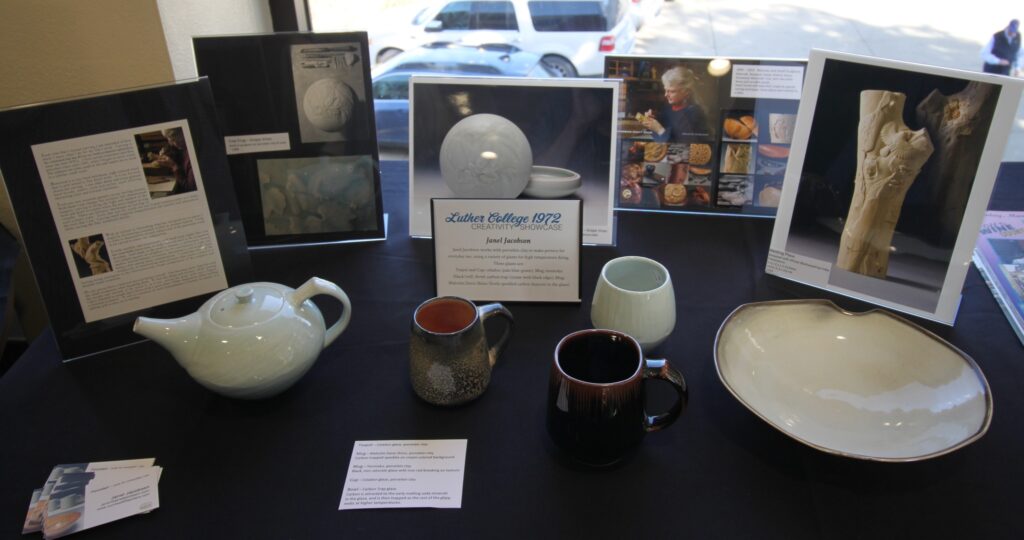 Visit the memorabilia table for tactile reminders of your time at Luther. If you are interested in bringing memorabilia to display, please contact Pat (Holtorf) Branstad, Gary Kelm, or Becky Rush.
50TH ANNIVERSARY HOSLETT MEMORIAL LECTURE WITH TEX A. SORDAHL '73
10:00-11:00 A.M. | Room 206, Valders Hall of Science
Classmate Tex Sordahl '73, Luther College professor emeritus of biology, will give a lecture entitled "Slight of Wing: How Shorebirds Thwart Their Enemies."
CLASS REUNION RECEPTION AND LUNCHEON
11:00 A.M. Reception | 11:30 A.M. Luncheon and Program
Celebrate your 50-year reunion with a luncheon, and enjoy a program by the Class of 1973 50-year reunion committee. Of the two 50-year reunion programs, the luncheon tends to be more formal. During this program you will have a chance to honor distinguished classmates, present your class gift to the college, remember classmates who have passed away, and reflect on your connection to the college and each other.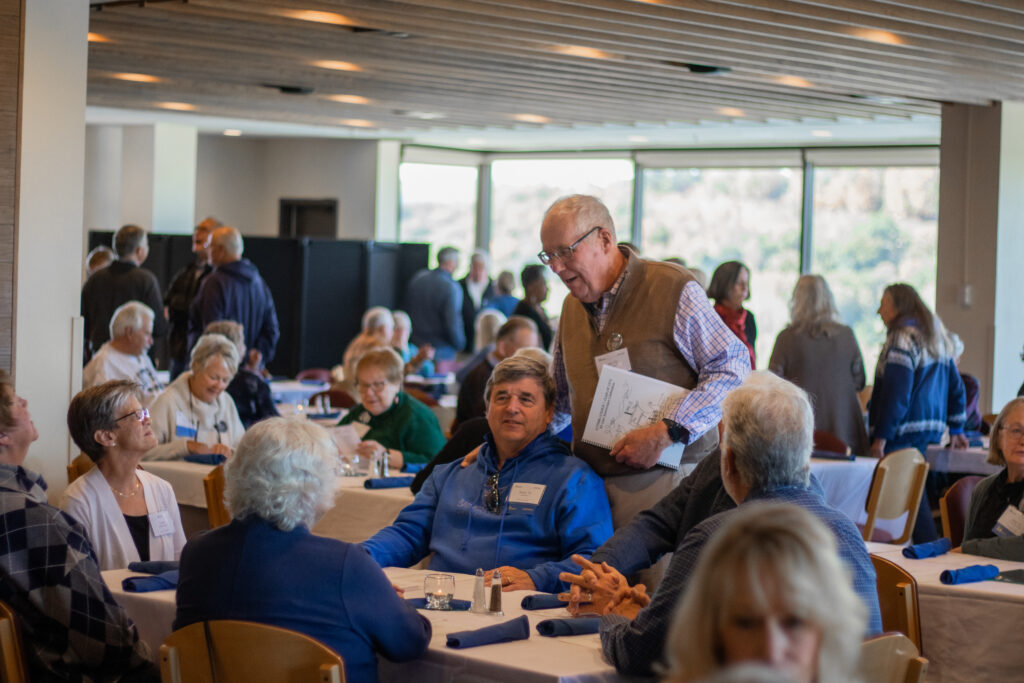 FOOTBALL GAME WITH 1973 CLASS GIFT PRESENTATION AT HALFTIME
1:00 P.M. | Legacy Field, Carlson Stadium
All members of the Class of 1973 are welcome to join the Class Gift presentation at halftime of the football game.
CLASS REUNION RECEPTION AND DINNER
5:30 P.M. Reception | 6:30 P.M. Dinner
Peace Dining Room, Dahl Centennial Union
Close out Homecoming weekend by spending a fun evening with your classmates! This event will be packed with entertainment including trivia, music, and more! Wine and beer will be available for purchase.
There is no formal dress code for any of the reunion events, including the luncheon and dinner. Your reunion committee encourages you to dress casually if you wish, and come as you are!
In honor of your 50-year reunion, we are putting together a Memory Booklet to celebrate the Luther College Class of 1973!  This is a wonderful way to catch up with classmates and share life updates from your life after Luther.
Please fill out the Class of 1973 Memory Booklet form to enter your submission for the memory booklet. The deadline for submissions is Friday, September 15. 
Hard-copy memory booklets may be pre-ordered through the Homecoming registration form, and will be available for pick-up at the reunion luncheon and dinner on Saturday, October 7th. Following the reunion, a digital copy will be made available to the entire class, no purchase necessary.
The Class of 1973  is invited to display your creations of art, writings, photography, textiles, sculptures, etc. for classmates and guests to enjoy on the Saturday of Homecoming Weekend. We hope you can join us for your 50-year reunion celebration—and, if you have creativity to share, we hope you'll sign up!
Instructions for joining the Class of 1973 Creativity Showcase:
Complete this form by Friday, September 15, 2023.
Plan to set up your items on Friday, October 6, from 3:00 to 5:00 p.m. OR Saturday, October 7, from 9:00 to 10:00 a.m. in Peace Dining Room/Hammarskjold Lounge, 2nd floor of Dahl Centennial Union. Items cannot be set up outside of these available times.
Please bring any display essentials you will need. There will be tables set up to lay out or prop up items.
We will create and print an item description card with your name and details about your item(s).
Items must be taken with you after the reunion dinner on Saturday evening.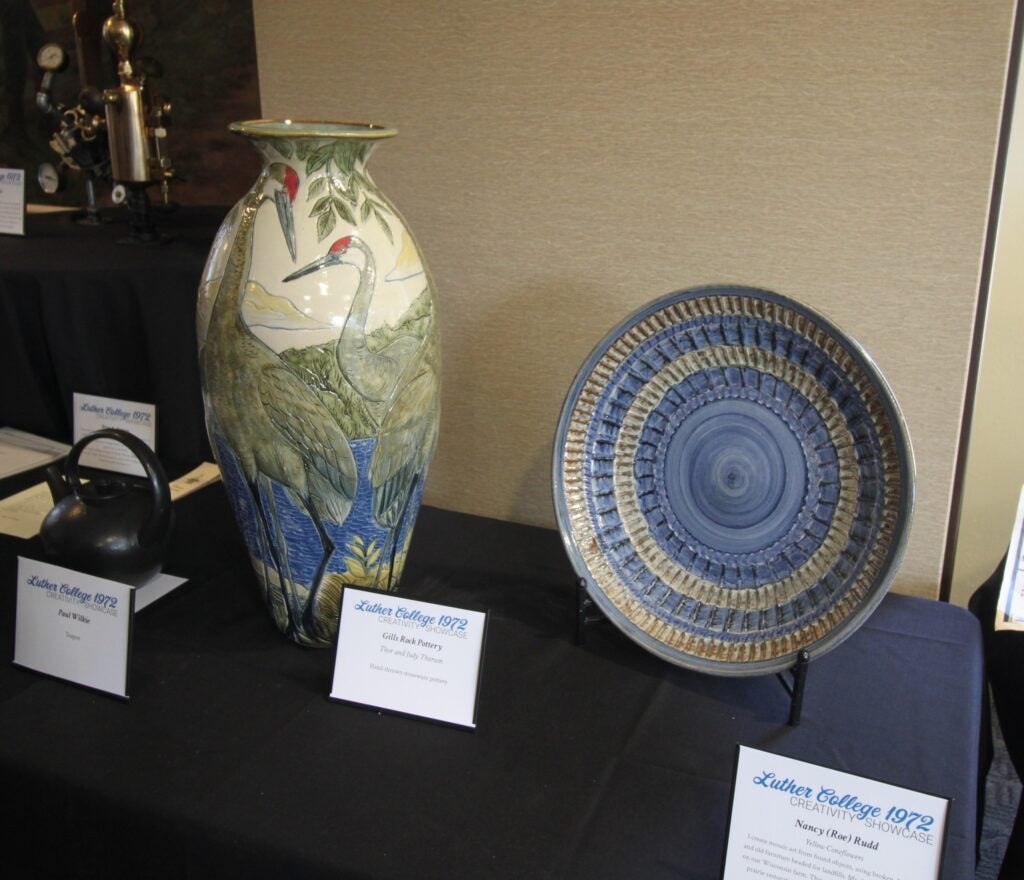 Thank you! If you have questions, please contact Steph Tomlin '09 at steph@luther.edu.
By making a gift in honor of your 50th reunion, you make a difference for today's students seeking the same transformative experience you had.
What counts in my class gift?
New pledges (up to five years)
Pledge payments made on existing pledges
New planned gifts or increases on established planned gifts
How do I make a gift?
Give online
Give by mail: Loyalty Hall, 700 College Drive, Decorah, IA 52101
Give us a call! 563-387-1322 or 800-225-8664
Thank you for your support of Luther College!
Thanks to the generosity of your classmates, your gifts to the Luther Fund will go three times as far! Every gift from a member of the Class of 1973 to the Luther Fund will be TRIPLED up to $97,500. Both outright gifts and multi-year pledges (up to five years) given to the Luther Fund will activate matching funds.
Your gift will make an immediate difference on campus supporting students involved in meaningful research projects, life-changing study abroad programs, community-building student groups on campus, and so much more.
Give online today and note "1973 Match" in the comments.
Reunion matching challenge fund generously sponsored by Charles '73 and Ann (Christensen) Beatty '75, Brenda (Landsgard) '73 and David Carlson '63, Charles '73 and Janice (Knutson) Engebretson '74, Randal '73 and Victoria (Dahly) Miller '73, Deanna (Schulz) '73 and J. David Nordstrom '72, Rebecca Rush '73, and Thomas '73 and Julie (Hedlund) Seidelmann '73
Special thanks to the Class of 1973 50-Year Reunion Committee:
Chuck Beatty '73
Kari Berg '73
Pat (Holtorf) Branstad '73 – Class Agent
Brenda (Landsgard) Carlson '73
Judy Christensen '73
Chuck Engebretson '73
Ranae (Keoppel) Gipp '73 – Class Agent
Ann (Arvesen) Gjelten '73
Steve Hildebrand '73
Gary Kelm '73
Janet (Rawson) Metcalfe '73
Jerry Roppe '73
Becky Rush '73
Susan Sorlien '73
Janet (Purmort) Tollund '73
Linda (Schwake) Vold '73
Joann (Hove) Voltmer '73
Linda Wangsness '73