Contact Information
Office of Alumni Relations
Loyalty Hall
Luther College
700 College Drive
Decorah, Iowa 52101
reunions@luther.edu
Phone: 563-387-1164
Fax: 563-387-1322
40-Year Reunion
Congratulations, Class of 1983, on 40 years in Luther's alumni community!
We are excited to welcome you back to campus to celebrate your Luther College 40th reunion this fall during Homecoming: October 6-8, 2023.
The Class of 1983 Reunion Committee is hard at work to make your reunion events, from Friday afternoon through Saturday evening, a fun and meaningful time to reconnect with each other and with Luther. Below are the details you need to know make the most of your time in Decorah this fall!
FRIDAY, OCTOBER 6th
KICK-OFF PARTY
7:30 P.M. | Pulpit Rock Brewery
Start the weekend at this casual gathering with members of the Class of 1983! Keep an eye out for the Class of 1983—Pulpit Rock will be open to the public, but will have space set aside for the class. There is no cost to attend.
SATURDAY, OCTOBER 7th
ALUMNI & FRIENDS PICKLEBALL
2:00-4:00 P.M. | Decorah High School Tennis Courts
Join fellow alumni & friends in a game of pickleball! These will be casual games, and all abilities are welcome. Some equipment will be available, but please bring your own paddle if possible.
CLASS OF 1983 REUNION RECEPTION
6:00 P.M. | Impact Coffee
The Saturday night reunion is the main event! The reception format makes it easy to mix and mingle, and hearty hors d'oeuvres will be served. Wine, beer, cocktails, and non-alcoholic beverages will be available for purchase.
There is no formal dress code, and we encourage you to dress as you like.
Welcome to the FIRST EVER Luther College Class of 1983 Scavenger Hunt!
In an effort to facilitate a walk down memory lane (which at our age, we all might need a little facilitation!), we offer you a chance to walk the Luther College campus once again!  The scavenger hunt consists of 10 locations to be found and photographed with you (singularly) or with a group of friends.  Hopefully you will revisit some favorite places from 1983 and discover a few newer things that have emerged in the last 40 years!  Have fun and good luck!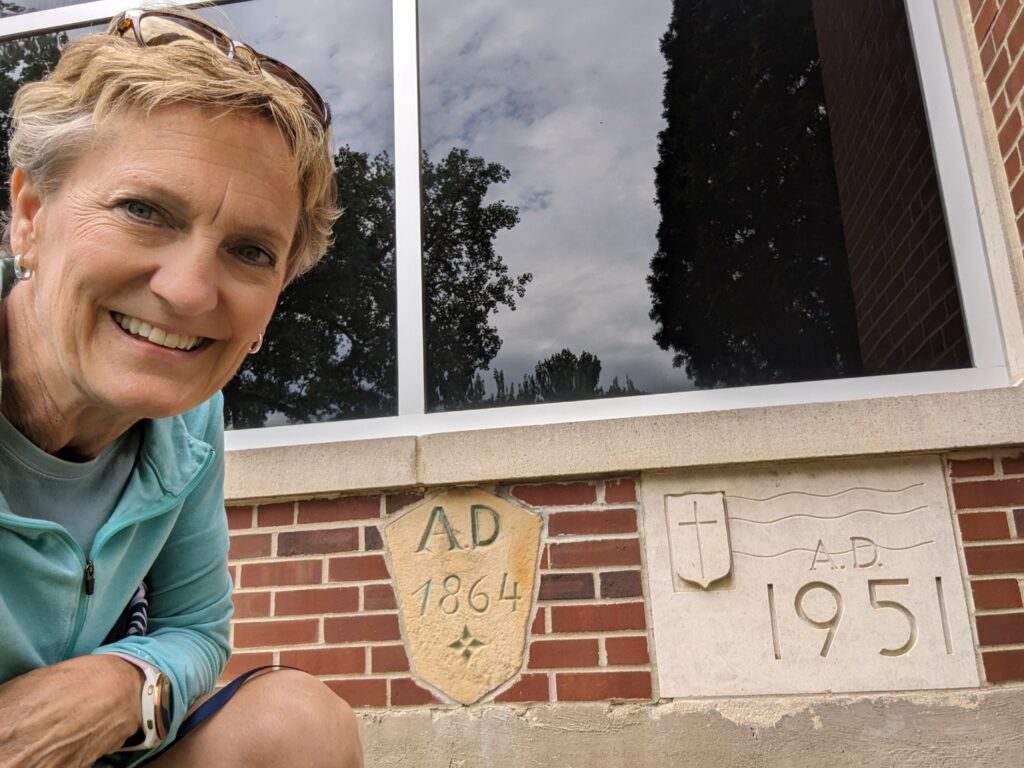 Scavenger Hunt Rules:
Each photo taken should include you/your group and the bulleted subject below.
Submit your photos in one post to the Class of 1983 Facebook Group. 
Enter your name in the Scavenger Hunt drawing at Saturday night's reunion celebration at Impact Coffee.  Your entry will only be "audited" (like BINGO) if your name is drawn!
Fabulous Prize = $75 gift card to the Luther Book Shop!!
Find and photograph you/your group and the following:
Your favorite dorm building (this will vary amongst groups)

The Blue Football Field

The Martin Luther Statue

The Pentecopterus

Decorah

ensis – life-sized model

Thankfully behind glass!

Is this here because it has Decorah in its name??

The COVID Memorial

The Rev. Laur Larsen Memorial (first president of Luther College)

All sorts of interesting history near this memorial for those of you into history!

The Luther Bell

The cornerstone of the building built in 1864 AD, and rebuilt in 1951 AD

New SPOs (relocated since 1983!)

Oedipus and Antigone Sculpture by Gerhard Marcks
Many thanks to the Class of 1983 Reunion Committee, especially Brenda Severson Meyer for organizing the hunt and sponsoring the $75 Book Shop gift certificate prize!
In honor of our 40-year reunion, your reunion committee is putting together a resource for you  – individual updates from your classmates!
The Class Update is now available online. Submissions will still be accepted on an ongoing basis—you can still contribute an update using this simple online form.
Questions? Contact Janean (Gardner) Kleist.
Many thanks to the Class of 1983 Reunion Committee, especially Janean (Gardner) Kleist for organizing!
Thank you, Class of 1983, for making such a generous and significant impact on campus for today's students!
There's still time to contribute to your 40-year Reunion Class Gift! Whether you make a one-time donation, start or increase a sustaining gift, make a pledge, or share information about a planned gift in your will or estate, your support will count toward your class gift. Together, the Class of 1983 has an enormous impact on campus.
Reunion matching challenge fund generously sponsored by Karla (Nelson) '83 and John Balk '83, Craig Fox '83, and Barry '83 and Lisa (Schulz-Fincke) Hoff '83
By making a gift in honor of your 40th reunion, you make a difference for today's students seeking the same transformative experience you had.
What counts in my class gift?
New pledges (up to five years)
Pledge payments made on existing pledges
New planned gifts or increases on established planned gifts
How do I make a gift?
Give online
Give by mail: Loyalty Hall, 700 College Drive, Decorah, IA 52101
Give us a call! 563-387-1322 or 800-225-8664
Thank you for your support of Luther College!
Special thanks to the Class of 1983 40-Year Reunion Committee:
John Balk '83 – Class Agent
Barry Hoff '83
Lisa (Schulz-Fincke) Hoff '83
Janean (Gardner) Kleist '83
Mary (Macal) Knutson '83
Dan Landsverk '83
Karen (Kramer) Landsverk '83
Brenda (Severson) Meyer '83
Amy (Berkvam) Pfefferle '83
Virginia (Heitbrink) Porter '83
Michele (Mertens) Stevens '83 – Class Agent
Jane Wiemerslage '83
Carol (Knudsen) Woodruff '83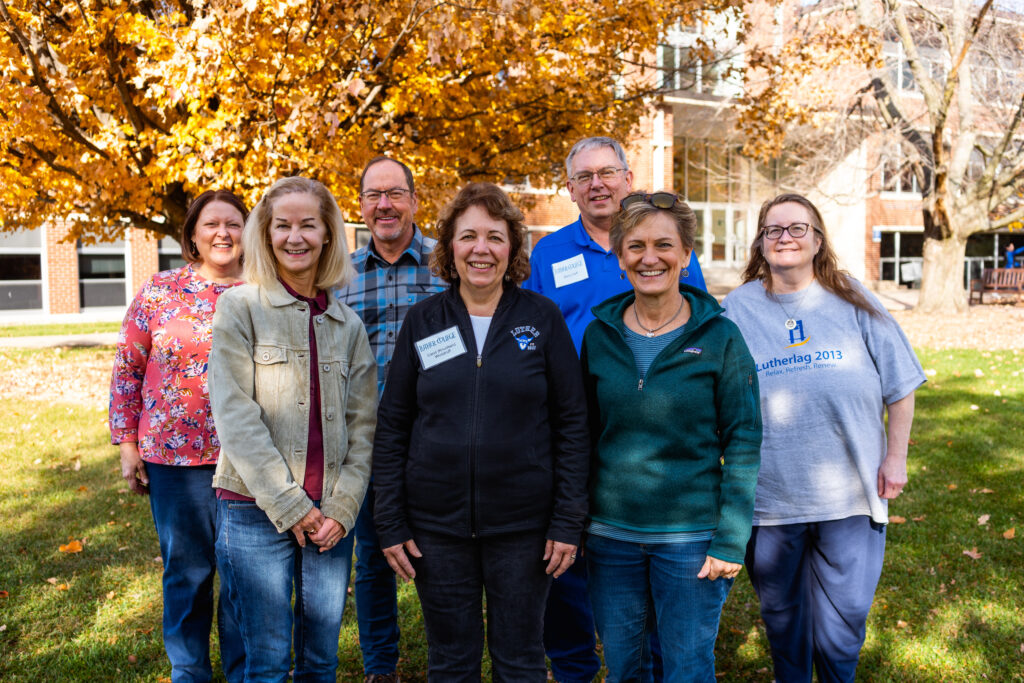 Contact Information
Office of Alumni Relations
Loyalty Hall
Luther College
700 College Drive
Decorah, Iowa 52101
reunions@luther.edu
Phone: 563-387-1164
Fax: 563-387-1322