Core Curriculum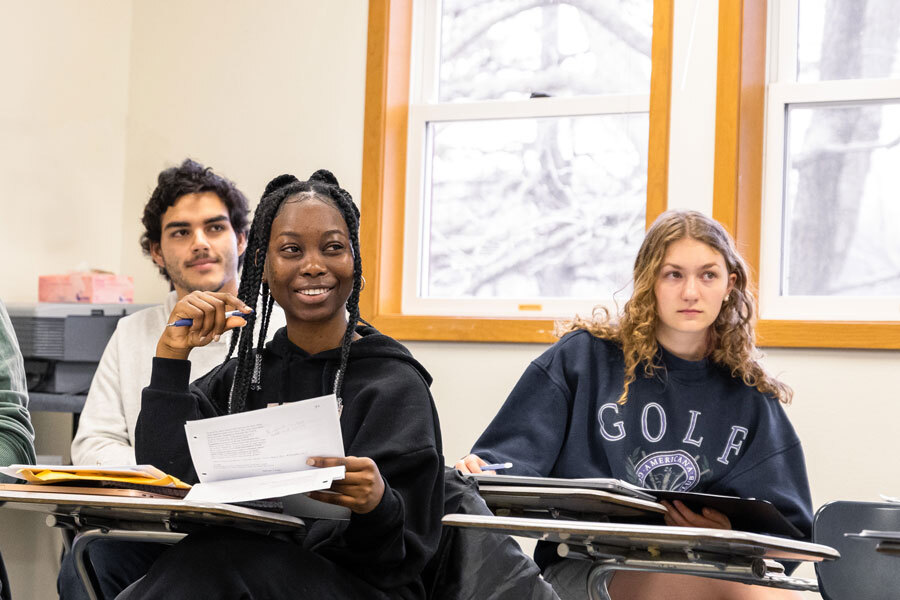 Luther's Core Curriculum gives every student the opportunity to learn actively and live purposefully as they discern their life's calling and establish their career goals.
What Is the Core Curriculum?
The Core Curriculum is a common set of courses and hands-on learning experiences that all Luther students take. It is designed to provide a broad foundation of knowledge and key skills needed to become a global citizen. Beyond that, the Core Curriculum provides room to explore your academic interests and dig deep into your chosen field of study.
The Core Curriculum helps you shape your education because it:
Incorporates learning practices that create engaged classrooms and connect knowledge to your life
Invites you to discover new fields of study that can spark your interests and passions
Helps you develop skills and competencies that employers are seeking and prepare you for graduate school
Luther's Core Curriculum accomplishes this because it:
Offers flexibility—for example, rather than taking a general math class, you can choose from a variety of data-literacy courses that will help you learn about the limitations and possibilities of data
Is built on a foundation of in-depth learning experiences—including common courses, experiential learning, and community-based learning
Helps you develop an integrated view of different areas of study and the relationship of those studies to the larger world
Build Your Foundation for Success
First-Year Experience: Paideia 111/112
Your Luther education begins with our signature First-Year Experience: Paideia 111 and 112. This pair of courses develops your ability to read, write, analyze, discuss, and research by engaging with works drawn from different time periods, genres, and parts of the world. Paideia 111/112 grounds you in community and place, and paves the way toward educated global citizenship.
Literacies
The six Literacies of the Core Curriculum help you cultivate skills and knowledge that are essential in a global world.
You'll take at least one of each of the Literacy courses:
Creative (example course, Acting Shakespeare's Plays)
Data (The Art of Sudoku)
Religious (What's the Right Thing? Religious Ethics)
Scientific (Physics in the Arts)
Social Systems (Systems of Power)
Textual (Intro to Music in Societies)
Global Engagement
The Global Engagement requirement helps you build the capacity to understand and value cultural practices and perspectives. Global Engagement courses allow you to step outside of your own experience and inhabit different ways of thinking about and experiencing the world.
Examples of courses offered in this area might include Chinese Cinema and Chinese Identity or German in Action.
Experiential Learning
Experiential Learning engages you in direct hands-on learning beyond the classroom. This type of learning helps you determine your future life goals and better understand the world's complex questions. Some experiential learning opportunities will be integrated into your coursework. Others will include internships, research, or student-proposed activities.
Integrated Components
The Core Curriculum includes integrated components of Social and Environmental Justice and Wellness. These components, designed to cultivate habits of mind and body, are embedded throughout the curriculum. A sample course you might take from this area may include Law and the Quest for Justice.
Core Curriculum Capstone: Paideia 450
Finally, Luther's distinct core curriculum capstone course—Paideia 450—engages students in ethical deliberation with a community-engaged experiential learning component. The Core Curriculum Capstone course is designed to help you synthesize your learning and apply to real-world issues through intentional community engagement and reflection.