Presidential History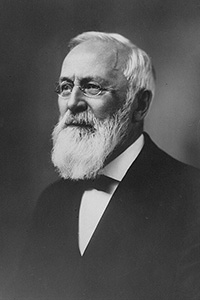 Peter Laurentius (Laur) Larsen
(1861 – 1902)
Peter Laurentius (Laur) Larsen, at the age of twenty-eight, assumed the presidency of Luther College at its modest beginning in 1861. A disciplined advocate of the humanistic tradition in education, Larsen set the tone of the institution for most of the first half of its history, modeling the college after the Latin school of his experience in Norway; next to the Bible and Christian theology, the literature of ancient Greece and Rome was at the center of education. A firm, gentle man, without great personal ambition, Larsen was much loved by students and others. Through his forty-one years as president, his primary goal for Luther College was to prepare faithfully professional leaders for church and society.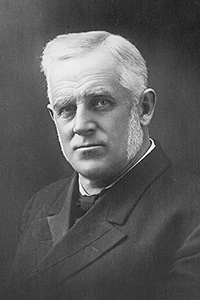 Christian Keyser Preus
(1902 – 1921)
Christian Keyser Preus was a member of the faculty of Luther College when he was elected president in 1902. The son of one of the college's founders, Preus responded to a need to expand facilities to serve a growing enrollment. The college began a slow move toward becoming a standard American liberal arts college, more open to educating students headed toward a variety of professions; accreditation by the North Central Association of Colleges and Secondary Schools came in 1915. Preus was reluctant to depart from the traditional classical curriculum, but some electives were introduced, and facilities for the physical sciences were much improved. Every graduate still had that basic classical background which prepared him for the study of theology, should he decide, early or late, to follow that course. When Preus entered the presidency almost fifty percent of the instruction at Luther was still in the Norwegian language; when he died in 1921, that language was required of all students, but English was the language of instruction in all classes.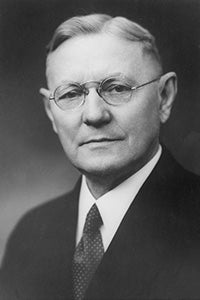 Oscar L. Olson
(1921 – 1932)
Oscar L. Olson, a member of the faculty since 1901, succeeded C.K. Preus as Luther's third president in 1921. Olson had been educated entirely at American universities; a graduate of Luther, he earned a doctorate in English literature at the University of Chicago. An impressive orator, an elegant and traditional gentleman, he met the ebullient Twenties with large plans and decisive leadership. A sizable gymnasium was completed in 1926; a farm of 360 acres was added to the campus; KWLC radio station was installed; and the museum, begun in 1876, had its period of greatest growth thus far. The stock market crash of 1929 caused a decrease in enrollment and financial difficulties for the college. In 1931 the largely prescribed classical curriculum, with heavy emphasis on languages, was replaced by a broader set of general requirements, including the natural and social sciences, and allowing for freer elective choice. This can well be called the major shift in the educational history of the college.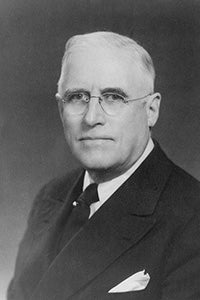 Ove J.H. Preus
(1932 – 1948)
Ove J.H. Preus, a son of C.K. Preus, succeeded Olson in 1932. His immediate challenge was the economic disaster of the Thirties. No sooner had that begun to subside when the international catastrophe of World War II once again placed the future of the college in jeopardy. The times offered little opportunity for expansion; the challenge was to survive. Through all the difficulties, Preus met the challenges with considerable grace and composure; kindness and gentlemanly charm marked his personal bearing. Coeducation was introduced in 1936, the year of the college's diamond jubilee. After the loss of New Old Main to fire in 1942, funds were raised for a replacement, as well as for a women's dormitory. But these projects had to be delayed until after the war.
J.W. Ylvisaker
(1948 – 1962)
J.W. Ylvisaker faced rapidly growing enrollments following World War II. The challenge was to provide adequate facilities, while maintaining and improving the academic program. Along with a considerable building program, President Ylvisaker introduced a development office, with a commitment to long-range planning. He presided over a fifteen-year period of Luther's history with unquestioned dignity and fidelity to the Christian identity of the institution; he was loved and respected for unpretentious leadership of the Luther family. The final year of Ylvisaker's presidency witnessed the joyful celebration of the college's centennial.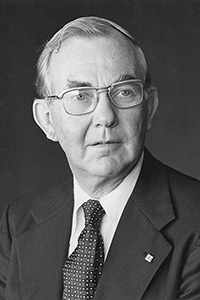 Elwin D. Farwell
(1963 – 1981)
Elwin D. Farwell came to his task in 1963 with full respect for the traditional quality of the college and a very characteristically American determination to make what was good a great deal better. With a dynamic personal style, Farwell spent his considerable energies on the challenges for growth in the Sixties. Among his goals were improving the quality of the faculty and the academic program; increasing the size of the student body and at the same time raising academic standards for admission; assuring access to higher education for racial minorities, especially Black Americans; enhancing the role of women in the faculty; and placing Luther College in the ranks of first-rate independent colleges, where he thought the college rightfully belonged. Along with all these things, Farwell pursued a bold program for the expansion and improvement of the college plant, continuing right up until his 1981 retirement. The college was awarded a Phi Beta Kappa chapter the following year, due in large part to the advances made during Farwell's 19-year presidency.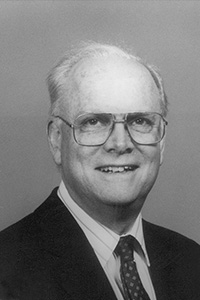 H. George Anderson
(1982 – 1995)
H. George Anderson, came to Luther College from a position as president of Lutheran Theological Southern Seminary, Columbia, South Carolina. Enrollment at the college increased by several hundred students and endowment resources grew markedly during his fourteen years at Luther. Several major building projects were completed: Farwell residence hall, a major addition to the field house, and the Franklin W. Olin Building for teaching computer science, mathematics, economics, and business. A major initiative with respect to the curriculum and the student body was an emphasis on internationalization; this resulted in a substantial increase in the number of international students and study-abroad courses. Anderson's leadership style focused on the building of consensus, making him a favored candidate for service on major church committees and commissions both before and during his Luther presidency. Elected to the position of presiding bishop of the Evangelical Lutheran Church in America in August 1995, he assumed that office November 1, 1995.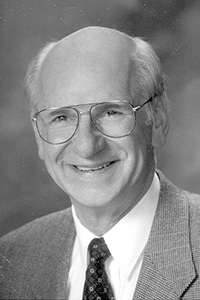 Jeffrey D. Baker
(1996 – 1999)
Jeffrey D. Baker became president in July 1996 and two years later learned that he had cancer. From that time until he left the college in March of 1999, he remained active as president. He bade farewell to the college community on a Tuesday in March at an all-college convocation—a remarkable feast of mutual affection—and died the following Monday. He made what could well have been a depressing period for the community a time of reflection on life that enriched all who were present—a model of the triumph of the human spirit in the face of adversity. He would surely have added "by the grace of God alone." In just under three years as president, Baker demonstrated leadership skills that won the trust and cooperation of all segments of the Luther community. Projects completed or begun during his presidency were a major remodeling of the student cafeteria, a cluster of student housing units, named Baker Village in his honor shortly before his death, the launch of an ambitious $100-million fundraising campaign, and a forward-thinking merger of library and information technology services.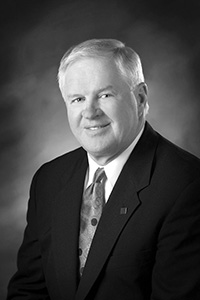 Richard L. Torgerson
(1999 – 2013)
Richard L. Torgerson punctuated his fourteen years at Luther College with high energy and accomplishment. Focused on strategic planning from his first year, he achieved the goals of two strategic plans. The second, the Sesquicentennial Strategic Plan (2008-12), featured environmental sustainability as its hallmark. Luther received national awards for its accomplishments in sustainability—including the addition of a wind turbine and a solar array to hasten the college toward its ambitious carbon neutrality goal. Fundraising achievements exceeding $200 million both substantially increased the endowment and enabled the following improvements to the physical plant: thorough renovations of residence halls and other buildings, a striking addition to Dahl Centennial Union, a new Center for the Arts, Sampson Hoffland Laboratories for biology and chemistry, Legends Fitness Center, Noble Recital Hall and faculty office addition to Jenson-Noble Hall of Music, Bentdahl Commons, an aquatic center, and campus street and walk renewal that furthers the realization of the Jens Jensen campus landscape design of 1911. Three endowed Centers—the Center for Ethics and Public Life, the Center for Sustainable Communities, and the Torgerson Center for Nordic Studies—and endowed funding for collaborative faculty/student research offered new opportunities for student learning. Torgerson also expedited more sophisticated approaches to marketing and communications, including the utilization of robust web and social media tools.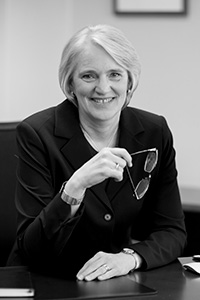 Paula J. Carlson
(2014 – 2019)
Paula J. Carlson was elected as Luther College's tenth president in February 2014 and she assumed office July 1. Dr. Carlson is a 1976 Phi Beta Kappa graduate of St. Olaf College. She holds an M.A., M. Phil., and Ph.D. in English and comparative literature from Columbia University. She has taught at the University of Dubuque, the University of Wisconsin-Platteville, Yale University and St. Mary's College in Notre Dame, Indiana. Prior to becoming Luther's president, Carlson served as vice president for mission at St. Olaf College. She also held positions as vice president and liaison to the St. Olaf College Board of Regents, and director of the Wendt Center for Character Education and associate dean for academic affairs at the University of Dubuque.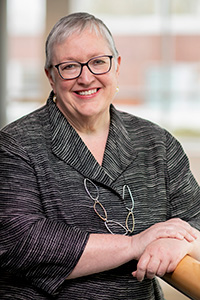 Jenifer K. Ward
(2019)
Jenifer K. Ward was elected as Luther College's eleventh president in March 2019 and she assumed office July 1. Dr. Ward earned her Ph.D. in Germanic languages and literatures from Vanderbilt University in Nashville, Tennessee, and received her Bachelor of Arts with distinction from Hendrix College in her hometown of Conway, Arkansas. She has taught at Gustavus Adolphus College, Rhodes College, and The College of Wooster. Prior to becoming Luther's president, Ward served as Provost and Dean of the College for Centenary College of Louisiana. She also held positions as associate provost, interim provost, and ultimately dean of the college at the Cornish College of the Arts in Seattle, Washington.