Mychal Shed receives Luther College's Jenson Medal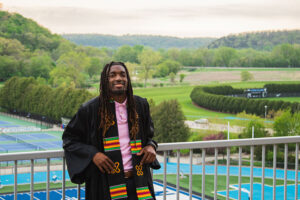 Luther College graduating senior Mychal Shed received the college's Elizabeth A. and Paul G. Jenson Medal for the class of 2023. The announcement was made during the Commencement ceremony on Sunday, May 21. 
"I feel truly blessed and honored to win this award. The Jenson Medal is especially humbling for me because it came from my classmates and friends who deemed me worthy enough to represent Luther College and the amazingly talented class of 2023. These are the same people who I entered Luther College with as strangers, and now, four years later, we are leaving as friends, teammates, brothers, and sisters. This is an honor that I will forever cherish and hold near and dear to my heart," said Shed. 
Luther's Elizabeth A. and Paul G. Jenson Medal is presented each year to an outstanding senior, selected by the graduating class, who best demonstrates the ideals of the college through service to students and the college community. Established through an endowment gift from Luther alumni Paul '48 and Elizabeth (Dybdal) Jenson '49 of Vassalboro, Maine, the Jenson Medal supports Luther College's mission of service.
During his time at Luther, Shed was a member of the men's basketball team and was voted team captain. Additionally, he was the president of the Black Student Union and served on the Student-Athlete Advisory Committee and on Luther's Diversity, Equity, and Inclusion Committee. He also worked in the Admissions Office as a Lead Student Ambassador and was an active member of the Fellowship of Christian Athletes organization. The role that was most fulfilling for Shed was serving as camp counselor/mentor for the Junior Norse Skills Camps. 
"Working with the children at camp served as a challenge of patience, understanding, and connection—a challenge that I took pride in achieving. As an aspiring youth and adolescent social worker and school counselor, I know that these experiences will be similar to the day-to-day occurrences that I will face in my career. I am grateful for those campers, as they helped me learn a great deal about myself. They helped me learn how to communicate effectively with different youth, how to build and maintain genuine relationships and connections with them, and the most salient—they taught me how to become a better listener," said Shed. 
Shed graduated with a degree in psychology. He is the son of Maya Sample and Marcus Shed and is from Teague, Texas. He said, "Coming to the rural Midwest was a concern of mine four years ago. Will I be accepted? If they do accept me, will they understand me? During my first semester at Luther these fears were alleviated completely. Now, after four years of deeply rooting myself in this community through genuine service, leadership, and love—I can wholeheartedly say that my peers have accepted me, understood me, and most definitely have supported me every step of the way." 
This fall, Shed will attend the University of Chicago, where he has been accepted into the Crown Family School of Social Work, Policy and Practice to pursue his master's degree in social work.
Ashley Benson, dean of student engagement, got to know Shed very well during his time at Luther. She said, "Myke is a dynamic human being. I remember meeting him when I interviewed at Luther. I have enjoyed watching him grow as a student leader and seeing the impact he has on his peers. He is valued by so many. He brings warmth and joy to any room he enters. I look forward to watching him grow as a graduate student and a professional. Myke truly deserves this prestigious Jenson Medal award that is woven into the fabric of Luther College." 
About Luther College
At Luther College in beautiful Decorah, Iowa, students explore big questions and take action to benefit people, communities and society. Our academic programs, experiential approach to learning and welcoming community inspire students to learn actively, live purposefully and lead courageously for a lifetime of impact.