Performing in a music ensemble at Luther opens doors of opportunity to share your music beyond the rehearsal spaces and concert halls of campus.
We're proud to offer six outstanding touring ensembles whose members "take the show on the road" for annual domestic travel.  Four of those six ensembles take turns traveling internationally, using music as a tool to make connections across borders.
Music Ensemble Tour Programs for 2023
Find the current tour programs for our traveling ensembles here:
Music Ensemble Tour Schedule
View the current 5-year tour rotation for our traveling music ensembles in this document.  International tours for music ensembles take place following Commencement in May, except for the Symphony Orchestra Vienna Residency, which occurs during J-term.
Bring Luther Music to Your Community!
Take the first steps by filling out this brief form, and we'll connect with you soon about upcoming opportunities.  We're currently booking for 2024, and always adding to our list of future hosts.
Need more information about what it means to host a Luther College music ensemble?  Our Hosting Handbook provides tons of details and resources.
International Tours
Dating back to the 1970s, Symphony Orchestra completes a month-long residency during J-term in Vienna, Austria every four years. This residency includes daily rehearsals, coursework, and visits to museums and other cultural sites in Vienna. In the evenings, students attend operas, ballets and concerts at the city's Konzerthaus, Staatsoper and Musikverein.
Symphony Orchestra will return to Vienna for another residency in January 2023.
Nordic Choir tours internationally every three years to destinations around the world.
In May of 2018, Nordic Choir traveled to Germany and the Czech Republic, visiting some of the same locations that the choir traveled to on their first international tour in 1967. Due to the coronavirus pandemic, international travel planned for 2021 was canceled.  Nordic Choir will travel internationally again in 2024.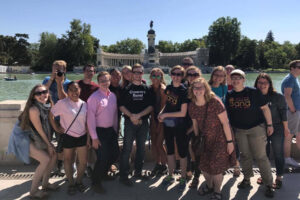 The Luther College Concert Band is one of the nation's oldest touring organizations, with their first domestic tour in the spring of 1886, affectionately earning their title as the "World Famous Luther College Concert Band."  Throughout its long history, Concert Band has enjoyed performance opportunities in the United States, Western Europe, Japan, and China.
In 2013, the band toured Iceland and Norway, nearly 100 years after its first Norwegian tour. In 2017, the ensemble toured in Spain.  The itinerary included performances in Madrid, Valencia, Seville, and Granada with additional travel to Toledo, Cordoba, Ronda, Puerto de Santa Maria and more.  Due to the coronavirus pandemic, the 2021 tour to Spain, France, and Portugal was canceled.  The next international touring opportunity for Concert Band will occur in 2025.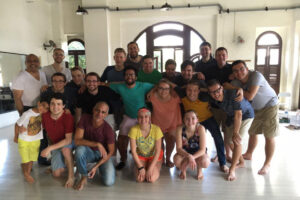 Every four years, the Luther College Jazz Orchestra travels internationally.  The ensemble has embarked on tours to Brazil in 2008, 2012, and 2016.
In 2016, Jazz Orchestra spent approximately three weeks immersed in the beautiful country of Brazil. The tour featured 13 performances; workshops in Brazilian percussion, dance, choral singing, and frevo; live performances on Brazilian public radio and television; exchanges with amateur and professional ensembles; and several trips to the beach.
Due to the coronavirus pandemic caused by the coronavirus, the 2020 Brazil tour was canceled.  The next international touring opportunity for Jazz Orchestra is scheduled for 2024.