Jon Jensen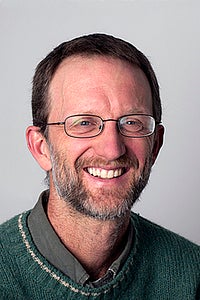 Director of the Center for Sustainable Communities
Biography
Jon Jensen is a faculty member in Environmental Studies. Jensen has been a member of the board of directors for AASHE and on the steering committee for UMACS (the Upper Midwest Association for Campus Sustainability). He works to promote sustainability in the curriculum at Luther, in the Midwest, and throughout the country and teaches courses on Environmental Philosophy, Food and the Environment, Environmental Leadership, and Sustainable Communities. He holds a PhD in Philosophy from the University of Colorado at Boulder.
PHIL 140 Environmental Philosophy
A study of the philosophical response to the environmental crisis. The course begins with a survey of environmental problems and a brief history of the environmental movement. It then examines various philosophical attempts to reevaluate human attitudes and responsibilities toward the nonhuman environment.
ENVS 130 Environmental Forays
In this course students will explore the relationship between humans and the physical environment by 1) reading seminal texts that address this relationship, such as A Sand County Almanac and Silent Spring, 2) studying basic ideas and concepts central to environmental studies, and 3) using the prairie-forest border region of Northeast Iowa as a laboratory for investigating how humans interact with the natural world.
ENVS 239 ST:Environ Pol Pacific NW
This course will examine and evaluate current and proposed policies for addressing environmental issues in the Pacific Northwest. We will pay particular attention to the range of actors involved in the making of environmental policy and will emphasize the relationship among politics, economics, ethics, and science in the making of environmental policies. Issues to be examined include wilderness, endangered species, mining and mine remediation, hydroelectric dams, water rights, public lands management, logging, and outdoor recreation. These issues will be used as case studies to understand the nature of the political process in the United States as well as to gain insight on the particular challenges in human-nature relations within the intermountain west. The course will be taught at Holden Village, an ecumenical retreat center in Washington's Cascade Mountains.
ENVS 485 Seminar
This course will be an interdisciplinary seminar for students completing the environmental studies major or minor. It will be topical in nature and will combine lecture and seminar approaches to the exploration of environmental issues and policies
Ph.D., Philosophy, University of Colorado, Boulder, 2000
M.A., Philosophy, University of Colorado, 1999
B.A., Philosophy and Political Science, Luther College, 1989
Professor Jensen's current research focuses on the intersection between virtue ethics, sustainable agriculture, and ecological restoration. He teaches environmental philosophy of science, as well as courses for the environmental studies program.
"Educating for Ignorance," The Upside of Ignorance: Prospecting for a New World View, Bill Vitek and Wes Jackson, eds., forthcoming University of Kentucky Press
"Cutting Nature at the Seams: Beyond Species Boundaries in a World of Diversity," Boundary Explorations in Ecological Theory and Practice, Charles Brown, ed., SUNY Press, 2006
"Naming What We Eat," The Cresset, Spring 2005
Questions That Matter: An Invitation to Philosophy, 5th edition, with Ed. L. Miller, McGraw-Hill (2004)