Ben Moore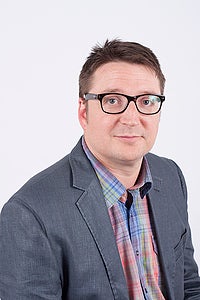 Associate Professor of Art
Biography
Ben Moore is the department head and an associate professor of art in the Visual and Performing Arts Department. His areas of specialty are painting, drawing, foundations, and digital media.
Ben Moore earned his B.A. in art from Luther College, M.F.A. in painting from the University of Iowa, and studied printmaking and drawing at the Scuola Internazionale di Grafica in Venice, Italy. Previously, he was an adjunct assistant professor at the University of Iowa and adjunct faculty at Kirkwood Community College.
Moore's recent shows throughout the United States include the MacRostie Art Center in Grand Rapids, Minnesota, the Kinsey Institute at the University of Indiana, (SCENE) Metrospace Gallery in East Lansing, Michigan, Gallery 455 in Milwaukee, Wisconsin, Arizona State University in Tempe, Arizona, BaseSpace in Brooklyn, New York, and the Tug Boat Gallery in Lincoln, Nebraska
ART 108 Foundations: Drawing
This course introduces basic aesthetic and technical aspects of drawing to students as they work to address the challenge of thinking and creating two dimensionally. Emphasis is on direct observation and translation of objects and environments into drawn images.
ART 200 Painting I
An introduction to painting techniques and color theory including a technical understanding of oil media. A visual vocabulary and the start of personal investigations into life painting and conceptual problems will be explored using still life, landscape, and the human figure as subjects.
ART 207 3D Modeling and Animation
Course will cover computer based 3-D animation with emphasis on creative content, experimentation and critical thinking. Advanced software and hardware will be used to explore modeling, texturing, physics simulations, and animation. Offered alternate years.
ART 208 Life Drawing
This studio course provides students with a thorough understanding of the structural anatomy of the human figure with emphasis on proportion, weight distribution, form and mass.
ART 209 2D Studio I
This studio course broadens the approach of 2D work through the intersection of painting, drawing, collage, and printmaking. Technical methods and design problems will be investigated through the combination of multiple media. Color theory and design practice will be employed to explore conceptual problems.
ART 216 Printmaking I
An introduction to the aesthetic and technical considerations of the printed image through exploration of a variety of basic printmaking processes.
ART 300 Painting II
This class will focus on contemporary issues of pictorial space, the development of imagery and the process of abstraction from observation. Personal painting language and direction is addressed as a major topic. Discussions and critiques are held on a regular basis.
ART 309 2D Studio II
This studio course advances aesthetic development of 2-D work through presentation and discussion of formal analysis related to issues and interdisciplinary concerns of image-based art. Intersections between painting, drawing, printmaking, collage, and photographic processes will be explored as well as the installation of media in space.
ART 316 Printmaking II
This course focuses on expanding and enriching practices related to the creation of original prints, including the exploration of alternative printmaking processes and the development of multi-colored images.
M.F.A., Painting, University of Iowa, 2006
M.A., Painting, University of Iowa, 2005
Scuola Internationalle de Grafica, Graduate Printmaking and Drawing, 2004
B.A., Art, Luther College, 2002
Ben Moore received his MFA in Painting and Drawing from the University of Iowa and studied printmaking at the Scuola Internazionale di Grafica in Venice, Italy.  His coursework includes teaching introductory to advanced painting and drawing as well as teaching in the foundations core.  Since starting teaching at Luther College in 2008, Moore has taken students abroad in Italy and exhibited regularly at spaces including the Tug Boat Gallery and Parallax Space in Lincoln, Nebraska; the Times Club in Iowa City, Iowa; Gallery 455 in Milwaukee, Wisconsin; and Dimensions Variable in Miami, Florida.