Luther Student Nurses Association
What is LSNA?
Luther Student Nurses Association (LSNA) is a student-led group for those who are currently in or will be applying to Luther's Nursing program. Our mission is to support Luther nursing students through fellowship and fun.
The LSNA:
participates in fundraising events
hosts speakers from the nursing profession
engages in community outreach activities
promotes professional development
holds an annual Nursing Department Banquet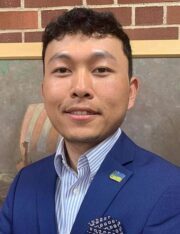 Souksakhone Sengaisouk
President
Hometown: Lao PDR
The LSNA hones my leadership skills and helps me grow personally and professionally. It also provides me with opportunities to engage with fellow nursing students as well as the local community.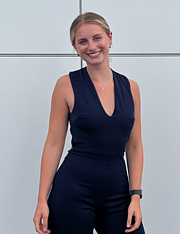 Greta Stauffacher
VP
Hometown: Ham Lake, Minnesota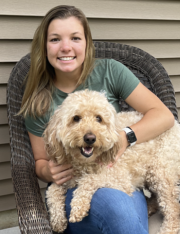 Paige Zaruba
Secretary
Hometown: Mt Vernon, IA
I am so grateful to be a board member for the Luther College Student Nurses Association this year, serving as the disaster relief chair! LSNA is a great opportunity for students to get involved on campus. As a junior student experiencing clinical at Mayo Clinic in Rochester this year, I am so lucky to still be a part of such a great program on campus all while having these great opportunities to learn! Outside of LSNA, I also participate in PALS and Dance Marathon on campus! In my free time, I love staying active, hiking, and cooking. I can't wait to see what we accomplish as a group this year and the impact we will have on the Luther community!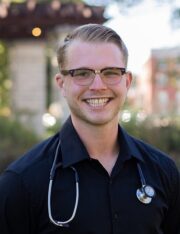 Jimmy Fuhrman
Legislative and Educational Director
Hometown: Milwaukee, Wisconsin
I am most grateful for the relationships that the Luther Nursing Program has provided me with. I have many meaningful connections with my peers and professors. LSNA has been a key contributor to forming friendships, and I look forward to getting to know more of the people that make the Luther Nursing Program as wonderful as it is! On campus I have worked as a RA in Ylvisaker, on the grounds crew and as a lab assistant. When not in class, I enjoy being active outside (as much as the beautiful Iowa weather allows) and watching sports!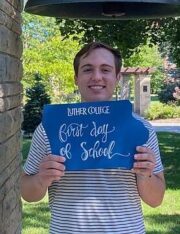 Devon Kothenbutel
Elections and Membership Director and Treasurer
Hometown: Sheffield, Iowa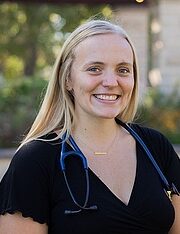 Kaylee Smidt
Public Relations
Hometown: Stewartville, MN
My favorite part about the Luther nursing program is how interactive it is. There are so many opportunities to grow and experiences to learn from. The nursing faculty help to maximize our learning experiences and make the most out of our time in the program. There are so many resources in place to make being a nursing student a fun experience. With that being said, I am so excited to serve as the Public Relations Director! Outside of nursing, you can find me outside, at a coffee shop, or spending time with my family and puppy.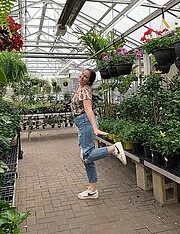 Hailey Roberge
Breakthrough to Nursing Director
Hometown: Randolph, MN
LSNA has been a way for me to grow not only professionally, but has also allowed me to grow personally in my relationships with others, give me the confidence to expand in my skills, and empower me to explore possibilities beyond the classrooms after graduation. It has been so great to work with so many different people during my time in LSNA, answering questions, offering support, and building friendships. Outside of LSNA, I work part time at Kwik Trip, hoard plants (specifically haworthias), attempt cooking new and unique dishes I find online, and finding some time for myself at local coffee shops for a little pick-me-up.
Riley Sauser
Disaster Relief Director
Hometown: Ely, IA
Katherine Syers
Fundraising Chair
Hometown: St. Paul, Minnesota
Nicole Larson
Co-Fundraising Chair and Co-Disaster Relief
Hometown: Lakeville, MN
I am so happy to be on the LSNA board this year! I love Luther's nursing program and all the hands-on opportunities it presents. As a sophomore, it is so exciting to start diving into the program and nursing-specific classes. LSNA has provided a great insight into different nursing possibilities for me and allows me to get a better idea of what the profession is really like. I hope to go into Pediatric or ER Nursing, but I'm interested to learn about other possibilities too. Outside of LSNA, I love singing in choir, going to Women's group (student-led bible study), and getting coffee with friends. I look forward to seeing all of us grow as individuals and an organization this year!
What is Senior Capstone?
This course includes experiences similar to those students are likely to confront as newly employed baccalaureate prepared registered nurses. Students work in 1:1 experiences with baccalaureate nurse preceptors in selected clinical settings. An emphasis is placed on development of personal and professional strategies needed to make the transition from student to graduate nurse by highlighting role development skills of bedside nurse leaders. (Taken from Nursing 480 Course Syllabus).
Read below to learn about some of the capstone experiences our seniors had this past January!
Ashlen H
SW Suburb territory of the Twin Cities – St. Croix Hospice, Plymouth MN
The best part of hospice was being able to interact with patients and families on a daily basis. I learned how to thoroughly assess a nonverbal patient for pain and identify gradual declines, suggesting a patient was moving towards actively dying. I also had the opportunity to work closely with others on my interdisciplinary team (especially social work). From the experience, I grew the most in my therapeutic and collaborative communication skills.
Meghan M
Cardiovascular ICU – Abbott Northwestern Hospital, Minneapolis, MN
I really enjoyed my capstone in the CVICU. I appreciated being able to experience the difference in nursing roles as compared to previous clinical experiences. I learned a lot about different cardiovascular emergencies and had the opportunity to work with both medical and surgical patients. I strongly believe that this experience increased my confidence in myself and allowed me to hone in on different nursing skills. I was regularly able to use critical thinking skills and improved my time management skills and prioritization of cares. Overall, I highly recommend Abbott as a capstone placement location!
Aubrey P
Neonatal Intensive Care Unit – University of Iowa Hospitals and Clinics, Iowa City, IA
I loved the completely new experience that I got in the NICU and working with babies. There was such a wide variety in the many patients I saw and got to become familiar with vents and other ICU specific interventions! This experience definitely confirmed that I would like to pursue a future in this area 🙂
Mallory H
Cardiac/Surgical Intensive Care Unit – Mercy Medical Center, Des Moines, IA
I absolutely loved this floor because teamwork was so apparent and the nurses were some of the most compassionate I have ever worked with. The patient population was diverse and extremely high acuity, allowing me to utilize my ICU-specific nursing knowledge and skills! I am very excited to return to this floor as a RN this summer!!
Halle H
Oncology – Mercy Medical Center, Des Moines, IA
I loved the independence that my preceptor allowed each day on the floor, this really allowed me to develop increased confidence and comfort in providing care. Additionally, the floor was really team orientated, so I had a lot of opportunities to communicate with multi-disciplinary team members.
Ashley E
Surgical/Trauma Intensive Care Unit – Mayo Clinic, Rochester, MN
I absolutely loved this experience. Each day, my preceptor and many other RNs on the unit, pushed me to try new interventions and to think critically. The Trauma Service was located right on the unit so I was able to practice my communication skills with the healthcare team frequently! Definitely a unit I hope to work on one day!
Erika B
Burn Unit – University of Iowa Hospitals and Clinics, Iowa City, IA
I loved working on this unit because I was able to work with babies, teenagers and older adults which allowed me to solidify what age group I want to work with in the future.
Victoria S
Medical Surgical Oncology/Hematology – University of Iowa Hospital, Iowa City, IA
I liked having a variety of patients; each day my patient's diagnosis would vary. This allowed for me to learn more about a variety of diagnosis and practice a many different interventions. I am very appreciative of this opportunity; it had definitely helped prepare me for employment after graduation.
Addison T
Neuroscience Intensive Care Unit – Mayo Clinic, St. Mary's Campus, Rochester, MN
I really enjoyed being on this unit because of the high level of patient acuity I encountered. An example of this was that I was able to go down to the ER with my unit's assigned 'stroke RN' when a patient with a suspected stroke was admitted. We were able to quickly implement interventions to save the lives of these patients.
Isabel W
Urology/Gynecology Post-surgical – Mayo Clinic Downtown Campus, Rochester, MN
I really enjoyed the nurses I got to work with on this unit. Everyone was incredibly welcoming. On the first day, my nurse went through and introduced me to all the nurses on the unit, and after that I was invited to assist with care in all cases.
Jacque S
Surgical/Trauma PICU – Children's Hospital of Wisconsin, Milwaukee, WI
I loved working on this floor because the entire healthcare team was great collaboration. The doctors and nurses really valued the input by the RNs. I had limited experience with patients that were intubated and on the vent and was able to work on my nursing skills and knowledge in that area. Some of my favorite memories come from seeing our high acuity patients recover by leaps and bounds to the point where they could either transfer or discharge home, it was very rewarding!
Stephanie D
Cardiac Surgical PCU – Mayo Clinic, St Mary's Campus, Rochester, MN
I really enjoyed my capstone experience! Because of the low census of patients on this unit, I was able to float for almost every shift. By floating to a variety of different units, I was able to learn how to be very flexible. I was also able to critically think about a variety of different disease processes. I really enjoyed learning about how to be an effective and efficient float nurse! When I was on my assigned unit (for only 2 shifts) it was interesting to work with a variety of different cardiac devices and to recognize the strong teamwork present on this unit!
Paxton K
Variety Pediatric Unit – Mercy Medical Center, Des Moines, IA
My favorite part about working on the pediatric unit was the variety in patient population and diagnoses. I loved learning the creative art of pediatric nursing, and I got to laugh and play with tiny humans every day! 🙂
Hannah W
Public Health – Minnesota Life College, Richfield MN

This program helps adults remain independent while providing support as needed. I completed a variety of educational presentations mostly on personal safety and building positive relationships. I really enjoyed learning about our specific population (adults with Autism) and getting to know some of the members very well. By the end of my time there several members felt comfortable enough to come to me seeking advice with personal issues. It was really rewarding to know that I had made meaningful connections with the members there.
Selena L
Pediatric Intensive Care Unit – University of Iowa Hospitals and Clinics, Iowa City, IA
This floor gave me experience in high-acuity situations with complex pediatric patients ranging from infants with cardiac issues to teenagers having had attempted suicide. I learned the necessity of effective and therapeutic communication with both patients and their families in what may be the most tragic, stressful or perhaps happiest day in their life.
Elise H
Same Day Services and Home Health/Hospice – Winneshiek Medical Center, Decorah, IA
My favorite part of working in SDS was the multitude of opportunities to practice practical nursing skills such as IV starts and postoperative assessments. Home Health/Hospice allowed me to work on my therapeutic communication and patient rapport building. Both experiences were very beneficial towards my future nursing career!
Kileigh D
Pediatric Hematology and Oncology – University of Iowa Hospitals and Clinics, Iowa City, IA
I absolutely loved my experience at the University of Iowa, and my floor especially. Everyone was so welcoming, encouraging, and supportive. I found that my passion is definitely for pediatric nursing. I really enjoyed getting to know all the kids and their families during their long stays. There was a lot of consistency, which made it easier to be independent with cares after observing the nurse once or twice. I was very happy that I chose to go to Iowa City over Mayo just to get another experience in a different facility! Highly recommend the U, there are so many opportunities! Plus if you are thinking pediatrics the new children's hospital would be such a cool experience!
Haley J
Pediatric Hematology and Oncology – University of Iowa Hospitals and Clinics, Iowa City, IA
I really liked working in a new hospital. I learned so much at Mayo, but this experience really opened my eyes to another state-of-the-art facility. I think there are things that Mayo can learn from UIHC and vice versa. For example, UIHC uses technology like the Alaris pumps, a tool incorporates several different safety checks to ensure safe medication administration! Overall, I loved my experience and would highly recommend trying a new facility!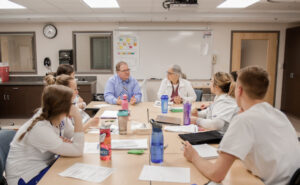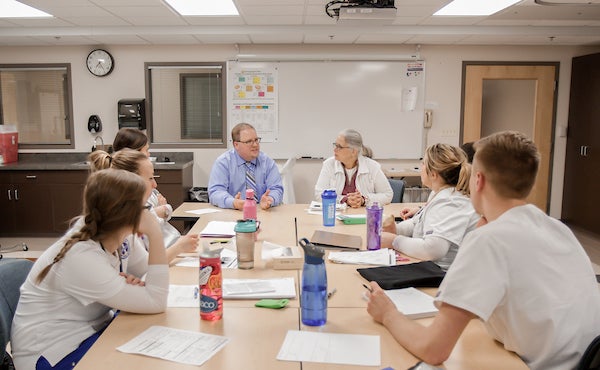 Mike Anderson '99 Visit
The Luther College Career Center, the Luther Student Nurse's Association (LSNA) and the nursing department provided students the opportunity to hear nursing alumnus Mike Anderson speak on the "History of Anesthesia" on Monday, February 13th. Mike was also able to get involved in the senior clinical simulation lab, assisting students on the tracheal intubation procedure.
Mike is a 1999 Nursing graduate from Luther College who went on to receive his MSN from Cleveland Clinic/Case Western Reserve University in 2008. He has been a Certified Registered Nurse Anesthetist at the University of Iowa since 2008. He's now a clinical professor and clinical coordinator at the University of Iowa for the nurse anesthesia program.
Over 80% of anesthesia in this country is delivered by nurse anesthetists! Luther has many graduates who have gone on to become CRNA's and many students interested in this nursing specialty.
Want to see more pictures from Mike's visit? Check out Luther College Visual Media!
Winneshiek County Emergency Simulation
The Emergency Medical Services that serve Winneshiek County, which includes the fire and police departments, EMTs, and emergency room staff, held a disaster simulation this spring. The emergency exercise event involved a crash scene at a county fair with an animal disease outbreak.
Steve Vanden Brink, the Decorah Fire Department Public Education Officer and Manager of Ambulance Services at Winneshiek Medical Center reached out to Luther College nursing students to be volunteer victims of the disaster. Students triaged at the scene and then transported via ambulance to the hospital for further treatment.
Student diagnoses included a nearly severed leg, unconsciousness, chest pain and shortness of breath, lacerations, and multiple open bone fractures.
This organization was previously known as the Pre-Registered Nursing Club (PRN). Its name was changed to Luther Student Nurses Association in the 2012-2013 school year in order to promote professionalism and align its focus with the National Student Nurse Association (NSNA).
The main purpose of LSNA is to "aid in the development of the individual student and to urge students of nursing, as future health professionals, to be aware of—and contribute to—improving the health care of all people" (Bylaws, 1972).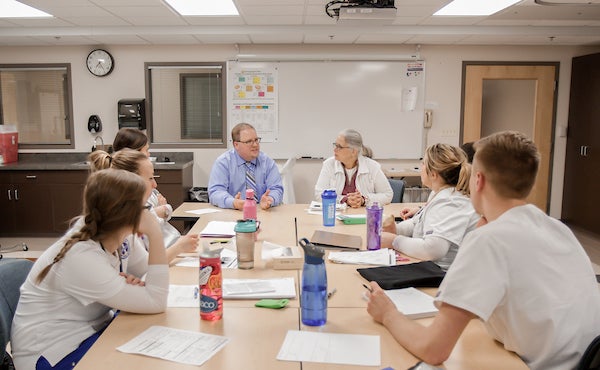 Mike Anderson '99 visits with Luther nursing students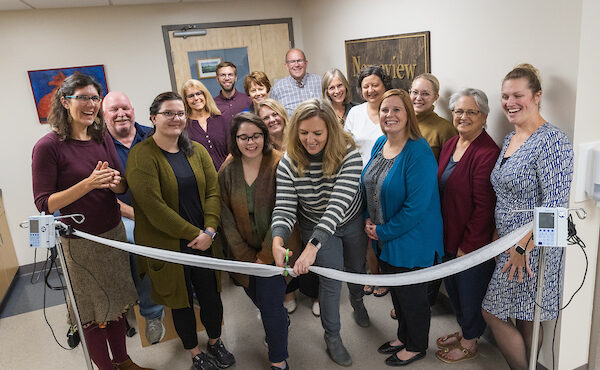 Nursing Simulation Center Ribbon Cutting