The Endeavor Together program is designed to bring together a small cohort of incoming first-year students in order to share in fellowship and adventure while building community and preparing for college life.
Students will spend six days living and adventuring together within the Upper Midwest, including the Driftless Region surrounding Luther College.
Endeavor Together: An Outdoor Immersive Pre-Orientation Program
August 19-25, 2023
The Endeavor Together program is designed to bring together a small cohort of incoming first-year students in order to share in fellowship and adventure while building community and preparing for college life. Students will spend six days living and adventuring together within the Upper Midwest, including the Driftless Region surrounding Luther College. All groups are led by two to three highly trained student leaders. The Endeavor Together program is designed for students of all backgrounds and with a variety of interests. All incoming first-year students are encouraged to attend; however, space will be limited for the 2023 program.
**Registration for the 2023 program is now closed. To inquire about possible open spots email Olivia Helland.
Grow through participation
Build camaraderie with other incoming students through teamwork and challenges that enhance trust, compassion and empathy.
Build self-efficacy and strengthen confidence by overcoming personal and group challenges.
Broaden your perspective by engaging with students of diverse backgrounds from across the country and the world.
Engage in activities throughout the Luther College region that develop a sense of place and belonging.
What Is Endeavor Together Like?
Sakchham Karki '21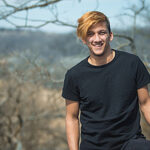 Without a doubt, the Endeavor Together trip was the highlight of my first month as a freshman at Luther College. The program offered a camping trip for international students to get to know domestic students. This opportunity allowed me to connect with the people quite easily. Some of the closest friends I have right now I met through the program. One thing I always tell people about the trip was how selfless the classmates I met were. Being thousands of miles away from home didn't feel so bad when I was with them. This was one of my most memorable experiences at Luther so far.
Hope Shishilla '21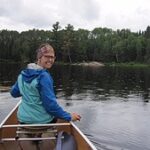 This trip gave me a head start to making friends and becoming comfortable with the next chapter of my life. Camping with total strangers in the boundary waters for a week is a guaranteed way to make lifelong friends. The Boundary Waters have always held a special place in my heart, so I was delighted to hear that Luther offers a trip were I could share this special place with new people. I found out about the trip through my sister, who embarked on the college journey a few years before me. Through this experience, I formed unbreakable bonds with outstanding people who I know I will be friends with for the rest of my life.
Elise Johnson '25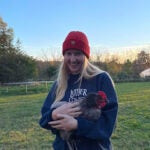 Endeavor Together was a great opportunity to form deep, lasting connections with a small group of students before the intensity of meeting tons of people during orientation. The facilitated conversations and experiences helped students understand and explore who they are, who they want to be, and learn more about their new home of both Luther and Decorah. The program was great at easing people out of their comfort zones, whether it was meeting new people, camping, reflecting, or accidentally tipping a canoe! Making friends, having fun together and sharing stories while experiencing the beauty of the Upper Iowa River was a fantastic way to launch my Luther experience. My Endeavor Together experience was incredibly impactful to me as I made the shift to college, and I look forward to being a leader with the program this year!
Sophiya Khan '21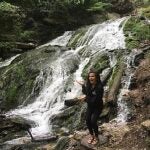 This program introduced me to a part of myself I wasn't aware I was missing. I grew up in cities and never had the chance to explore nature and all that it encompasses. It was my first 'real' outdoor experience.
It might sound dramatic to say that the trip was life-changing but it truly was for me. It set up a foundation for me as I transitioned into college. It made me more willing to engage myself in things that scared me, or uninterested me. I made friends that I talk to everyday and met upperclassmen who helped guide me into my new life. I encourage every incoming first year student to participate in one of the trips.
Jaraad Ahmed '25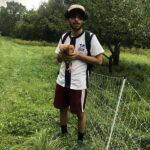 I could not have prepared myself for Endeavor Together, but I would not have done it any other way. That's the charm of the experience; no wi-fi, no laundry, just you, a bunch of other first-years, and summer in Decorah. It is led by the most enthusiastic group of people who leave a lasting impression of the student body at Luther and become familiar faces around the new campus. During Endeavor, I made forever friends in the dimly lit cabins and fell in love with the wild side of Decorah. One of my fondest memories is kayaking through the river, my first time paddling even though I come from the land of rivers. The sweet smell of the marsh grass and the currents splashing your face, as you race your group members. The hidden tree stump that catches your oar teaches you to slow down and embrace the fall in the fast streamlined lives we live, especially as college students. Reminding us that there are people who'll appreciate you in your soaked shoes and will soak their own shoes to help flip your boat back upright. It is imperative you have a go, there's nothing to lose not even your battery life!
Program Information
What if I have never participated in a trip like this?
Prior outdoor experience in camping, hiking, biking, or canoeing is not required. Do not let a lack of gear discourage you from applying, either. There is a variety of gear available to check out, please contact Olivia Helland or Jon Jensen in the Center for Sustainable Communities for more information. Inexperienced campers are highly encouraged to apply.
As one participant wrote: "This was the best possible way for me to start my college experience. I enjoyed meeting a small group of people right away. I developed a few very solid friendships. It was also nice getting to talk to an upperclassman. This was one of the best experiences of my life and is a great opportunity for incoming freshmen."
Who is leading my trip?
In addition to providing first year students an adventure-based experience, the Endeavor Together program provides an opportunity for current Luther students to grow their leadership and outdoors skills. All student leaders receive in-depth training, including Outdoor Leadership, Wilderness First Aid, and Canoe Safety training. Each trip is led by two to three student leaders.
What is the program cost?
A program fee covers all meals, transportation, activities, rental fee, and rustic accommodations. Costs will vary depending on the program. Financial aid is available for program fees and is based on a student's relative need; cost should not be a barrier to participation. Please fill out the financial aid request form, or contact Olivia Helland for more information.
What is the schedule for the program?
Check out the 2023 program schedule here!
When do I arrive for Endeavor Together?
Participants will arrive on campus Saturday August 19, and will be able to move into their dorm rooms before the program starts between 8am-12pm.
Should I move in with all my things?
Yes, students should bring all their belongings they will need for the school year on the morning of August 19th, to fully move into their room.
What do I need for my trip?
Check out our gear checklists (Upper Iowa, Biking, Backpacking) to make sure you are prepared for your trip!
Luther College is able to provide some gear if needed. Please fill out the Gear Reservation Form if you would like to borrow supplies.
Should I pack for Endeavor before I leave home?
You will go through your gear list with your leaders to make sure you have everything for your trip. To make it easier on yourself it may be smart to pack separately for this week. If you have your own backpacking pack feel free to bring gear in that, otherwise a duffel bag, handbag, etc., work fine as well.
Do I need my phone during Endeavor Together?
No! The majority of the trip locations will not have reliable cell phone reception, and we see this as a great opportunity to become present with yourself, others, and the natural world around you. It is strongly encouraged that students leave their phones on campus during the trips. Leaders will have emergency in-reach devices and a device for pictures. Parents will be contacts by the program director in case of emergency.
Gear Checklists
Forms
Schedule 
Do you love to work with people? Would you like to enhance your leadership and outdoor skills? Become a leader for the Endeavor Together Program!
The Endeavor Together Leadership Program provides current Luther students with leadership and outdoor skills training to prepare them to lead the incoming first year pre-orientation trips. Along with Wilderness First Aid training, leaders will learn how to mentor incoming first-year students through the facilitation of group discussions, active listening, and leading group challenges in the out-of-doors, all while creating positive group dynamics.
If selected, you will participate in on-going spring training to improve your leadership and outdoor skills, along with learning the habits of mind to be a thoughtful and dynamic member of a group, as you learn, teach and mentor others in valuable life long skills. A majority of training will take place during the spring semester. The Endeavor Together Program will take place in late August.
2023 Endeavor Together leadership is closed, and the 2024 leadership application will open in November of 2023. 
For more information, contact Olivia Helland or Jon Jensen.