Program Highlights
Work side-by-side with experienced faculty. Put your knowledge into practice, stretch yourself, and solve cutting-edge real-world problems. These project-oriented opportunities hone your skill in working on complex problems in a collaborative environment. They're an excellent training ground for those seeking a future in engineering.
"A scientist trained in the liberal arts has another huge advantage: writing ability. The study of writing and analyses of texts equip science students to communicate their findings as professionals in the field." —Washington Post
Luther's connected alumni network helps you find career opportunities and get professional work experience. The Rochester Semester Program provides a unique opportunity for you to do an engineering-related, semester-long internship in Rochester, Minnesota.
What You'll Learn
You will develop robust practical and theoretical knowledge in physics and related fields. You will take coursework across the physics curriculum, with a focus on engineering courses, mechanics, electricity and magnetism. You'll further enhance your understanding in upper level courses tailored to your interests in engineering.
The Pathway to Engineering at Luther
Luther students interested in becoming engineers typically complete their bachelor's at Luther, and then go on to complete a masters in their engineering field. Our alumni thrive in graduate programs. Luther provides a rigorous experience in physics and mathematics—the foundation of engineering.
Luther pre-engineering students most often major in physics, with significant study in mathematics. Students interested in all engineering fields usually also take some computer science coursework.
There are different majors and minors you'll want to consider, depending on the area of engineering you'd like to pursue. For example:
Electrical/computer engineering—consider a computer science major
Biomedical engineering—consider a biology major or minor
Chemical engineering—consider a chemistry major, with significant coursework in physics and mathematics
The physics faculty will work with you to design a course plan that supports your goals.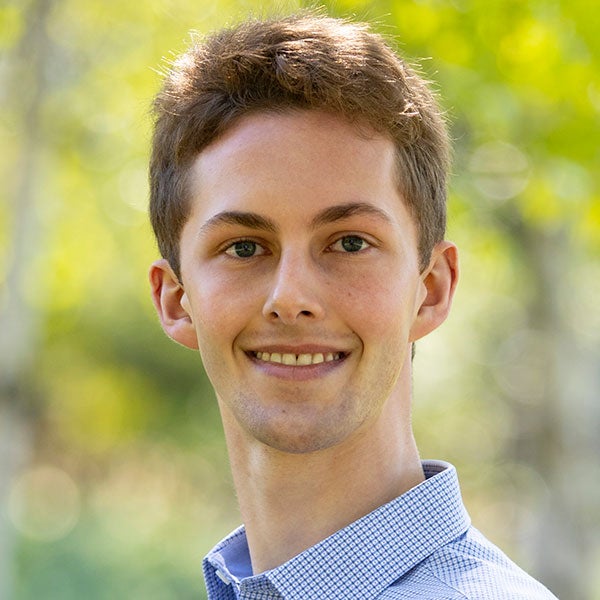 [My study at Luther] was illuminated by compelling discussions, presentations, and experiments with faculty and friends, inside and outside of the classroom.
Nicholas Behrens '21
PHYSICS MAJOR
Careers and Outcomes
The pre-engineering program at Luther College prepares you for an in-demand career in engineering. Fields include mechanical, electrical, civil, environmental, and aerospace engineering. Over the past 20 years, our graduates have successfully pursued masters' degrees and are now thriving as engineers, having gotten their starts here at Luther.
Graduate Studies
Mechanical engineering, University of Iowa
Computer engineering, Duke University
Computer and electrical engineering, Cornell University
Electrical engineering, Purdue University
Mechanical engineering, University of Texas
Employers
Apple
Short Elliott Hendrickson Inc.
NASA's Jet Propulsion Laboratory
IBM
Blue Origin
Minnesota Department of Transportation