Norskkor performs at the 2023 Iowa Choral Showcase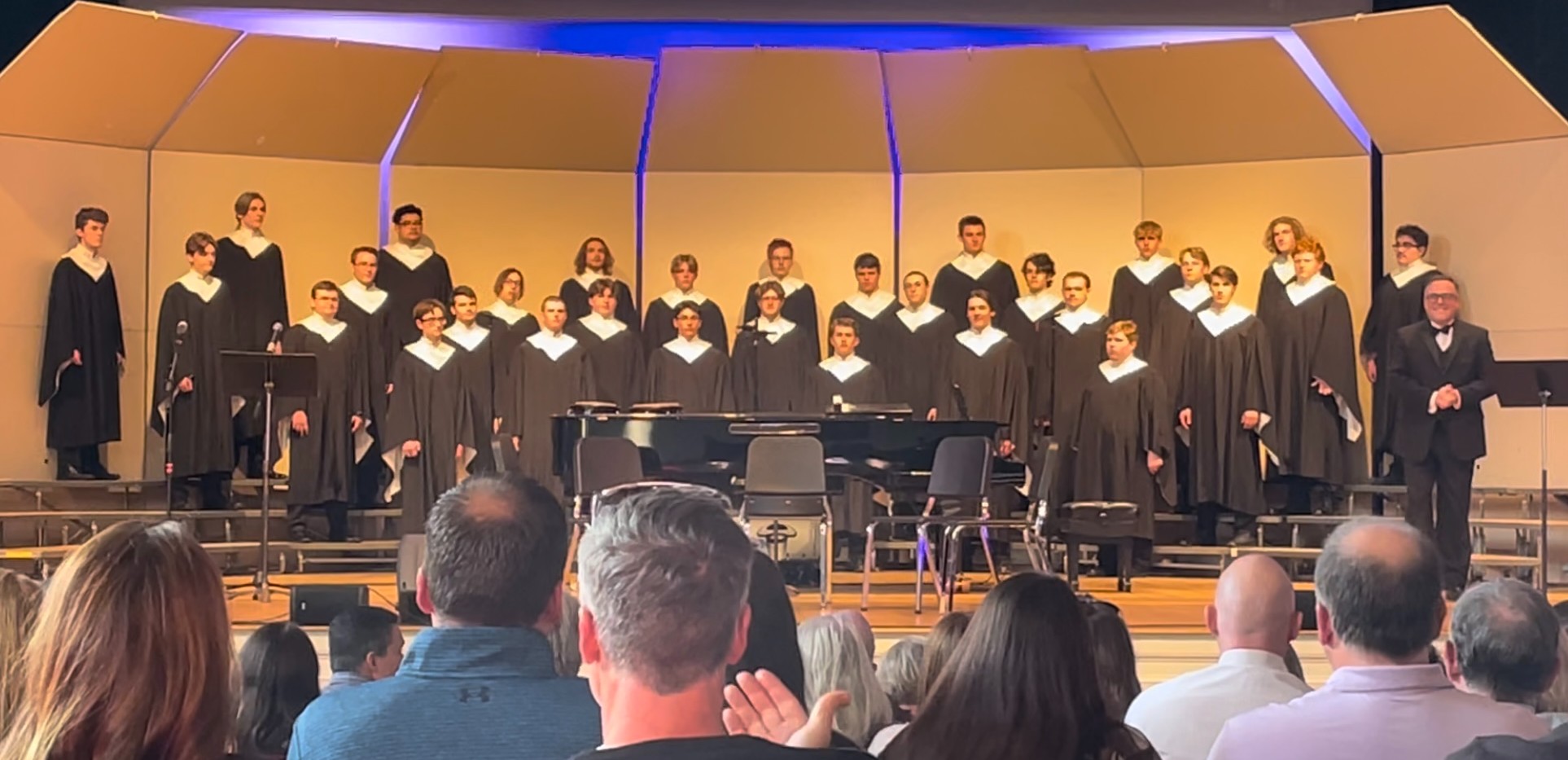 Norskkor, Luther College's choral ensemble for first-year tenor and bass singers, was selected to perform at the 2023 Iowa Choral Showcase on Wednesday, April 26. The annual showcase event, which features choral groups from across the state, took place at Coe College in Cedar Rapids. Norskkor is the only college choir that was selected to perform at the showcase.
Organized by the Iowa Choral Directors Association, the Iowa Choral Showcase is chaired by Jason Rausch, choir director at Decorah High School.
The Iowa Choral Showcase has a unique selection process among choral conventions. At many other similar events, choirs are selected based on their recordings from the previous three years. The Iowa Choral Showcase, however, makes its decisions based on recorded performances from the current academic year. Choirs are selected through a "blind" audition process, meaning that the identity of the performers is hidden from the judges to prevent bias.
Norskkor is a first-year choral ensemble. It is open to students at all levels, whether they have previously sung in choirs or not. It boasts members from various academic majors and musical backgrounds.
Iowa Choral Showcase audition recordings were due in January 2023, representing only one semester's worth of choral work together for the Norskkor ensemble.
"Norskkor's Iowa Choral Showcase selection recognizes the singers' merit, not the school's reputation," said Mark Potvin, Norskkor director. "The event is unique in that the students were selected based on their scholastic skill, artistic intuition, work ethic and sense of community, making it the perfect way to acknowledge their achievements," said Potvin.
Norskkor member Samuel Scheffler, Luther class of 2026, said, "It felt incredible to attend the Choral Showcase with all my friends. I know it is cliché, but Norskkor is family. We are a very tight-knit group that works hard. Only a few first-year groups at the collegiate level get to travel together, so I am grateful for this opportunity to come along for Norskkor."
During the trip to Cedar Rapids, Norskkor also performed at First Lutheran Church, attracting an audience of approximately 150 listeners.
Scheffler added, "Through this Showcase, Norskkor honed our performance skills and spread the word of Luther choirs to those on the college search. I have had a great experience in the Luther choral program, and displaying that to people searching for such a collegiate choral experience feels fantastic."
"It is an honor for Norskkor to be selected for the Iowa Choral Showcase," Potvin said. "We were excited to share our music with the community and represent Luther College on such a grand stage."
About Luther College Music
Luther is home to one of the largest undergraduate music programs in the nation, with five choirs, three orchestras, two bands and two jazz bands. One-third of all Luther students participate in music, including large ensembles, faculty-coached chamber groups, private lessons and master classes. Nearly 175 music majors study music theory, ear training, history, education, composition, jazz, church music and performance. Learn more at luther.edu/music.