Luther College faculty member's photographs to be added to the permanent collection at Figge Art Museum
Aaron Lurth, assistant professor of art at Luther College, will have two photographs added to the permanent collection at the Figge Art Museum in Davenport, Iowa. The photos are part of his series titled "My Paper Tiger: Carl" in which Lurth depicts what it can feel like to live with anxiety.
"In therapy, we often talk about the internal voice in our heads, a voice that tends to be negative. It's common in therapy to suggest that you name that voice and long ago, I named mine Carl. Carl is the guy constantly whispering all of the what ifs' into my ears," said Lurth. "And when talking about anxiety, it is often likened to a 'paper tiger.' A paper tiger is a term used for something that appears dangerous and frightening from the outside, but when challenged or inspected further, it proves to be ineffectual."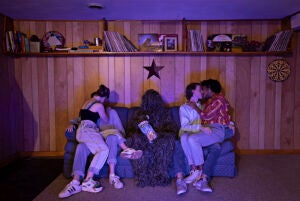 Lurth drew inspiration for this series from a number of artists, specifically Gregory Crewdson and Charlie White. The photos feature a person in a ghillie suit, a type of camouflage clothing used by soldiers and hunters to blend in with their environment, participating in everyday life. When not used for its intended purposes, the ghillie suit appears very unusual.
"With this series, my hope is that the humor and slight absurdity draw people in and hopefully the more you look at it, the more you start to see that this 'thing' in the photographs is painfully out of place, yet no one seems to notice. I hope that you will start to feel a connection with moments in your life when you have felt out of place, anxious or uneasy, and start to recognize that none of us can truly tell how people are feeling internally at any given moment. I hope these images create a space for the viewers to potentially open up and talk about their struggles with mental health, and perhaps create space for empathy towards one another through shared experiences. But if all you do is laugh, I'll be okay with that too," said Lurth.
The series of photos was recently featured in an exhibit at the Figge Art Museum. When the time came to pick up his pieces, Lurth received a call from the Director of Collections and Exhibitions informing him that they were enjoying the photos so much that they would like to add two to their permanent collection. The final decision was up to the Figge Art Museum acquisition board which recently voted unanimously to approve the acquisition.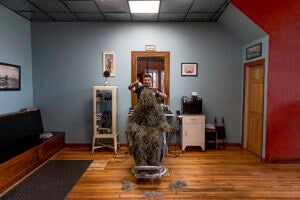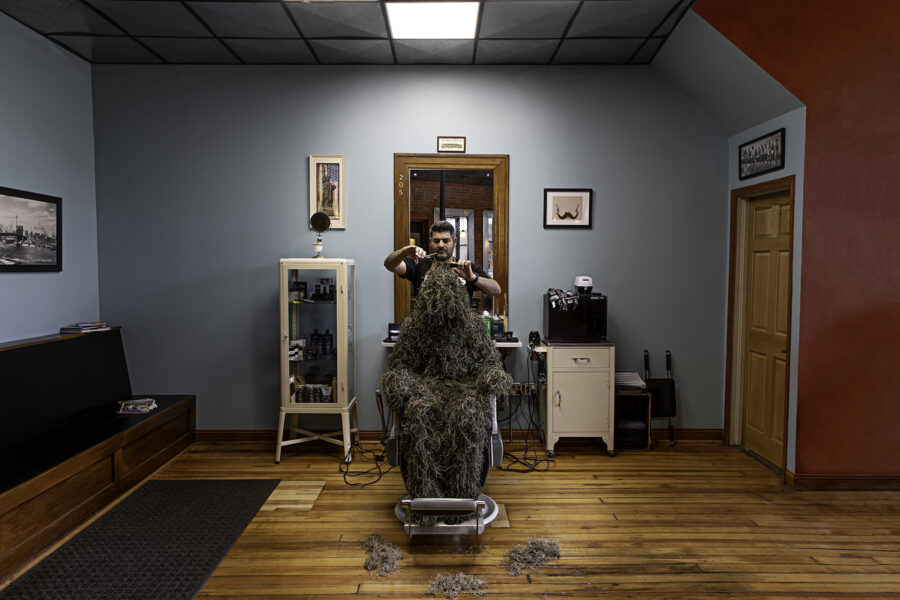 "It's an incredible honor. The Figge is a beautiful museum with a really impressive collection. Most artists never get the opportunity to be a part of a museum's collection of work and the fact that I have the opportunity to hang on the same walls as the artists I teach about in my classroom, including Rembrandt, Picasso and Warhol, it's just incredibly exciting and humbling," said Lurth.
The project was a student-faculty collaboration between Lurth and Madilyn Heinke '20. Heinke served as the project manager and organized the shoots in order to bring Lurth's vision to life. She is also likely the person you see behind the ghillie suit playing the role of Carl.
The photos will be on display and available to view at the Figge Art Museum later this year.
About Luther College
Luther College is home to about 1,800 undergraduates who explore big questions and take action to benefit people, communities and society. Our academic programs, experiential approach to learning and welcoming community inspire students to learn actively, live purposefully and lead courageously for a lifetime of impact. Learn more at luther.edu.