Luther College alumna receives National Music Educator of the Year Award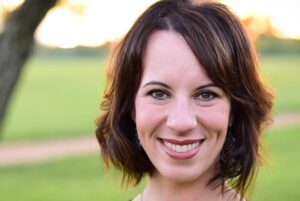 Katy Dane, Luther College class of 2003, has been named the 2022 recipient of the Music Educator Award by The National Association for Music Education (NAfME) and the Barbershop Harmony Society (BHS).
Each year, the award goes to an educator who "gives students the opportunity to learn and participate in the joy and power that music education brings in uplifting the human spirit and fostering the wellbeing of society." Dane currently teaches music at Benold Middle School in Georgetown, Texas. According to the BHS, "Dane's impact on music students in the Georgetown Independent School District extends across multiple ensembles and schools, including choirs, a cappella ensembles, orchestras and vocal soloists. Colleagues praise her high quality instruction and the breadth of opportunities she provides students through festivals and trips."
Dane was honored in a surprise presentation on Feb. 2.
"I was absolutely blown away by this recognition from NAfME and the BHS," said Dane. "Apparently the surprise had been in the works for over a month! My symphony orchestra students and I were rushed out of the classroom by our assistant principal for what we thought was an evacuation drill! For a while, none of us knew what was happening, and then we saw the flowers, balloons and a plaque."
As for what sets Dane apart, it goes beyond notes and harmonies. She focuses on creating a positive culture that supports a sense of belonging and helping students achieve individual success.
"When kids are successful, they are engaged and more motivated. We share good things and affirmations daily, we try to mix up our warm-ups, add in team-building, and I try to make connections to their other subjects. Half of the battle these past couple of years has been showing up for people and being a steady, positive impact in their life," said Dane.
Dane has been particularly inventive in developing virtual learning environments made necessary by the pandemic. Her students remained engaged while at home and received personally tailored instruction online.
Dane is widely recognized throughout the barbershop community as a teacher, director and leader. She has directed the BHS men's A Cappella Texas Chorus since 2017 and the Sweet Adelines International A Cappella Unlimited Chorus since 2011. She is president of SING! Texas, a non-profit arts organization providing a cappella education and performance opportunities for youth and young adults across the state of Texas, and is a clinician for vocal arts events in Austin and the surrounding communities.
When asked how her time at Luther College shaped her career as a music educator, Dane replied that while pursuing a double major involving her two passions (string instruments and vocal music) she felt supported and challenged by her professors and peers. Her hard work, passion and drive ultimately allowed her to graduate in four years with two degrees and countless experiences.
"I am forever grateful for the ensemble experiences I had at Luther, the trips and tours we were able to take together, the cross-curricular education and the breadth of music we were exposed to at Luther. I can't tell you how many times I have used Weston Noble's quote from our choral methods class and Messiah rehearsals, "All music must dance!' Between all of my rehearsals each week, it is something that everyone "˜gets' and feels, it transfers between generations and all ensembles," said Dane.
After graduating from Luther, Dane went on to get her Masters of Music in Choral Conducting at Texas State University-San Marcos with Dr. Joey Martin.
About Luther College
Luther College is home to about 1,800 undergraduates who explore big questions and take action to benefit people, communities and society. Our 60+ academic programs, experiential approach to learning and welcoming community inspire students to learn actively, live purposefully and lead courageously for a lifetime of impact. Learn more at luther.edu.