"Local food has been our savior"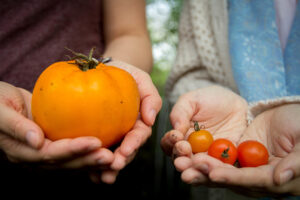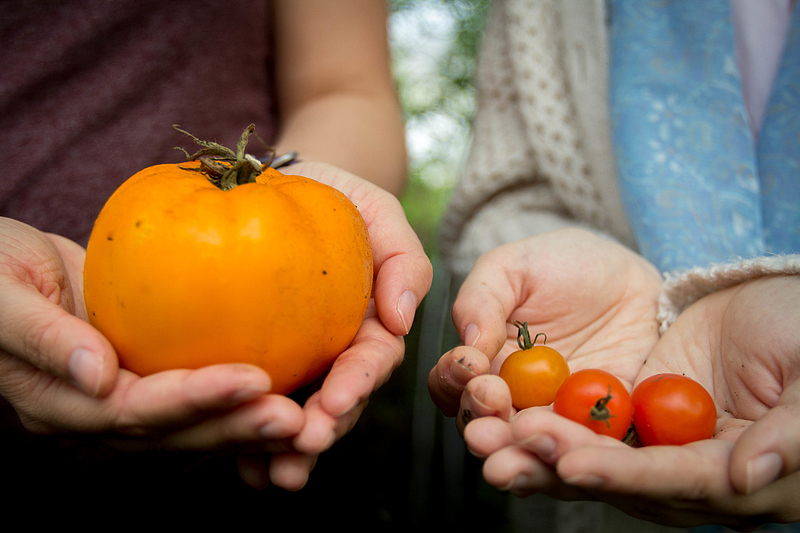 Each day, the Luther College Cafeteria offers fresh fruit, vegetables, dairy and proteins, some of which are sourced from nearby farms. Having access to local food is a luxury, but the pandemic has revealed it's also a necessity in order to feed the campus community.
Disruptions in the supply chain in recent years have made it more necessary than ever to partner with local food producers. As a result, Luther College has managed to increase local food purchases to 19% in the 2021-22 academic year.
"Local food has been our savior," said Wayne Tudor, general manager of Dining Services at Luther College. "The closer you are to the source, the fewer problems you're going to have. Our local food partners have been one of the few stable things we can count on."
Nearly 60% of dairy products in the Cafeteria are sourced in-state from places such as Andrew Erickson Dairy in Des Moines, Country View Dairy in Hawkeye and WW Homestead Dairy in Waukon. The Luther gardens help supply produce for campus events and Sno Pac Foods, based in Caledonia, Minnesota, provides the college with cost-efficient, organic vegetables year-round. Additionally, more than 98% of the coffee on campus is both locally roasted and fair trade certified due to Luther's collaboration with Decorah's Impact Coffee.
Most recently, Tudor has partnered with Ferndale Market Turkey Farm in Cannon Falls, Minnesota. As a result, all of Luther's turkey is now free-range, antibiotic-free and locally sourced – just 115 miles away.
"Turkey is our champion," said Tudor. "We went to 100% local and discovered new products we weren't aware of before."
These types of partnerships help Dining Services avoid various shortages and recalls. Sodexo Sustainability Intern Logan Olson '22 recalled that just recently, dining staff received a notice that supplies of chicken, turkey and eggs would become harder to come by due to the bird flu. However, Luther is expected to be minimally affected by this shortage, thanks to our local producers.
Olson has also seen the impact of pandemic-related supply chain disruptions firsthand, noting how sourcing food locally can help to both lessen the impact of these problems and enhance the sustainability initiatives he has been working to promote.
"Certain items have become nearly impossible to order at times," said Olson. "We are fortunate to have a network of local producers whose ability to provide food to Luther has been less disrupted by the pandemic. We also know that local food purchases are less carbon-intensive due to decreased transportation needs and they help boost our local economy. Now, we have also seen that they are incredibly reliable and resilient during challenging times."
Tudor agrees with Olson's sentiments, hailing local food as the "stabilizing factor" in a time of much uncertainty. Local products do not fluctuate in price as often or abruptly and have not been subject to fuel surcharges as commercial shipments have. It's important to Tudor that local partnerships are not only environmentally sustainable, but that they are financially sustainable.
"We're looking for long-term partnerships. Some of these places we've been working with for years, and it's just fantastic," said Tudor. "Half the joy in keeping things local is in the relationships you build. I'm a total believer in the small business and the family farm, it's part of my heritage. It's about supporting the whole community and it comes full circle."
The journey doesn't stop here. Luther College is constantly advancing its local partnerships and sustainable food purchasing goals in an effort to increase local dairy purchases to 75%, meat to 50% and produce to 25% in the coming years. Reducing food waste is also a primary concern. Sodexo, the food management company that partners with Luther College, aims to cut food waste in half by 2025.
In addition, Tudor hopes to start an education program about local foods, highlighting local producers and their products. He describes the dedication and pride that the entire Dining Services staff has in regard to how Luther's food is produced and hopes to extend that sense of pride to the larger student body.
"We know all of our yogurt is local, all of our ice cream is local, but what does that mean to students? We all need to be asking the big question: Do you know how your food is produced? We do everything we possibly can to use raw products, no additives or preservatives, nothing but good seasoning and fresh herbs. Trying to keep food as unadulterated as we can possibly get it because we believe that's the healthiest way to eat," said Tudor.
About Luther College
Luther College is home to about 1,800 undergraduates who explore big questions and take action to benefit people, communities and society. Our 60+ academic programs, experiential approach to learning and welcoming community inspire students to learn actively, live purposefully and lead courageously for a lifetime of impact. Learn more at luther.edu.