Pulitzer Prize-winning photojournalist Lynsey Addario to give Farwell Distinguished Lecture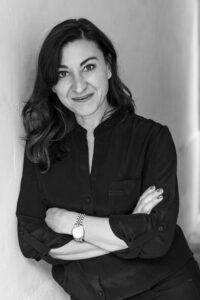 Renowned photojournalist Lynsey Addario will present the 2022 Farwell Distinguished Lecture at Luther College at 7 p.m. Thursday, Sept. 15, in the Main Hall of the Center for Faith and Life via Zoom. The title of her talk is "Of Love and War: Stories of Tragedy and Resilience from Across the World." 
"Lynsey Addario is an inspiration. It's an honor to be bringing her to Luther, from wherever she is in the world on Sept. 15," said Kristen Underwood, director of campus programming. "She'll be sharing her photographs and perspectives on the people who are affected by war and other disasters out of their control, yet still find beauty and love in the world. I think the audience will recognize her work, even if her name isn't familiar to them. She has changed the way we see humanitarian crises." 
Addario covers major conflict zones across the world and is a regular contributor to National Geographic, The New York Times and TIME Magazine. She was the recipient of the 2009 Pulitzer Prize for International Reporting for her photographs in the New York Times "Talibanistan" and she was named one of five Most Influential Photographers of the past 25 years for changing the way we see conflict in the world. 
Some of Addario's recent work includes "Finding Home," a year-long documentary following three Syrian refugee families and their newborns over the course of one year for TIME Magazine. She also completed a project called "The Displaced" for the New York Times Magazine in which she documented the lives of three children displaced from war in Syria, Ukraine and South Sudan. 
Following the lecture will be a question and answer session moderated by Maryna Bazylevych, associate professor of anthropology. Underwood says she asked Bazylevych to lead the session because of her leadership in Luther's Global Health major and because Bazylevych has a personal connection to some of Addario's work. Ukraine is Bazylevych's home country and Addario has been covering the humanitarian crisis there caused by the Russian invasion. 
Sponsored by the Elwin D. and Helen Farwell Distinguished Lecture Series Endowment, this lecture is open to the public with no charge for admission. Addario will speak to a live audience in the CFL via Zoom, with a Q&A session to follow. To join virtually, a link will be available at luther.edu/events under this event listing.
About Luther College
Luther College is home to about 1,800 undergraduates who explore big questions and take action to benefit people, communities and society. Our academic programs, experiential approach to learning and welcoming community inspire students to learn actively, live purposefully and lead courageously for a lifetime of impact. Learn more at luther.edu.