Where will you go?
by Jon Lund and Jack Lunderby '20
Where will you go? In a "normal," non-COVID world this existential question frames many of my conversations with students. I think about the question not simply in terms of geography, but also the shape, direction, and trajectory of our students' lives and their deeper reflection on what they are meant to do with those lives. I love to explore the deeper nature of things; "Where will you go?" helps me do just that.
For most of the past year, my general conversations with students have not revolved around the interrogative "Where will you go?" Instead, they have been framed by the imperative "No, you can't go." I have become Luther's global buzzkill . . . I'm the grinch who stole the study-abroad Christmas. Throughout the course of the year, it has become painfully clear to me and our students that the nature of global education does not pair well with the nature of a global pandemic.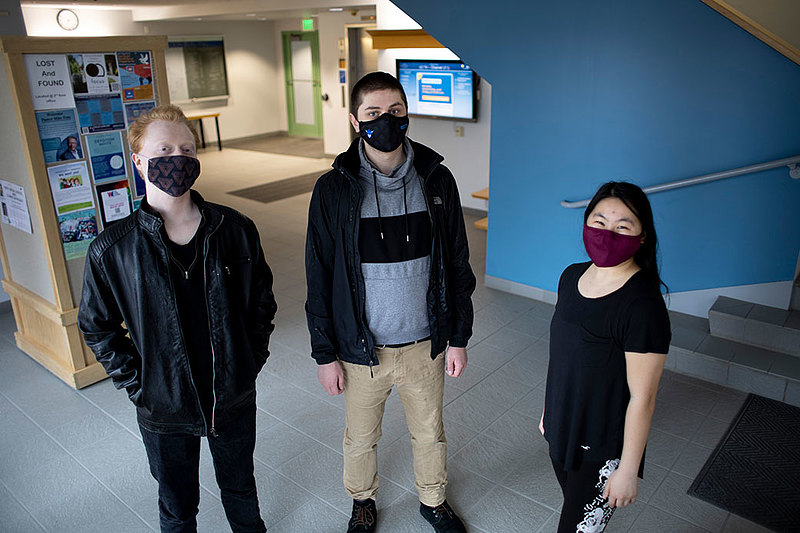 Fortunately, a new normal is beginning to emerge, and as it does, my staff and I are once again asking the existential questions. And with the help of three Luther computer science students and their meaningful senior project—called Luther Navigator—the broader Luther community can virtually reflect on this question and help others as we all begin again to navigate into a much larger world.
So, where will you go?
—Jon Lund
Luther Navigators
Over the past year I have had a lot of time to think about the role of navigators. Luther, in fact, is a community of navigators—one where students pilot themselves through life away from home and where professors guide their students in their learning through class discussions, major requirements, research, and senior projects. This year I, too, found myself serving as a navigator of sorts through my internship in the Center for Global Learning (CGL), where I met daily with students to discuss study-away opportunities around the globe. More than simply knowing a route, I came to appreciate that navigators start from a reference point—Luther, in this case. To know where you're going is, in large part, dependent upon knowing where you're coming from.
In a "normal" year, the CGL intern provides support to a faculty member and a group of Luther students engaged in one of the college's many off-campus J-Term experiences. Sadly, it was not meant to be for me this year. Instead, I got to dream about locations around the world as the CGL staff and I—along with a team of Luther computer science seniors—designed Luther Navigator, a web application where the Luther community can connect and share information from their experiences around the world. The students designed the app to be a blend of social media, user-generated content, and a TripAdvisor-style application. After creating an account, users are able to post reviews of hotels, restaurants, and other attractions from wherever their journeys take them. Users will also be able to search for specific Luther study-away programs to share in the experiences and insights of others who've participated in the program. Luther Navigator is all about connections—connections to parts of the world, to other members of the Luther community, and to the college's shared global story.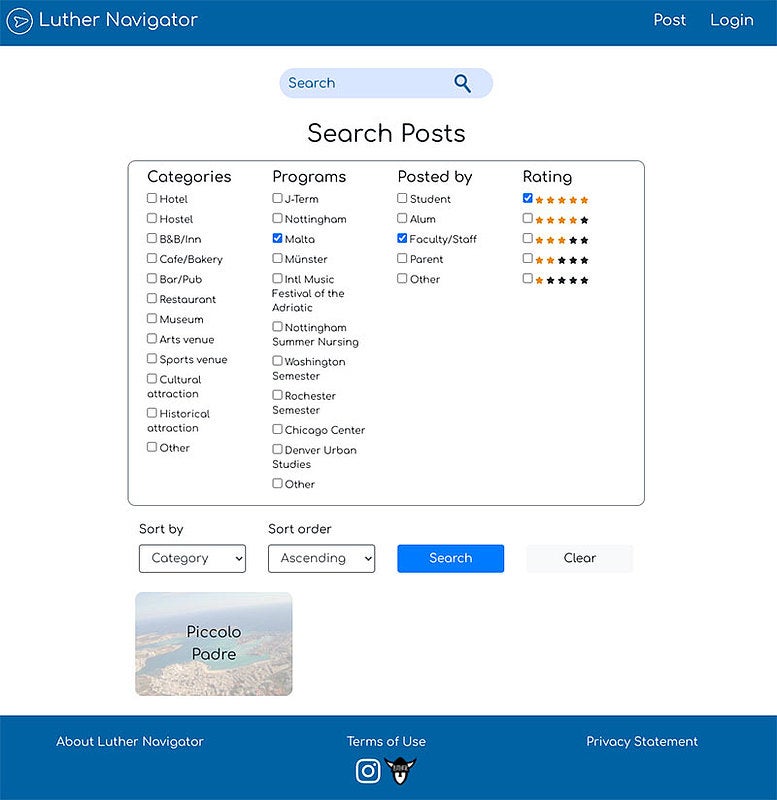 Luther Navigator is not just about sending out, it's also about bringing together. The senior project brought together the ideas and talents of three seniors under the direction of computer science professor Paul Mattson '81. Fittingly, the team was composed of students whose routes to Luther were every bit as varied as the global destinations to which our students annually navigate.
David Oniani '21 found his way to Luther from the country of Georgia after connecting with Jon Lund at a college fair in Tbilisi. A computer science and math double major, David and Jon dreamed up the idea of Luther Navigator while in the car returning from Luther's Rochester Semester Program. David enlisted the help of Will Allen '21 and Nell Himlie '21, and the project took shape. Will—a computer science, data science, and music triple major—grew up knowing about Luther from his mother, an alumna. Originally from Raleigh, N.C., Will plans to return there upon graduation to work as a software developer at the SAS Institute. Nell's journey to Luther was a bit shorter, having grown up in Rushford, Minn., with Luther on her college radar screen from a very early age.  With interests in both software engineering and graphic design, Nell took on the role of providing the creative design and clean, crisp look for Luther Navigator.
It is, perhaps, fitting that in a year defined by closed international borders and global Zoom fatigue, place-bound Luther seniors launch Luther Navigator and enable the wider Luther community to connect globally once again.
—Jack Lunderby '20
Register for an account to begin your journey at LutherNavigator.com/register!