Walking Space
Andrew Boddicker '08 of Lansing, Iowa, has been teaching music to kids for nearly two decades. But a transformational experience when he lived in Europe encouraged him to add another sort of (re)education to his docket. During the summer, he turns his attention to the business he founded, Walking Space, which offers fully supported long-distance walks to help people slow down, take stock, reconnect, and rejuvenate. Here, he tells us a bit about the call to start Walking Space and the draw of walking with intention.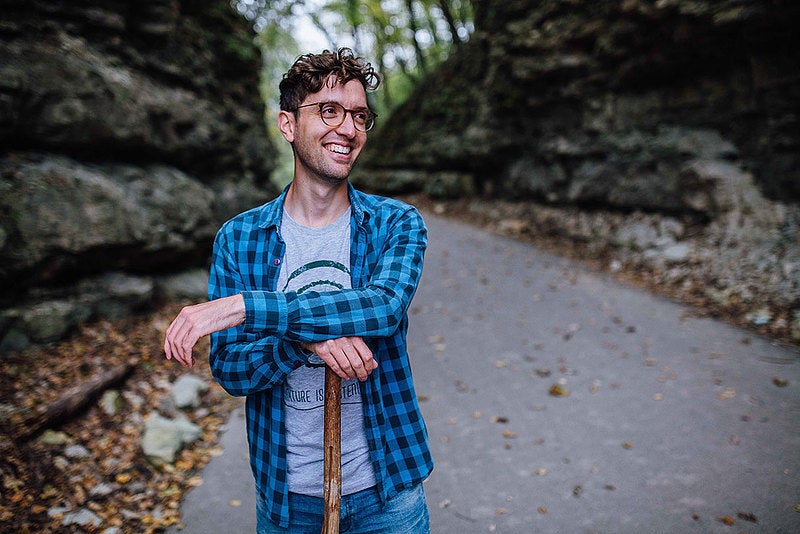 My first long walk, in the summer of 2015, was the 500-mile Camino de Santiago in northern Spain. Walking saved my life that summer. During that experience and through conversations spanning days on the trail, the idea of Walking Space was hatched. After a few years of planning and saving, I returned to Iowa from London in 2018 and began building a space where people would use walking as an outlet toward healing and reconnection. Like the Camino, it is designed to support every need (food, trail support, accommodation) so participants can focus on personal growth and self-understanding.
At its core, Walking Space invites those seeking to reconnect, reinvent, and rediscover their true, core being. With each footfall that we take, we feel more grounded in our bodies. With each conversation, we feel a welcome for who we are in that moment. Over time, slowly and with persistence, walking in nature helps us regain clarity, find our natural pace, and remind us of our wild roots. Our fast-paced living and domestication disconnects us from the cycles of nature and the senses that we honed there. We need to plug into that connection regularly for rebalancing so we feel less anxious and more at ease in life.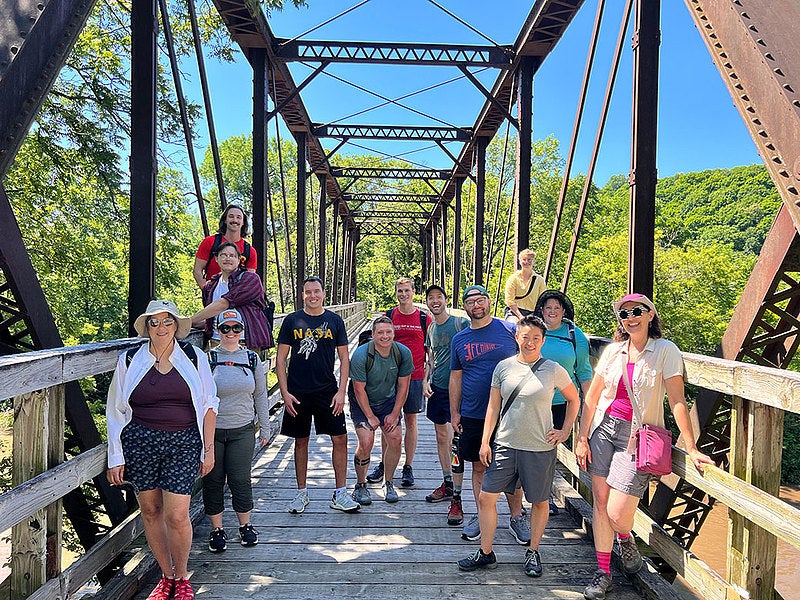 To date, Walking Space has held about two dozen multiday walks lasting from two to six days, as well as single-afternoon experiences. Everything I do through this endeavor is aimed at providing moments for people to (re)experience a core part of themselves that they were seeking or that was lost. On a recent afternoon, with a very fresh group of six people, we went on a silent mindfulness walk through a valley of pines, oaks, bluffs, and a coldwater stream. We were saturated with connection. One of the women recalled similar pine trees in her childhood home and was drawn back to that place in her mind, recalling her father and her joy of being in the scent of pines. She wept. It was ONE HOUR. She hadn't spent time like that in nature for years, and on that day she renewed and revived her joy in that place, forever changed.
This happens on every walk. Nature has a way of working on us and reminding us of what is important and at the core of who we are. I hope in my work to provide an avenue for people to delve into that space and slow down, finding flow with their footsteps and doing it right here, in the Driftless.
—Andrew Boddicker '08