To sing every story
by Kate Frentzel
Mitra Sadeghpour '94 wants to expand the opera repertoire, and she's starting that effort with kids. Sadeghpour taught opera to college students in the Midwest for twenty years. She loved her work but recognized that by the time they hit college, many students have already self-selected out of opera for a number of reasons. She was also concerned by the college audition process; it typically requires that one music selection be sung in a foreign language, which can disadvantage students who can't afford private lessons. Working as education director for MN Opera was a way for her to build interest in opera among younger students from all backgrounds.
She connects strongly with MN Opera's educational mission: to sing every story. "To me, that means not just the upper-class Western European story, but also the stories of people who live here, in the Twin Cities, which is a wonderful, rich, vibrant, interesting place. And many of the people who live here don't have representation in opera."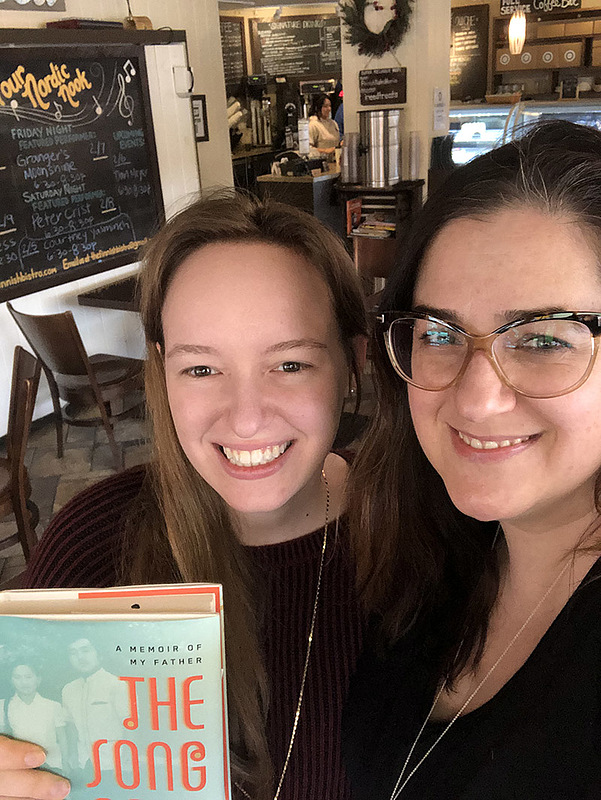 Sadeghpour is working to change that. Recently, MN Opera commissioned The Song Poet, an opera adapted from a memoir of the same name by Kao Kalia Yang. Yang's book details the life of her father, Bee Yang, a song poet in the Hmong tradition who was born in Laos, then fought on behalf of the U.S. during the Vietnam War. He and his family struggled through many hardships during life in a Thai refugee camp, where Kalia was born, then as immigrants in the U.S.
Since St. Paul is home to one of the largest populations of the Hmong diaspora, it makes sense, Sadeghpour says, that MN Opera is telling this story and reflecting the lives of people in its community. "I'm really proud of this company," she says. "Because change is slow and sometimes expensive and sometimes a gamble. You can make a lot of money doing a Gilbert and Sulllivan production—and that's fine—but to say that we're going to take a venture on this new thing because it's important to do? I'm proud of any arts organization that does that."
The Song Poet will be performed in spring 2021 by Project Opera, MN Opera's youth-training program, which Sadeghpour directs. All of the opera's performers, including the orchestra, will be kids in grades 4–12. Sadeghpour is really excited about this, since the story focuses in part on children's experiences. She hopes the production will involve lots of Hmong children—not only because the story is part of their heritage but also because she wants them to experience the pleasure of opera.
In an effort that's part Song Poet recruitment, part community-building, and part outreach to show kids representation in the arts, Sadeghpour has been connecting with Hmong communities in the Twin Cities and around the Upper Midwest, partnering with interested organizations and doing outreach in schools with large Hmong populations. She wants these kids to feel seen by the cultural institutions and art scenes in the communities in which they live, so she donates to the schools she visits a selection of books featuring Hmong American characters. "Most of the kids I meet have never seen a storybook about kids who share their heritage," she says.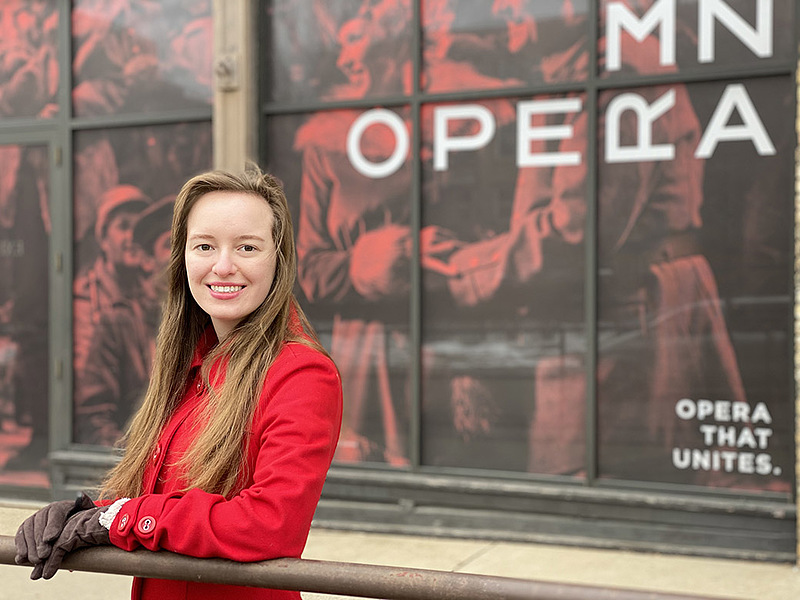 To research the story
Part of getting a production like this right is making sure that you've done your homework, and that's where Mackenzie Zenk '21 comes in. Zenk, an English major, loves research. It's not uncommon for her to spend an afternoon on Wikipedia, creating virtual rabbit holes for herself. So it felt like a perfect match when Marie Drews '02, assistant professor of English, connected Zenk with the opportunity to intern over J-term with Sadeghpour, supporting production of The Song Poet by researching the Hmong experience, Hmong culture, and Hmong musical tradition.
"I never thought I'd be able to encounter these two worlds—both the opera and Hmong culture as a whole—so intimately, and it was wonderful," Zenk says. "I am really lit up by learning about things that are novel or unfamiliar to me."
Zenk split her research time between two institutions in St. Paul: the Hmong Cultural Center and the Hmong Archives. "My focus was musical—how music enshrines culture and perpetuates it. But as I was learning about music, I had to learn about historical and modern contexts," she says. One of her biggest partners in this work was Marlin Heise, who works closely with the Hmong Archives.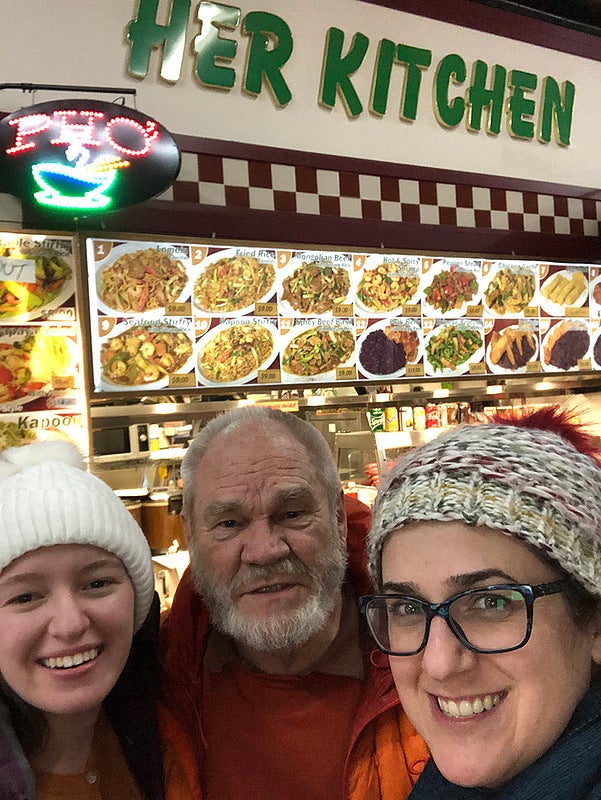 Partnering with local resources, Sadeghpour says, was critical work: "Fifty percent of my job here is making relationships with people, and Mackenzie was really able to do that, particularly with the Hmong Archives and Marlin there. In nonprofit, we have to have that relationship-building in every area."
As an intern, Zenk was able to see this in action too, by sitting in on meetings with marketing, development, and production staff. "I got exposure to a healthy, thriving nonprofit institution," she says. "Everyone worked together in a way that was smooth and mutualistic, and I saw all components of that."
Through her internship, Zenk produced several pieces of writing that MN Opera will use to educate the community and also the children who will perform in The Song Poet. But while she worked to educate others, Zenk learned something about herself.
"Through my Luther classes, I'm really used to looking over a large amount of information from disparate sources and synthesizing it to make it more accessible," Zenk says. "But I now know that I love to work with community resources. I was amazed and delighted by people's willingness to help and lend their expertise."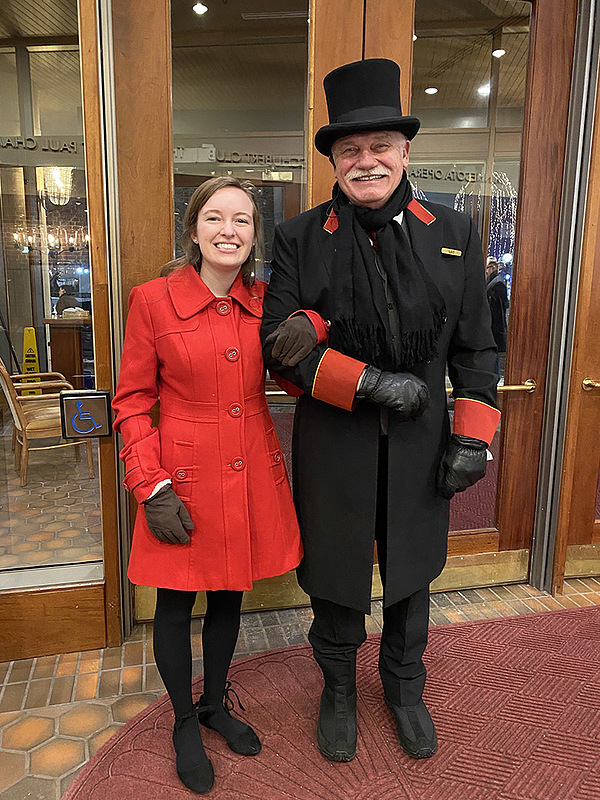 Sadeghpour, for her part, is grateful for Zenk's help in launching this opera—the very first in the world to focus on a Hmong experience. As an example of why that's so exciting and meaningful, Sadeghpour remembers a woman who came to their last Project Opera performance with her kids. The woman picked up some Song Poet promotional materials after the show and later posted on Facebook: "I am overwhelmed that MN Opera is telling this story."
She tagged MN Opera, Sadeghpour says, "And the last thing she posted was a picture of her family fleeing Laos. And I said, There it is. This is the story we're telling. This woman has never felt seen in the opera, and we're telling her family's story."