"The Theology I've Been Waiting For"
by Kate Frentzel
Menzi Nkambule '18 knew before Luther that he wanted to bring positive change to communities. What surprised him at Luther was what shape that change would take.
Nkambule grew up in Eswatini and attended Waterford Kamhlaba United World College of Southern Africa. The thoughtful curriculum and leadership opportunities—centered especially on economic and social change—got him thinking about ways to serve his community through a business leadership role.
At Luther, Nkambule majored in management, but his first day on campus, he attended a Campus Ministries community-service event during orientation. "I was like, Oh, so Campus Ministries is about service. I connected with that immediately."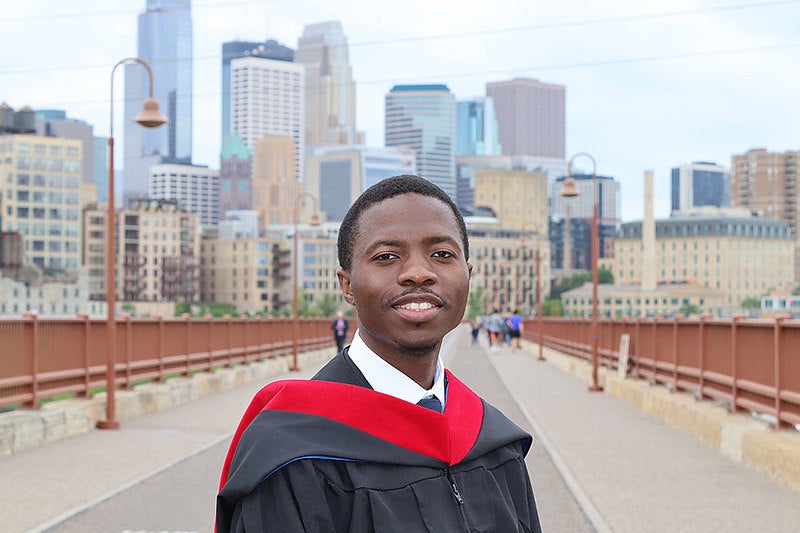 Nkambule had grown up in an evangelical faith tradition that stressed fundamentalism and the prosperity gospel—a difficult thing, he says, to connect with as someone who grew up in a financially disadvantaged household. He put faith on the back burner for a while, but when he was taken under the wing of a family that paid for him to go to junior high school, he says, "It was quite an impactful gift of grace, which completely changed the way I think about God. I was like, Maybe God is not up there, as the preacher might say, waiting to judge us when he comes back. Instead, God is here among us. God is present in each of us. God is present in this woman who adopted me."
But, Nkambule says, "I didn't have the language that Lutherans might have for that until I got to Luther. Then I was like, Here is the theology I've been waiting for!"
Nkambule became heavily involved in Campus Ministries, holding leadership roles in Congregational Student Council, volunteering with Habitat for Humanity, and fundraising for things like the Syrian refugee crisis.
During this time, he'd been thinking about management and accounting as his primary vehicles for social change. "But of course," he says, "when you hang out too much with Pastor Mike Blair or Pastor Anne Edison-Albright or Pastor Amy (Zalk) Larson '96, you find yourself thinking about ministry."
Luther College Ministries and its leadership provided Nkambule with a space to think about discernment and whether he might want to work in a faith environment.
"I ended up saying yes. I knew for sure by the end of my senior year that I was going to go to seminary," he says. He was baptized into the Lutheran faith at Good Shepherd, which also sponsored his candidacy at Luther Seminary in St. Paul, Minn.
During his four years at Luther Seminary, Nkambule worked in the admissions office. "That was a really formative experience for me," he says, "because it put me in conversation with people, listening carefully, hearing their stories, and pointing them toward the right resources." It felt like a lower-stakes version of pastoral care.
He also interned at Redeemer Lutheran Church and Salem Lutheran Church, both in north Minneapolis, and he worked as a capacity-building coordinator at the Center for Leadership and Neighborhood Engagement, which partners with community organizations to increase cultural competency and asset-based development. He hopes to carry the skills and mindsets he fostered there into his next role: leading a congregation of his own.
Nkambule graduated from Luther Seminary last spring. This summer, he answered a call to become solo pastor at St. Matthew's Lutheran Church in Jersey City, New Jersey.