Planetary Health through Digital Communications
From her office in Nairobi, Kenya, Nancy Groves '96 keeps her finger on the pulse of environmental news and policy around the world. As chief of digital strategy for the United Nations' Environment Programme, she directs strategy and guides communications, sharing information on environmental issues within the United Nations system. Groves has held this high-profile role for the last four years.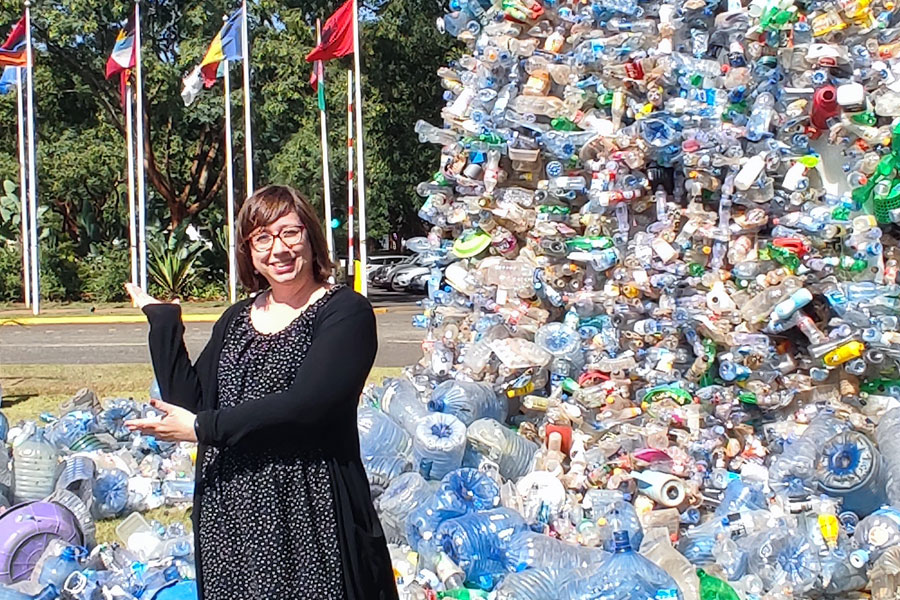 "It's the kind of job where, whether you're working on the news team, the website, or social media, you have to work 24/7," Groves says. "I don't think any of us have the work/life balance we'd like, but we're able to keep going because we really do care about the work."
Groves has been at the UN for nearly 20 years, holding roles from associate librarian to head of social media. Now she leads five teams across social media, web, and news/media, ensuring cutting-edge industry practices and technology. The social media arm of that work is near and dear to her, as she helped to establish the UN's social media presence, which today is disseminated in eight languages and boasts a following of more than 65 million.
"We use our channels to persuade people and their representatives to make good decisions, like joining a treaty, making sound energy policy decisions, or promoting better ways to handle waste. We also use our channels to get people to use their voices to then push those who have the power to make the right change with the right facts," she says.
Groves spends much of her time thinking about the "triple planetary crisis": climate; nature and biodiversity loss; and chemicals, pollution, and waste. In this, she's rooted in a world of digital diplomacy, which, in her eyes, translates to leaders and negotiators coming together to tell a joint story and to influence change for the good of humankind.
The biggest thing on her plate right now is supporting the recently adopted Global Framework for Biodiversity, a collective effort from the UN's member states. The framework is vast in scope, taking into account the public sector, private companies, consumers, and more. It will serve as a foundation for innovative environmental change and sustainability goals spanning food systems, natural resources, trees, clean water, and more.
In this effort, Groves draws hope from last year's multinational agreement to start the process of drafting a treaty on plastic pollution. "This will be groundbreaking because we've filled up our oceans with plastics and there's no place for it to go," she says. "The whole world has to come together and be creative with solutions to this problem."
It's Groves's job to make sure the world hears an accurate story and has all the right information to move forward. "People seem to want to come to an agreement. That's really going to be over the next two years. It'll be a part of making history. So I'm really excited to see how this plays out and to help support that process."