On the front line
by Kate Frentzel
A veteran physician of the US Navy, Amundson provided medical support during some intense military situations. His operational time was spent with special forces in Iraq, Afghanistan, and the southern Philippines, among other places. On the invasion force during the Iraq War, he entered Baghdad on the second day of US involvement and stayed there for the next nine months. "Interesting times for an Iowa farm boy," he says with his typical good humor.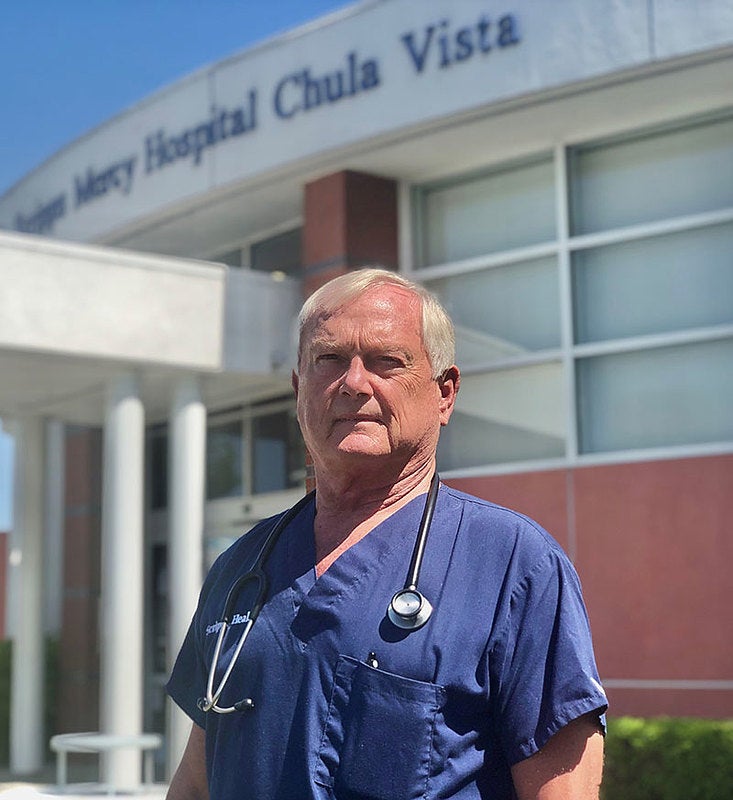 The rest of Amundson's resume reads like a highlight reel of some of the worst disasters of the past several decades. It includes humanitarian trips to Banda Aceh during the 2004 tsunami in Indonesia; Indonesia again for the 2006 earthquake in Yogyakarta; Haiti for the 2010 earthquake and devastating aftermath there; and Liberia during the 2014 Ebola epidemic.
It's clear that Amundson remains cool under pressure, and this mindset extends to his current role as head of the ICU at Scripps Mercy Hospital Chula Vista, the largest COVID care unit in the San Diego area.
As head of the unit, Amudson seems to pull strength—and metaphors—from his military background. "This work is about learning how to be safe in an environment that's not safe," he says. "And you do that as a team. It's called battle rhythm. You go into chaos, and you're not sure what you're dealing with, and you're scared. Over time that fear tends to become chronic, but it tends to decrease because you look left and you look right and everyone else is doing their job. So you hunker down and you do your job too. You put on your protective equipment, you go into the room, you do the things you need to do, and you carry on."
While Amundson admits that this work can cause fatigue, he says there are bright spots too, like when his staff gets to send a patient home. "When somebody leaves the ICU, we have them pick their fight song and we all gather and play it as we see them off," he says. "That's a fun time for everybody to watch these people survive and go on. Those are happy times."
Indeed, it's the positives that Amundson seems to focus on during this global pandemic, saying, "I feel that this is one of my times in the sun, to be able to help in this epidemic. It's an honor to work with the people I work with and watch professionals do a job in an unsafe environment. It's like war, it's like battle—it brings out the best and the worst in people. But quite frankly, the people that I see are doing the best job they can. And that's the kind of people that I want to be attached to."