Magic in the medium
by Kelli Billstein '07
Radio is one of the last golden mediums that allows access to a shared experience. Linked through airwaves, listeners can tune into an on-air host in real time, and that kind of intentional connection is rare in an era where algorithms rule the media landscape.
Brian Newhouse '80, former managing director of Minnesota Public Radio (MPR) Classical 99.5, has been spending even more time lately listening to radio and feeling that warm rapport with on-air hosts.
"That's the magic of this medium," he says, referring to the feeling of personal connection hosts create for listeners. "I'm still enthralled by people who can do that well. And MPR is that place."
MPR turned out to be "that place" for many Luther alumni over the years. Comprising three unique stations—91.1 MPR News, 89.3 The Current, and 99.5 Classical MPR—it's drawn alumni who value hand-picked music, reliable journalism, enriching entertainment, and warm on-air personalities. Here are five of their stories.
Brian Newhouse '80
A wonderful constant
Brian Newhouse remembers the first time he tuned into 99.5 Classical MPR. It was 1978, his sophomore year at Luther, and he was in his room in Olson Hall. Fiddling with the radio dial, he stumbled upon a new signal from St. Paul. The sound of mellifluous piano filled the air.
"Turns out it was a piano quartet, it was by Dvorak, and it was Minnesota Public Radio," he says. "For the rest of my time at Luther, my FM dial was pretty much locked on that station."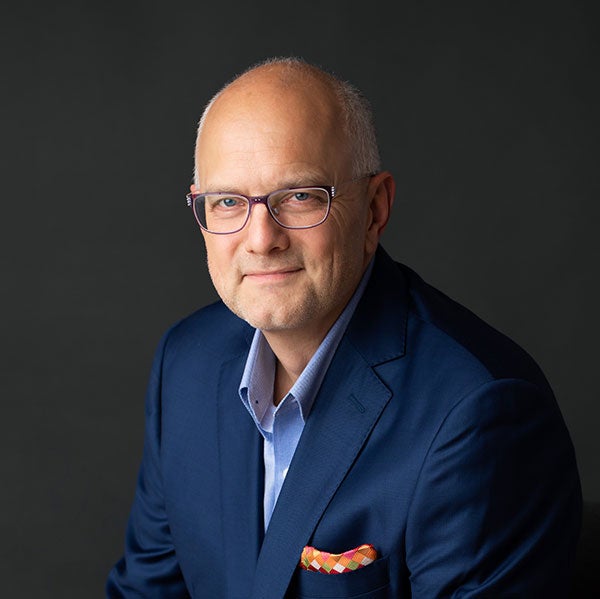 Newhouse double majored in vocal music and English, which set him up perfectly for a career in radio—along with the experience he gained at KWLC, Luther's college radio station. His involvement there was serendipitous. He got a call one Sunday morning out of the blue from the student manager, asking if he could come down to the station to fill in for the afternoon classical music shift. Newhouse says, "They knew I could pronounce the names of the composers because vocal music majors need to study French and German and sing in Latin. That was the start of my career right there."
The summer of his sophomore year, with only three months of experience under his belt, Newhouse landed the role of director of the station. He did that as well as two weekly classical shifts, a job that spanned his time at Luther.
After graduation, he got a job at a public radio classical music station, WNIU, near where he grew up in northern Illinois. "I was there for two years as the head announcer, and I really cut my teeth on what being a young professional in radio is all about," he says.
One day Newhouse got another call out of the blue. This time it was from an announcer at MPR, who asked if Newhouse would like to apply for a role that just opened.
Newhouse was instantly transported to that moment in Olson Hall—the Dvorak piano quartet playing on the radio in his dorm room. "So here I am post-Luther and MPR is calling me, asking would I like to come there? I jumped at it and was very fortunate. I thought I'd landed in Oz."
Newhouse worked at MPR from 1983 to 1993, then as a radio journalist in Germany for two years, then returned stateside and eventually to MPR classical broadcasting.
"This was a live broadcast from Orchestra Hall, and I fell head over heels in love with doing that again," Newhouse says. He recalls the thrill of leaving the safety of the studio and covering a live musical event, trying to convey to listeners what it was like to actually be there. "I remember thinking, This is it. This is my thing."
Newhouse stayed at MPR's Classical 99.5 another 20 years, holding roles as announcer, producer, manager of a production team, and finally managing director of Classical MPR, overseeing the entire operation.
Newhouse left MPR in 2020 to take on a new challenge at the Minnesota Orchestra. But MPR is still very much a part of his life. He listens in the morning as an accompaniment to breakfast, in the car, and late at night as he's winding down.
Music, Newhouse says, is "not a substitute for religion and faith, but it has that resonance and that power of religious conviction and how the spirit moves. Just as in a wonderful religious service, it can be the very same kind of feeling in a concert. Either as a performer or an audience member. And that has never changed. That's a wonderful constant."
Lorna Benson '90
Building trust in media
When Lorna Benson was around the age of eight or nine, her parents bought her a cassette recorder. She would buzz from her mom to her dad to her sister peppering them with questions, conducting interviews. This natural curiosity and fascination with journalism foreshadowed her future career.
At Luther, Benson pursued a double major in political science and communication studies. During her junior year, she took a deep dive into reporting during a January Term internship at KLSE, a radio station in Rochester, Minn. Benson was hooked. Continuing to report news for the station, she covered the band Bruce Hornsby and the Range when they visited Luther, and that story was aired.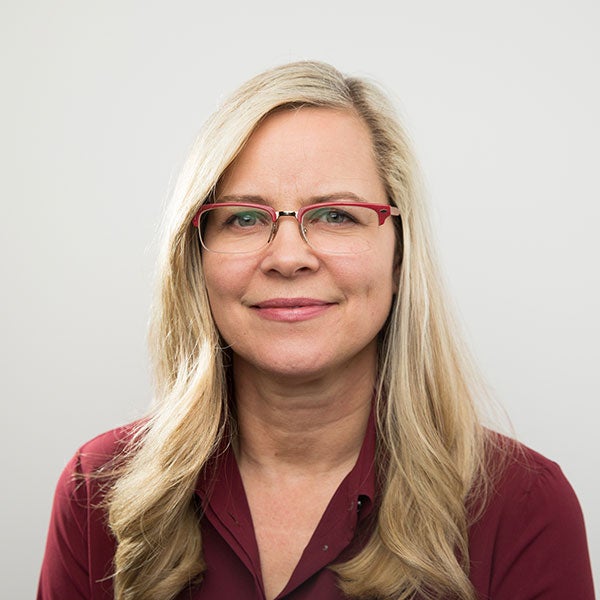 She started working at KWLC, excited to be amid the energy of a radio station. She organized the records and hung out with other radio lovers. By the end of her senior year, she sent out a flurry of job applications to radio and TV stations in the Midwest. She specifically did not apply to MPR—not because she didn't want to but because she knew she needed more experience first.
A one-year grant-funded reporting job in St. Peter turned out to be the opportunity she needed to establish herself as a reporter. For four years, Benson lived and worked as a local journalist and reporter in St. Peter, rising at dawn to do early-morning newscasting for central Minnesota. She then moved from the small St. Peter bureau to the larger MPR hub in St. Paul. She took a job as a reporter for MPR News and was a host for the All Things Considered program.
In the years since hosting All Things Considered, Benson's career has woven in and out of MPR, but today she is a deputy managing editor for MPR News, 91.1. In this time, she's given a lot of thought to the value of radio news and reliable journalism writ large.
"Trust in media has been eroding for a long time. That's nothing new. But it continues, and that is a concern," Benson says. "I've been in this business long enough to see this trend, and I think many of us now recognize that it's more important than ever to really connect with your audiences, meeting people where they are. I think we used to think of ourselves in journalism as the gatekeepers of the news, but we've been humbled in recent years. There's a lot we can learn from people who are different than we are, and that's the big conversation that's happening in journalism now. Do you really know your audience, or are you making assumptions? Are you taking the time to learn about them? How can you build trust and have that enhance your reporting? I want to be able to tell more complete stories about communities. Not to just dive in when something news-y happens, but to have relationships. That's where we are now, and while it's hard work, it's really important."
Lindsay Kimball '05
The soundtrack to every day
Ask Lindsay Kimball about highlights from her job working at MPR's 89.3 The Current, and she'll reel off an enviable list that includes arranging an in-studio performance for Adele before she was a megastar, meeting Billy Idol, and collaborating with Schell's Brewing to create a special beer to promote The Current. She has one of those "cool jobs," but it didn't come without a whole lot of hard work and perseverance—starting with her time at Luther.
To say that Kimball stayed busy at Luther would be an understatement. She pursued a double major in psychology and communication studies; she was in varsity band; she wrote concert and CD reviews for Chips; she was active in SAC Spotlight and SAC Concerts; and she was involved at KWLC as a radio host and music director. Oh, and she completed five internships.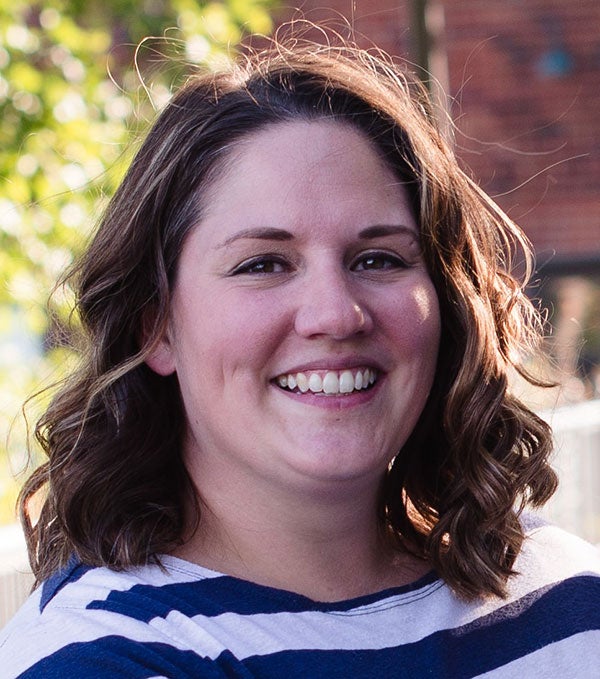 "I was doing as much as I could and just soaking it up," she says.
During her senior year at Luther, Kimball heard about a new radio station in the Twin Cities—The Current, whose mission was to play music of all genres with special attention to local artists. She was thrilled to be hired there as a summer intern.
Kimball approached her internship with genuine enthusiasm to learn and the energy to take on anything that was thrown her way. She made herself indispensable. So much so that two weeks after her 12-week internship had officially ended, she was still hard at work, coming in daily. Her boss decided to hire Kimball on full-time.
"I just embedded myself, and I kept that philosophy going forward, where I took on whatever opportunity I could to grow in my role," she says.
This included managing the music library, scheduling music for different shifts, learning different technologies, supporting marketing, meeting with concert promoters and venues, learning to produce in-studio performances and broadcasts, and being an on-air host for overnight shifts (midnight to 6 a.m.).
Kimball's role at The Current continued to evolve, and she eventually became assistant program director. In the last two years, she's pivoted to a different role at MPR to try something new—membership services. She is now director of regional membership, working to ensure the stations she loves get the financial support of listeners across the region.
"That's the cool thing about MPR; you can move around the organization, growing and shifting in your career as you try different things," she says. "I've been able to keep my radio show on The Current on Friday nights, so I can still dabble in the on-air stuff."
Embedded as she is in MPR, Kimball has a lot of thoughts about the role radio plays in communities. She says, "You can access media on any device anywhere, but one thing that's really special about radio is that it's a shared experience. And it can be very local. I think for a lot of folks, they turn to radio so they have a connection. To the host, yes, but also to each other."
When the pandemic hit in 2020, Kimball noticed that the role MPR's stations served was more important than ever. People tuned into 91.1 MPR News every day to hear from the Minnesota Department of Health on vital information about COVID-19. Others tuned into 99.5 Classical MPR to hear classical music to help them relax. And still others listened to 89.3 The Current to hear music they could sing along to.
"It might sound cliché, but for me, it's the soundtrack of every day," she says.
Emily Kittleson '11
Making the case to support radio
Emily Kittleson got her job offer to join MPR on Election Day in 2016, a politically charged and contentious time. Her role, national fundraising manager, meant that she was thinking about fundraising and supporting the stations and programs that listeners loved. At this time, post-election, MPR saw a bump in donations, which Kittleson attributes to listeners wanting to voice their value in having a trusted news source.
"Public radio is really one of the most trustworthy, unbiased sources of news and information," Kittleson says. "When people discover it, they keep coming back."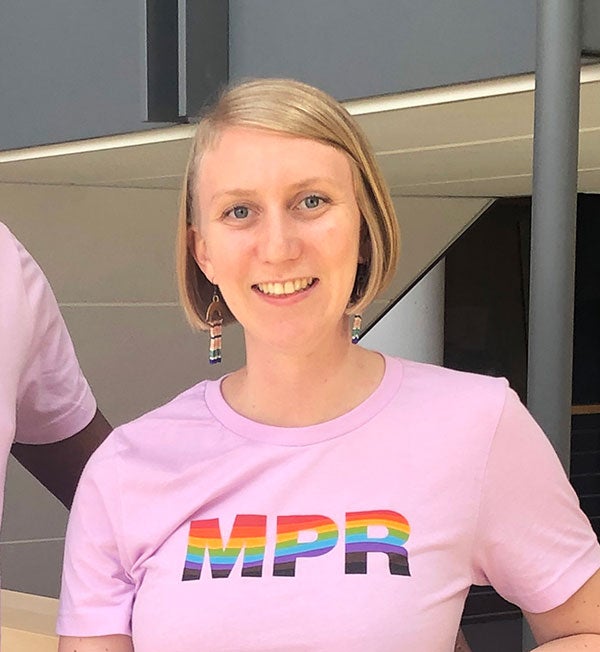 Kittleson leaned on her background working in fundraising for Twin Cities–based organizations, such as Grand Avenue Business Association and Friends of the Hennepin County Library, to land her current job at MPR. But her time at Luther also helps her thrive there. As a Chips features editor, she learned about journalistic writing and was challenged to consider angles for compelling storytelling. The rhetoric course she took as an English major taught her the art of persuasion, which she draws on all the time at MPR.
"Persuasive writing is really relevant to fundraising because you're persuading people to either follow their heart or follow their logic," Kittleson says. "I'm writing in different styles to make the case for supporting MPR or a specific program. People are motivated by different things—some by emotion, others by logic. I'm writing to all of them, trying to get them to open their wallets and support something."
As a regular radio listener and podcast lover, Kittleson is happy to use her skill set to lead fundraising at MPR. Her role is vital to the continued existence of programs like Marketplace, which is part of the portfolio that she supports.
One of the things Kittleson loves most about her work is that she's able to see results in real time as a member drive or fundraising campaign unfolds. "We'll see people respond by actually reaching into their wallets and giving," she says. "That is so powerful. I'm proud that I have the skills to put into words what the mission is and do it in a way that inspires people to become a part of it by donating."
Andrea Blocker '21
A shared sense of mission
As a communication studies and music double major, Andrea Blocker knew that she'd dive into the job search looking for a way to marry the two fields—and an MPR internship seemed ideal for it. She was recruited by Lindsay Kimball '05 and completed a summer internship in the membership services department, an experience that helped her appreciate the community that MPR listeners create.
One of her responsibilities as an intern was to reach out to MPR donors, capturing their stories and testimonials. Blocker says, "They would tell me how they started listening to MPR, the impact it has in their daily lives, and how much they want to keep public radio going. That was a big connection for me. I'm just someone in my childhood bedroom doing an internship, but this has an impact on a lot of people."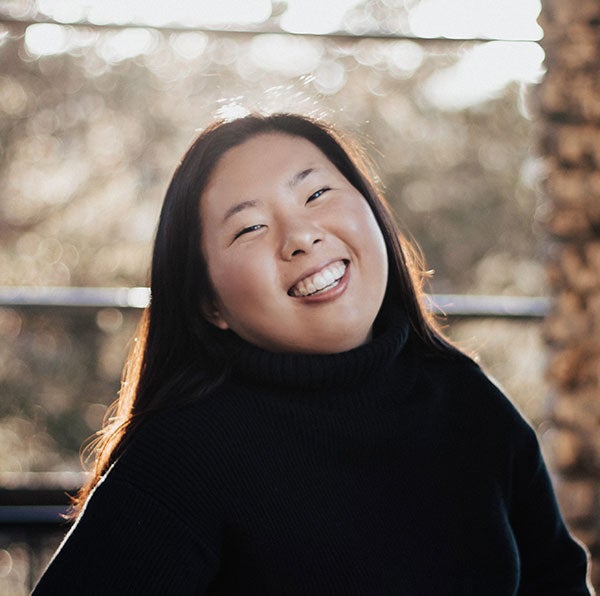 There was one anecdote from a listener of The Current that stuck with her.
"A father and his two young daughters who are in lower elementary school would get to school early and sit in the parking lot listening to music trivia," she says. "It was their fun tradition. All those small connections can foster community that MPR is known for, and it's been really fun to work on."
As Blocker's internship ended, a full-time position in membership services was posted. Her supervisor encouraged her to apply, and she landed the job as regional fundraising specialist. Blocker says that during her internship, something clicked, and she's happy to have her first job out of college be at MPR, an organization where she feels so much potential and opportunity to grow.
"I'm pretty young in my career, but I love MPR and it's definitely a place I want to stay for a while," Blocker says. "I think a lot of that has to do with the work we're doing as well as great coworkers. Everyone has the same shared sense of mission."