Homecoming 2022
It was a pleasure to celebrate Homecoming 2022 with so many of you! We made new memories together and took special care to honor some alumni dedicated to service, music, and athletics.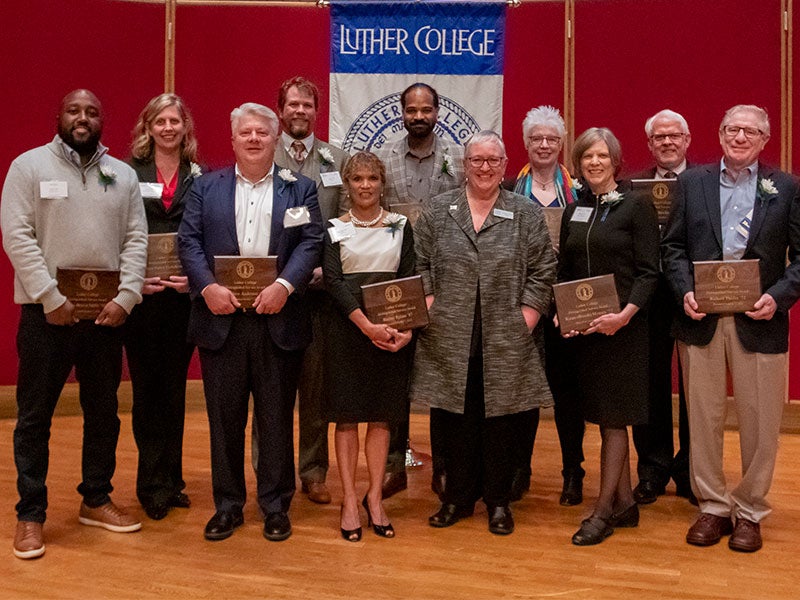 Distinguished Service Awards
Michael Hovland '72
Mike Hovland began his admissions career at Luther in 1973 and retired last year as director of enrollment management data analytics for the University of Iowa. For the past 41 years, he has sung in the choir at Zion Lutheran Church in Iowa City, where he's also directed children's programs and led Bible studies.
Richard Theiler '72
A biochemist with over 40 patents and publications, Rick held senior leadership positions at Unilever, Colgate-Palmolive, and Henkel North America. A former regent, Rick serves on Luther's Facilities and Sustainability Committee. He has helped establish a Luther biology research scholarship, initiated a solar project at his church, and worked with Feed My Starving Children.
Karen (Brandt) Monsen '77
Karen is professor emerita at the University of Minnesota. An expert in public health nursing and nursing informatics, she has served as advisor to providers, systems, universities, faculty and students around the world. She received a top award from the American Medical Informatics Association and was named a fellow of the National Academies of Practice.
Tamara Gholson Bavendam '77
Tamara recently retired as senior advisor for women's health from the National Institute of Diabetes and Digestive and Kidney Diseases. Tamara has earned Best Doctor in America and Best Doctor in Philadelphia, and Lifetime Achievement Award honors. She volunteers with Habitat for Humanity and Nashville Tools for Schools.
Rachel Reitan '87
Rachel is assistant clinical professor in the OB-GYN department at Louisiana State University's School of Medicine. She hosts a medical segment for the ABC News affiliate in New Orleans. She acts as an expert medical witness for two courts, serves on the boards of Catholic Charities of New Orleans and Vesterheim Museum, and supports agencies for animal welfare.
Andrew Anderson '87
Andrew is a partner at Faegre Drinker Biddle & Reath in Des Moines. He has provided significant pro bono services and has lobbied for improved youth mental health programs. He chaired the Vision Iowa board, where he helped secure the financing and development of more than 100 projects across the state.
Joshua White '97
Joshua is chief medical officer at Gifford Medical Center in Randolph, Vermont. He cofounded the Community Health Initiative, which provides health and human services to rural Haitian communities. He has also mentored medical students in the Physicians for Health and Human Rights organization.
Amy Parker Fiebelkorn '97
Amy is a senior epidemiologist at the Centers for Disease Control and Prevention, where she oversees 24 adult vaccination projects. She has volunteered in Ghana, Nepal, and Bangladesh. The safe water system resource guide and standardized curriculum she developed for Kenyan healthcare workers have been adapted for use in over 100 clinics in 10 countries.
Roy Brown Sartin '02 and Eli Williamson '02
Roy and Eli founded Leave No Veteran Behind (LNVB), a charity investing in veterans through employment training, transitional employment programs, and educational debt relief. They were called to active army duty during the 9/11 mission but struggled to pay off college loans afterward due to various restraints for veterans. LNVB invests in veterans who seek to continue their service as assets in their home communities.
Distinguished Service Award (DSA) nominations may be made at luther.edu/alumni-friends/engage/stay-connected/alumni-award-nominations/distinguished-service.
Music Awards
Weston H. Noble Award
Kirk Severtson '97 is a professor of voice at the University of Michigan, where he conducts the opera program. He has served on the music staff at several opera companies, has conducted and coached around the world, and serves as the executive director of the National Opera Association.
Carlo A. Sperati Award
Jennifer Boomgaarden Daoud '97 was the executive director of the South Dakota Symphony Orchestra, where she earned two ASCAP awards, the Bush Prize for Community Innovation, and the Helen M. Thompson Award from the League of American Orchestras. She was appointed Omaha Symphony president and CEO in 2018.
Presser Undergraduate Scholar Award
Eric Head '23 is a member of the violin section in Luther's Symphony and Chamber Orchestras. He also sings in Collegiate Chorale and is deeply involved with collaborative piano.
Richard C. and Joann M. Hemp Family Prize for Orchestral Performance
Rob Clower '23 plays oboe in Luther's Symphony and Chamber Orchestras. He also sings in Collegiate Chorale and in the a cappella group Undeclared.
Athletic Awards
Inductees into Luther's Athletic Hall of Fame included: Donald Hrodey '72, football; James Lantz '72, baseball; Robert Miller '72, track and field; Kirk Neubauer '76, track and field, cross country, head coach of men's track and field, head coach of women's cross country; Jenarah Tekippe '01, track and field; Jen (Shinbori) Giordano '02, soccer; Christina (Gaard) Baumgart '07, basketball, softball; Kyle Pearson '07, football; Kyle Schroeder '07, baseball; Kelsey (Kittleson) Millonig '12, softball.
.