Good fellows
by Kate Frentzel
Among Luther alumni there are a lot of good folk, but there are also a lot of good fellows. From graduate students to mid-career professionals, these alumni have distinguished themselves in their areas of expertise and earned fellowships that cover their tuition, widen their networks, or develop their professional skills—sometimes all three. We checked in with a few of these current and former fellows poised for influence and leadership in their fields—and prepared to change the world for the better.
Augie Lindmark '12 • Resident physician in primary care and HIV medicine at Yale University • Former Oryema Fellow
As a resident physician in primary care and HIV medicine at Yale University, Augie Lindmark provides healthcare in a system that he desperately wants to change—but he thinks he's got the right vantage point. "In some ways, practicing clinical medicine is like being at ground zero of the successes and the faults of any given health system," he says. "As a clinician working in the US, you get to sit firsthand with people asking questions like How much will I get billed for this? If you're going to work and comment on larger systems that are perhaps designed to get the results that they currently get, it helps to sit with the very people who are ignored in that system."
Lindmark's interest in social medicine has Luther roots. Learning about HIV in both his biology and sociology classes helped him see the condition from a medical and human rights perspective. He also felt challenged by his Luther professors and peers to think about power structures, and he carried this thinking into medical school at the University of Minnesota. "Systems of power aren't generally something that's taught during medical school," he says, "but they certainly play out in the interactions between health professionals and in how health systems are set up."
Wanting to focus more on power structures and how inequities form in the first place, Lindmark pursued an Oryema Fellowship sponsored by SocMed, a nonprofit that teaches health professionals to advance health equity. As an Oryema Fellow, Lindmark looked at systems of power and privilege in the Twin Cities area. He also traveled to Rwanda and Uganda to connect with a global community of social medicine students thinking about how to build the movement for the right to health and how to bring health professionals into that movement. "It was a little bit of a respite after the third year of medical school, when I was racking up a lot of work inside a building," he says. "There's a whole world out there that leads to someone coming to a hospital in the first place, and we don't seem to be addressing any of those issues in our medical training."
Camaraderie was among the biggest benefits Lindmark experienced during his year as a fellow. "There are systems that will prioritize profits over people's access to healthcare in every corner we look," he says. "Being able to develop a sense of solidarity in that struggle really helped to break down the isolation that can come from doing this work."
In spite of his demanding residency at Yale, Lindmark finds time to publish articles on the US healthcare system—most recently about doctors and dark money—and use his social media platform to tweet about health system injustice to his 11,000 followers.
Lately, as a practicing physician and health justice activist, his Twitter feed is dominated by coronavirus-related content. "My friends joked the other day that crises and pandemics are probably your greatest recruitment efforts for a universal healthcare system," he says. "There's fear and hysteria, but there's also an element of people having to face their privilege and recognize how fragile that can be when we live in a global community and interact with our neighbors every day. Regardless of who you are, your health intimately depends on whoever is next to you. We're all in the same boat together, and wouldn't it be great to raise the floor, especially when someone needs to access healthcare."
Kamin Mukaz '10 • Postdoctoral associate in the Division of Hematology and Oncology at the Larner College of Medicine, University of Vermont (UVM)
Debora Kamin Mukaz is a cardiovascular and metabolic disease researcher involved in one of the largest cohort studies of its kind in the US. Sampling more than 30,000 people from the so-called stroke belt of the American southeast, the REasons for Geographic and Racial Differences in Stroke (REGARDS) project aims to understand racial, ethnic, and geographic disparities of stroke. Last year, Kamin Mukaz received a travel grant to the International Stroke Conference in Los Angeles to present her work on defining biomarkers of hypertension. She's also researching biomarkers of diabetes and studying how white blood cell counts relate to diabetes.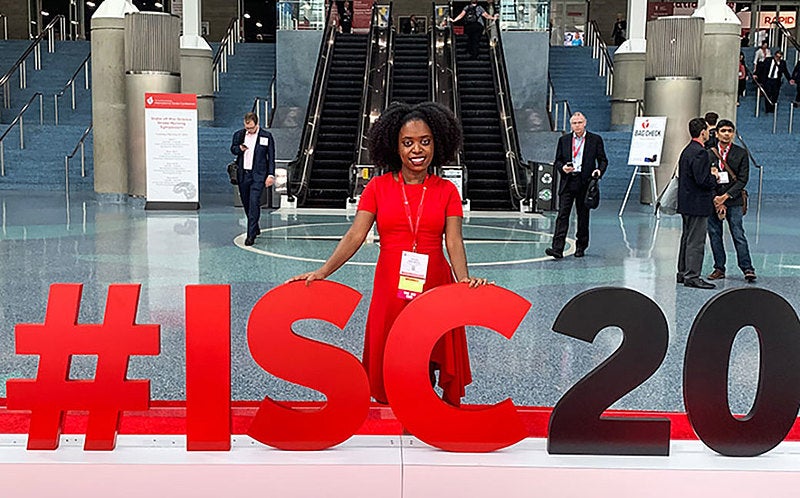 Kamin Mukaz came to this research through doctoral work that focused on the health of migrant African communities in the US, especially concerning diabetes. "My work is very much an intersection of my passion for science and my passion for addressing the health disparities of communities that tend to be ignored," she says. "I want to understand what is happening here and to help answer some of these questions so that we can figure out ways to lessen these disparities."
Kamin Mukaz credits her love of research to Luther biology professor Marian Kaehler, who helped her secure a Luther-funded grant as a student to look at the genetics of race and ancestry. "As a female scientist," Mukaz says, "you really have to have these mentors, and I owe her a lot."
Kamin Mukaz also appreciates her Luther education more generally. "The liberal arts education that I got at Luther allowed me to understand that health and diseases do not happen in a vacuum. You have to look at all these different factors and understand them," she says. "At Luther, I got a better, broader understanding of how diseases interact with biology, genetics, environment—everything."
Timothy Bumpus '15 • National Science Foundation Graduate Research Fellow at Cornell University
Timothy Bumpus is a National Science Foundation Graduate Research Fellow in the Baskin Lab within Cornell University's Department of Chemistry and the Weill Institute for Cell and Molecular Biology. While his title is a mouthful, Bumpus explains his research in a straightforward way.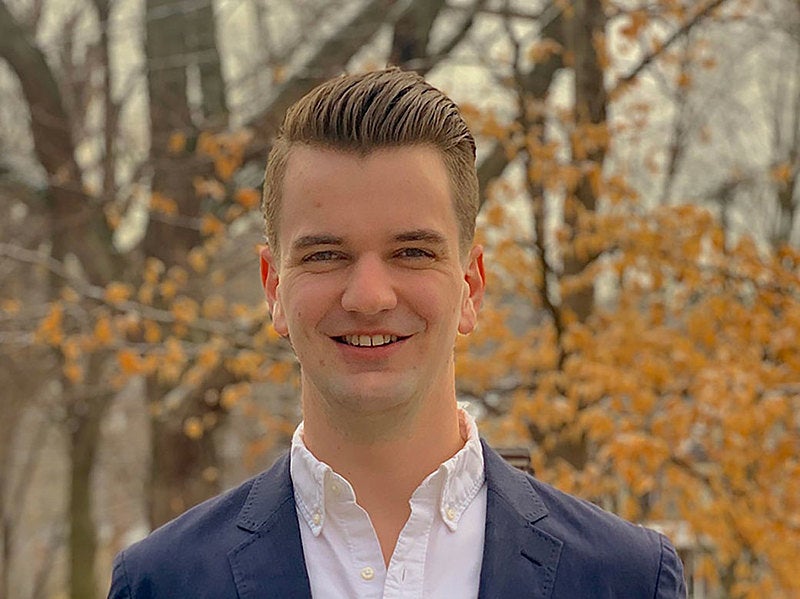 "Biology basically functions using chemistry as its language, so we try to develop tools to understand the ways that cells are talking," he says. "Particularly we look at lipids—fats. They're most frequently thought of in biology as the things that make up the membranes of cells, that hold it all together, but they're also really important signaling molecules—communication tools for the cells."
Bumpus's project focuses on one enzyme—phospholipase D—that makes one kind of lipid—phosphatidic acid—and on developing a method to see when cells are using that lipid to communicate. This work has important implications for disease research since the dysregulation of phospholipase D enzymes is found in infectious diseases, neurodegenerative diseases, and several cancer types.
Bumpus hopes to use his scientific and liberal arts training to further federal policymaking and implementation. "I'd like to be able to help people understand the effects that science has on their daily lives, whether that's the American populace writ large or working in an advisor capacity for policymakers. One of the biggest things I took away from Luther is the ability to communicate really complex topics to fairly general audiences. It's become one of my favorite parts of science. I want a job where I'm able to do that but also have a measurable and direct impact on society."
Bumpus conducted undergraduate research with chemistry professors Olga Michels and Brad Chamberlain. By the time he entered grad school, he says, "I knew what I was doing in a lab and what I was signing up for. I knew that the experiments always come first, that you have to bend to the will of the little cells that you grow. With that expectation came an advantage. I was able to hit the ground running."
Amy Dorman '11 • Eileen R. De Dea Fellow at the University of Minnesota
Amy Dorman packed a lot of living into the eight short years between Luther and her start at the U of M's Humphrey School of Public Affairs, one of the top ten public affairs programs in the country.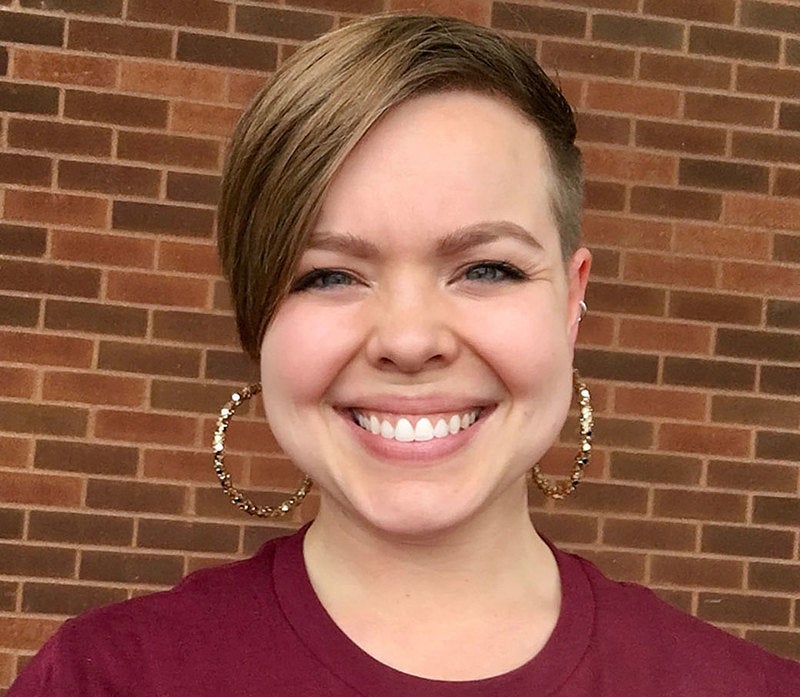 First, Dorman worked for WomenVenture, which provides opportunities and job training for women in the Twins Cities area. Then she moved to LA, where she built a career as a singer-songwriter and worked increasingly as an activist. She was on the board of directors for two nonprofits, started a dance class for survivors of sexual assault, and founded the For Her Concert Series, a female-centric concert series that benefits women in need. Her advocacy work, she says, started ramping up as her patience with the misogyny of the music industry wore thin. "That's when I realized that I had an opportunity to take the next step in a new direction," she says.
Dorman is nearing the end of her first year at the U of M, but the women and gender studies major—who completed her Luther degree in just three years—is continuing at a breakneck speed. She's involved in the Violence Prevention Roundtable in Anoka County (Minn.), and she plans to use this community work as the basis of her PhD thesis proposal. She's also studying domestic violence law in Mexico and Eastern Europe for two Twin Cities–based organizations: Global Rights for Women and Advocates for Human Rights. Dorman has just been certified as a Minnesota state sexual assault crisis counselor, and works as a volunteer violence prevention educator at the U of M's Aurora Center.
Recently, Dorman was one of eight researchers around the nation asked to help update the US Human Rights Network's 2019 Status Report, for which she's focusing specifically on violations in the areas of marriage, family, and children's rights.
Dorman believes her degree will help her bridge the gap between academic research and the practical implementation of public policy. "It's important to be able to apply our theories and make sure that our research has actual impact on the folks who need it most," she says. "That's my general life goal. I would love to be at the forefront of this research and find ways to emphasize prevention policies to eliminate domestic and sexual violence before it starts."
This spring, Dorman's research proposal was accepted by the University of Minnesota. She will be working alongside faculty to research the effects of COVID-19 on domestic violence in Minnesota.
Jason Rude '07 • Social studies teacher at New Hampton Community School, Iowa • Ford Theatre National Oratory Fellow
Jason Rude's fellowship is changing his classroom—and his students—for the better. A seventh- and eighth-grade social studies teacher at New Hampton Community School in Iowa, Rude is in the middle of a five-year Ford's Theatre National Oratory Fellowship, which helps bring public speaking skills to the everyday classroom.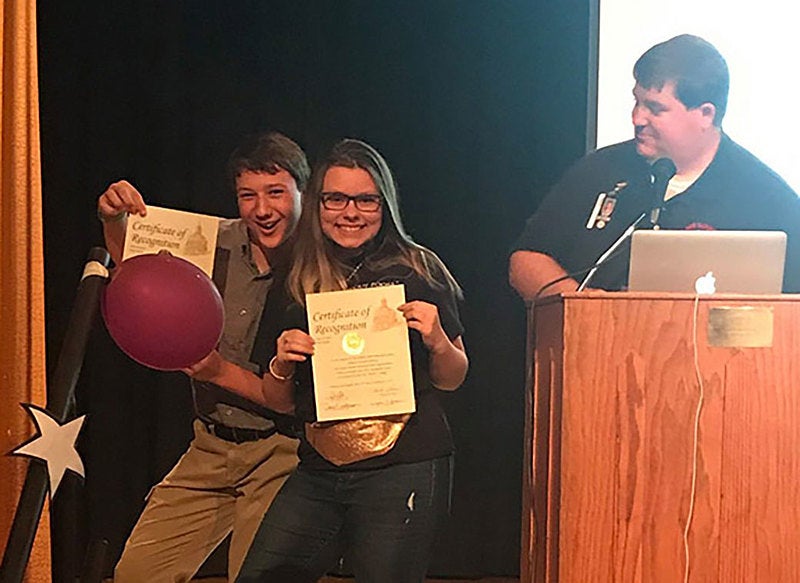 "This has been career-changing professional development," Rude says. "Schools try hard to support us, but there are financial limitations. There aren't a lot of resources out there for social studies teachers at a district or state level." Through his fellowship, however, Rude has access to mentors and a network of peers with whom he talks about pedagogy and best practices.
"The discussions we've had around diversity are unbelievable," he says. "It's done so much for me to talk about hard or complex history topics, like slavery and women's rights. Conversations are usually deep among the fellows, and that translates to the classroom."
The core mission of the National Oratory Fellowship is to promote speaking skills and reasoned argument in the classroom. Rude's students break down famous speeches according to Aristotle's rhetorical triangle, and they take things a step further by writing their own speeches on a social justice topic of their choosing. Once a year, the students who delivered the top speeches in each fellow's class fly out with their teacher to Washington, D.C., where they deliver their practice run on the steps of the Lincoln Memorial to thousands of spectators before delivering them in a celebration of oratory onstage at Ford's Theatre.
Through the work of his fellowship, Rude is seeing higher levels of student engagement, a stronger student-teacher connection, increased interest in history and writing, and better attitudes toward school. Just as important, he's seeing students learn to argue for causes they believe in. From organ donation to suicide prevention to addressing the pay gap between NBA and WNBA players, Rude's helping students find their voice. In the process, he's equipping a whole new generation of activists.