Go west, young designer
by Kate Frentzel
When Sommer Stevens '19 started a thriving interior design and general contracting business in a brand-new city less than a year out of college, it surprised even her. "I always wanted to be an entrepreneur and have my own business someday," Sommer Stevens '19 says, "I just didn't think I would be this young."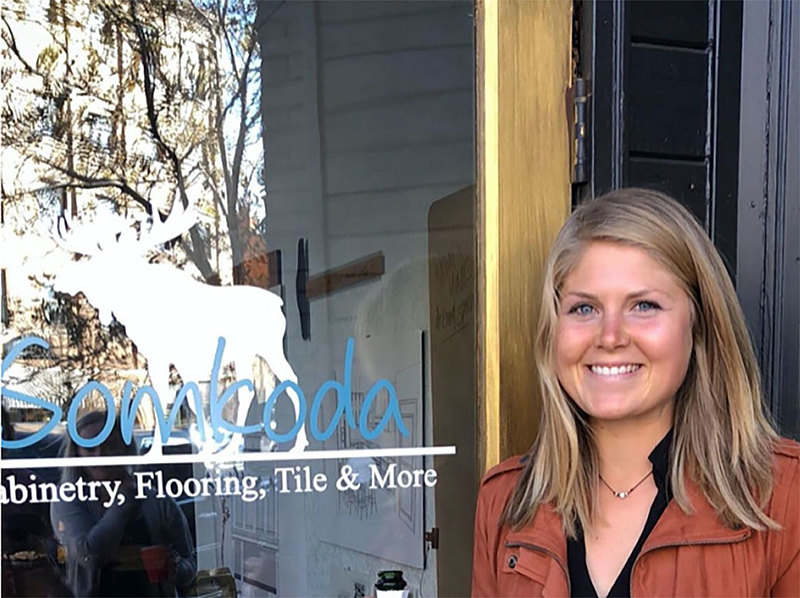 At the start of 2020, Stevens, a management major and art minor who always felt drawn to the West, moved to Laramie, where her boyfriend, Jake Vogt '19, was in law school at the University of Wyoming. She took a retail job and started to get her bearings in her new town.
That March, right before the nationwide COVID shutdown, a former neighbor and mentor came out on a skiing trip with her family. She owned an interior design business, and Stevens had worked for her in high school and college. "My responsibilities there were unique," Stevens says, "because she let me do more than just design—she let me work on the business side of it, so I was doing everything from designing kitchens to marketing and budgeting and accounting work. She let me understand what it takes to run an interior design business." And she encouraged Stevens, who was struggling to find a full-time career in the somewhat insular city, to start a business of her own.
This was just as the pandemic was ramping up, but when Stevens was laid off from her retail job, she decided to take the plunge. Ultimately, she thinks the timing worked in her favor:  "Nobody really knew how to navigate business during COVID. It was like everyone had a reset button, so it was almost a level playing field in a weird way."
Stevens started out repping cabinet, floor, and tile lines and offering complimentary design when customers ordered materials through her. She was nervous at first about the stigma attached to interior design in a rustic place like Laramie. "Laramie is like an old cowboy town," she says. "They're not really fancy people. I was scared to use the words interior designer. I didn't want people to think I'm this fancy person from the city coming in with expensive products that nobody can buy. But I've been finding that Laramie is fancier than I thought!" Now—even as a newcomer and even in an industry that's new to Laramie (Stevens estimates she's one of the city's first interior designers)—she's able to charge for both materials and design, and she's booked well into 2022.
Last September, just a year out of college, she opened her own showroom in downtown Laramie. For people looking to start a business of their own, she has some advice: "It's never going to be the right time. Make educated decisions, but don't let the fear of failing keep you from doing something."
Learn more about Stevens's business at Somkodadesign.com.