Culturally Meaningful Housing Solutions
Mike Goze '75 has a T-shirt that reads, "Native Americans were never homeless before 1492." It speaks volumes about our complicated history in the US, and it has special significance to Goze because of his work to help people of indigenous descent who experience homelessness.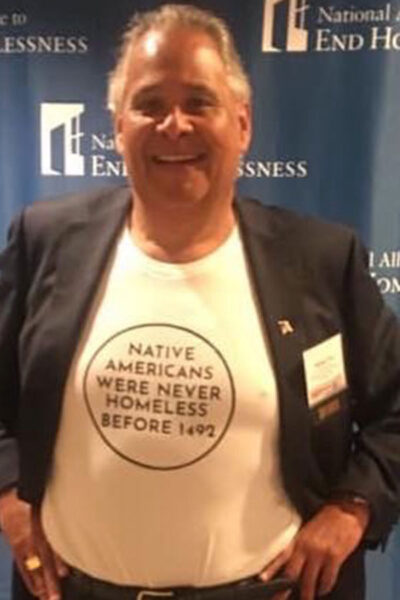 Goze, who studied sociology and speech at Luther, is chief executive officer of the American Indian Community Development Corporation (AICDC) based in Minneapolis. For the last 15 years, his work has helped put AICDC on the map, setting an example of supportive and affordable housing solutions that strengthen Native American communities.
AICDC's Anishinabe Campus demonstrates this innovative, culturally specific approach. It's a three-­residence supportive affordable housing development serving primarily Native American clients. Residents have access to cultural ceremonies and a community sweat lodge, and the staff are mostly Native American.
In addition to the 117-bed Anishinabe Campus, AICDC has six other permanent supportive housing residences, comprising 88 units, as well as permanent supportive housing for elders and families. It also offers withdrawal-management and other services.
"Our clients today are so much more complex than they were even five or 10 years ago," Goze says. "They've experienced so many different levels of trauma. We have a lot of tension regarding race and racism, and the disparities among white and cultural communities have gotten wider."
Goze­—who is of the Ho-Chunk tribe in Wisconsin and whose career has spanned management, real estate, legislative work, and more—has a special passion for housing solutions.
"The homeless piece has always been a focus of mine, having a number of relatives who've had periods of homelessness and despair. Seeing some of them get better and have a productive life really gives me the strength to keep doing the work, which can sometimes be very daunting," he says.
Goze's work relies on relationship-building, and he's a self-proclaimed "builder of ships"—friendships, relationships, partnerships. "I've even built battleships a time or two," he says with a laugh. "There has to be a level of fight in all of us to accomplish the things we want to accomplish."
And he's accomplished a lot. He oversaw the expansion of AICDC and stretched its influence to reach other supportive housing organizations across the country. During the pandemic alone, AICDC provided services to more than 11,600 homeless individuals. In August 2020, AICDC raised $7.7 million to establish Homeward Bound Temporary Living Facility, a 50-bed, 24-hour emergency shelter—the region's first homeless shelter targeted to Native Americans.
"I see light at the end of the tunnel. Is it a long tunnel? Yeah, it is. But I have seen enough progress to believe that, given opportunities and resources, we can make a difference," Goze says.
At the end of the day, his primary measure of success is how he treats people. Goze says, "I try to leave places better than when I got there. The same goes for the people I meet. I try to support people in a way that makes them feel better about themselves."