Creating a Welcoming Culture
A native of the Fairmont area of south central Minnesota, Blake Potthoff '14 felt immediately at home during his high school visit to Luther. When he learned he could continue his football career while majoring in music, he was sold on the Luther experience.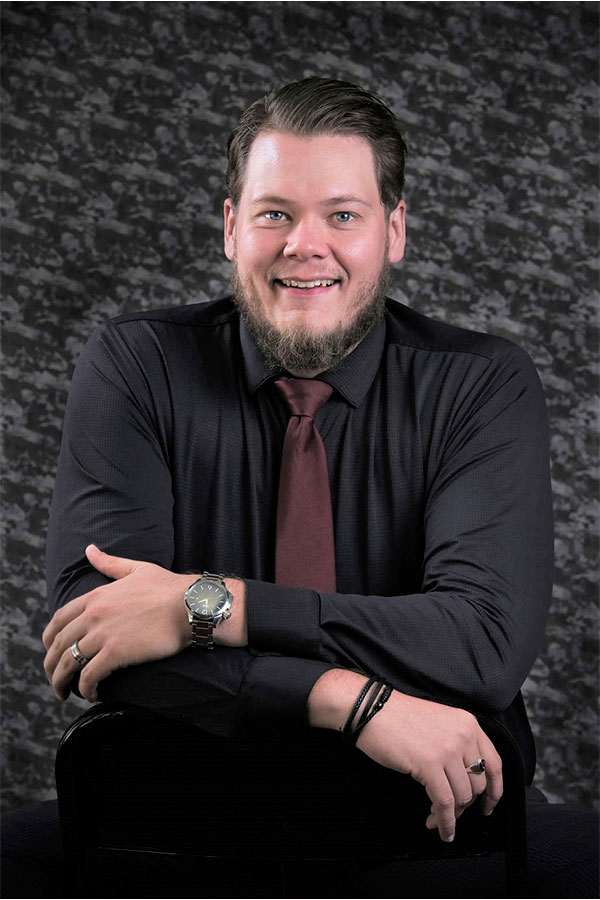 "I was accepted for who I was. I was a kid from rural Minnesota who didn't think I belonged at a place as prestigious as Luther College, but I was repeatedly shown by everyone here that I was a part of the family, and this place felt like home. People at Luther are willing to go the extra mile for everyone. That's what I do now. I go the extra mile to provide experiences for the community they may not otherwise receive," he says.
Potthoff graduated in 2014 with a degree in opera performance and a minor in religious studies. He returned to his hometown, where he worked as the University of Minnesota 4-H program coordinator for Jackson County, in radio sales, and later as a children's therapeutic skills and support counselor.
A performer at heart, Potthoff had been involved in community theater for over a decade when a well-timed Facebook message changed his life. He was asked to unload equipment for a magic show at the Fairmont Opera House (FOH). By the end of the night, he was acting as stage manager. From there, he progressed to technical director and interim executive director. He was officially named executive director in December 2016.
Potthoff has been recognized throughout the region for his impact on the arts, including as an inaugural member of the Martin County 4 Under 40 Award and appointments to the Minnesota Presenters Network Board of Directors (where he served as chair), the Minnesota Theater Alliance Board of Directors, and several other state and regional organizations.
With 15–20 traveling shows and 30–50 total events staged at the FOH and throughout the community, people travel from as far as 60 miles away to see performances. Potthoff believes that having a space like the FOH provides a strong sense of community and culture for the rural area.
"That's the impact of a theatre like ours. We're bringing entertainment that's community-supported through donors, sponsors, and granting organizations to keep it accessible so we can give people cultural experiences," he said.
"People can see things they might not otherwise see, and it's right here in our back yard. We bring people together regardless of background. Once you're through the doors of the Opera House, we're all the same. That's special to me."
Potthoff credits his broad Luther experience with providing the framework to succeed at his dream position. "Some things I found special about Luther were the people, the connections, and the friendships I made," he says. "The lens of service, giving back to the community, and supporting others was important to me. That was a culture I felt at home in."