Coach Dad
by Kate Frentzel
Most Luther coaches care about their athletes as though they were family—and sometimes they are. Right now, Luther has three dads coaching their own sons on Luther teams. We checked in with these fathers and sons to learn about how coaching makes them better fathers, how parenting makes them better coaches, and to get the scoop on what's good and bad about Coach Dad.
GOLF
Scott Fjelstul '83 and Jay Fjelstul '24
Scott has been coaching men's golf at Luther for 34 years. His father, Roger K. Fjelstul '56, was also a Luther golf coach and is the namesake of the college's golf performance center.
Playing golf for his dad was a major driver (hehe, driver—get it?) in Jay's decision to attend Luther. "When I was looking at colleges, I knew that I wanted to play golf. This has been in the family for so long, and it was just a perfect fit," he says. Jay's mom Ann and his brother John, Scott's second-in-command when it comes to coaching, are also heavily involved in supporting the team.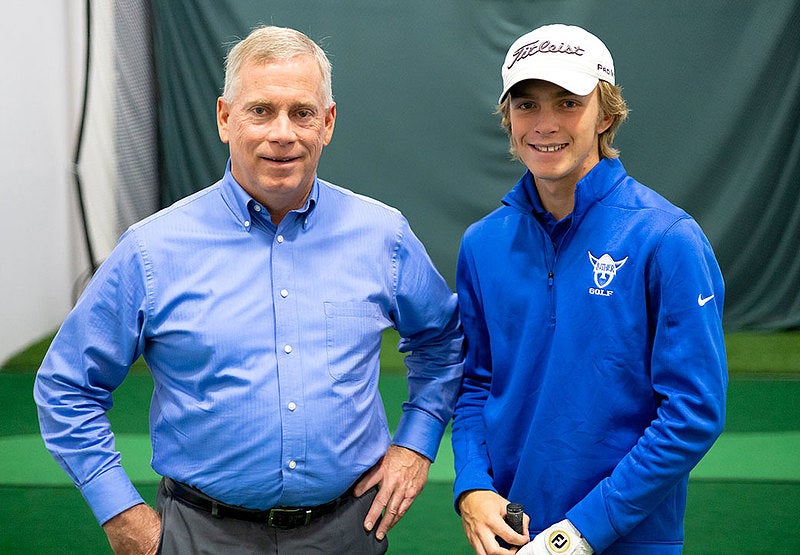 When asked what his son is like as a player, Scott says, "Jay found a passion in golf and works really hard at it. I think there are qualities of athletes that just put 100 percent into everything. Jay has that desire to improve and to be the best he can be. And he works really hard at it. He handles his emotions well, and I think he's just a very nice young man. He's a good representative of our golf team, and a great representative of our family."
And Jay's impressions of Dad? "He just has such a passion and care for everyone on the team, and I hope that most of the guys appreciate what he does. There's a lot of stuff behind the scenes—people don't really understand how much he does. And he will do everything in his power to help us improve. He is just—he's the man. He's the man."
Asked whether his coaching and parenting have influenced each other, Scott says, "As a parent, you want the best for your children and you try to guide them and help them make good decisions. And that's what a coach does for four years of coaching and mentoring our athletes here at Luther.
The guys are 12 more sons of mine, and college students go through ups and downs in life, and we try to help and guide them and lead them and explain about making good decisions."
He continues, "I think the guys see my love for Jay. But I have a love for all my guys on the team and a passion for all my guys. So I don't think [the way I coach] has changed, but I think it's added to it."
BASKETBALL
Mark Franzen and Matthew Franzen '24
Growing up with a dad who's coached at Luther for the past 16 years, Matthew says, was pretty cool: "It was something I really looked up to, just being around the guys, being able to sit here at practices and soak everything up and learn a lot from them. It's been a really cool experience."
While Matthew considered all options when deciding where to go to college, Luther rose to the top. "I grew up in Decorah, I love the place, I love the community, I love the college, and getting to play for my dad has been a dream," he says. (Matthew's mom and Mark's wife, Kris Franzen, also works at Luther, as assistant dean for student engagement and director of residence life.)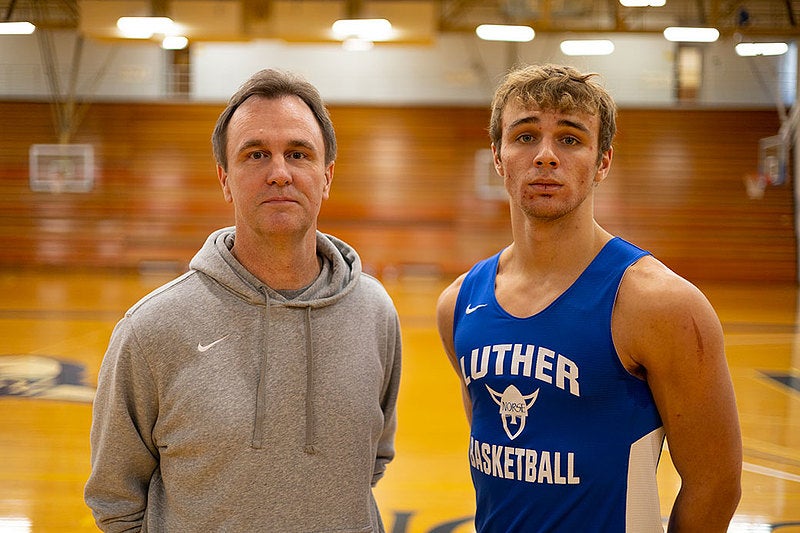 Mark and Matthew keep a pretty strict boundary between home life and court life. Mark says, "We've got our family line and we've got the basketball line. We look at athletics as a separate entity, as something we do. It's an activity that we can learn a lot from in terms of our core principles, but it's separate from family."
Anyone who's played for Mark can name those four core principles, but for the uninitiated, Mark explains: "We try to make progress in honesty, humility, accountability, and communication. And we use those four principles year-round." In any situation, Mark says, he asks his athletes "to step back and think: Are we accountable? Have we shown humility? Are we honest? And do we communicate? That's our foundation as we move forward."
It turns out that Mark's principles apply to family life too. "In fact, our team just had that conversation today," he says. "It's like, you know, if some of you guys end up having a family someday, think about these four areas in some of these situations and they can serve you there as well."
WRESTLING
Dave Mitchell, Isaiah Mitchell '22, and Elijah Mitchell '24
The Mitchell family breaks the father-son coach-athlete continuum. Dave, who's been coaching at Luther for 26 years, is also a Luther math professor who's taught his kids in class AND he has not one but two sons on the wrestling team. On top of this, senior Isaiah and sophomore Elijah compete in the same weight class.
Dave is thrilled that both of his sons enjoy wrestling. "I know the value of what the sport adds to people's lives," he says. "I grew up on a farm in Iowa, and you learn a lot of tenacity and hard work, but we don't have the same opportunities with the boys to instill some of those values in that same way. And I really view wrestling as a way to do that. When they decided they wanted to wrestle in college, it was awesome."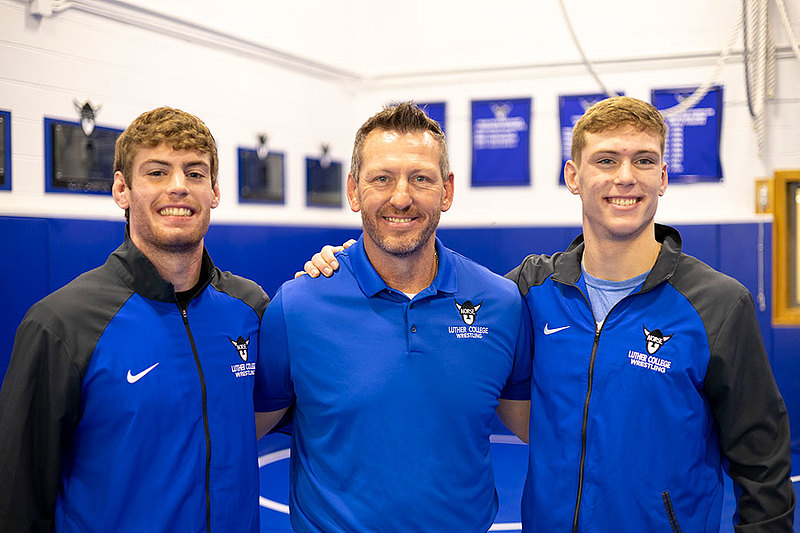 The Mitchell excitement extends both ways. Elijah says, "He's been my favorite coach, even though he's my dad. He can really get kids to buy into his program—and for great reason. I mean, he's had a reputation over decades of how greatness can be achieved, but also the way he interacts with his students or his athletes. He sees them as people first—kind of with us—he sees them as people trying to grow. And wrestling is a great platform for that. And of course, he wants everyone to be the best that they can be, and he wants to produce national champions and All-Americans. But he's making them better people on the way."
And the downsides to having Dad as coach? "Dad knows our full potential all the time," Isaiah says. "I mean, he's raised me, so he knows when I'm not trying or when I'm not giving my best effort. And maybe not initially sometimes, but I'll know afterward if I wasn't giving my full effort at practice, and he'll be straight up and tell me."
Elijah has a more pragmatic response: "Maybe the only downside would be, especially in wrestling, he can see what we eat all the time." The trio laughs.
As an assistant professor of math, Dave has taught Isaiah and one of his two daughters, Cecilia '18 and Olivia (Mitchell) Paulsrud '16. He's also taught hundreds of his athletes over the decades. Early on, Dave says, it's a bit of a dance: "Maybe the wrestlers in the first few days or the first week of class might be trying to get a sense of: What's this relationship going to be? But it's quickly transformed into: Hey, this is a normal classroom setting. And this guy cares about me as a student just like he cares about every other student in the classroom." One big perk of the setup is that Dave is able to give athletes in his class a lot of help, at the weekly study tables the team holds or on the bus on the way to competitions.
Do Isaiah and Elijah get guff about their dad as a teacher? Elijah admits, "The one complaint I have heard is his handwriting," which Dave amiably concedes is not the neatest.
With Isaiah set to graduate in the spring, the pinnacle of the Mitchell family coach-athlete-professor-student trajectory—which has also involved the rest of the family, including supportive wife and mom Bridgette—will soon be in the rearview. But for now, Dave says, "It's definitely been a family venture from the beginning and still is."