Building better communities
by Kate Frentzel
Sam Yamoah '04 wants to leave each community he lives in better off than he found it. As he's traced a path through the world, he's left in his wake a history of high-impact service.
Growing up in Liberia during the civil war in the late 1980s, he says, really shaped this ethic: "I experienced a great deal of service from others, whether it was the Red Cross, the UN, or just families supporting families. I felt a sense of caring and people looking after each other. The true aspects of humanity come to life in some of the most challenging and stressful times."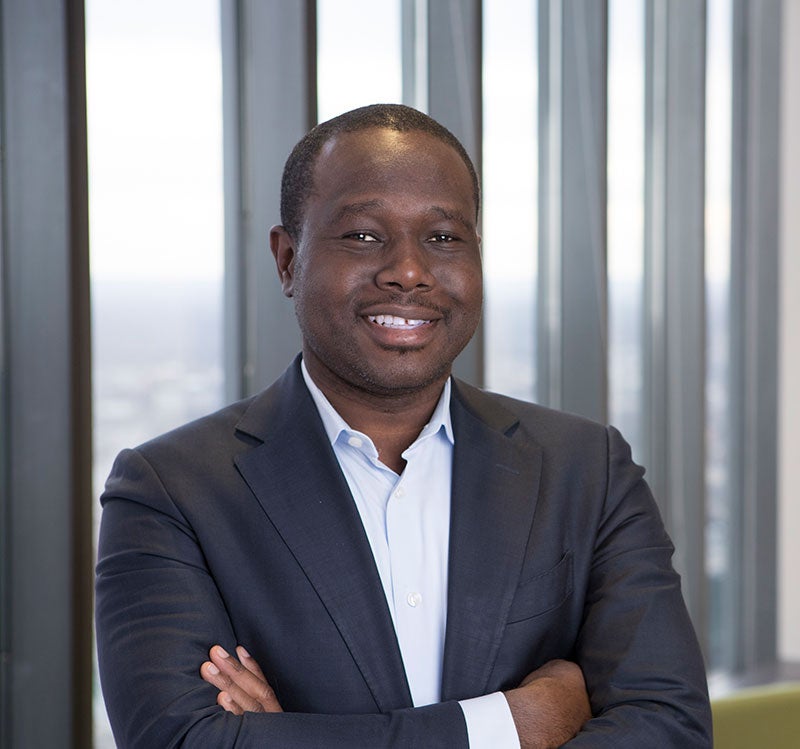 Yamoah's father was a teacher at an African American mission who counseled child soldiers who had laid down their arms. "Some of my most rewarding experiences were getting to go with him as a young kid to see that happen," Yamoah says. "I found that he didn't need money to be of service to others. And when I made my way to Luther, Luther as an institution pushes service as well. That resonated with me."
As a Luther student, Yamoah knew he wanted to bridge the gap between business and technology. He saw a growing need for this work in the healthcare space. He got his feet wet at McKesson in Dubuque, Iowa, and soon set his sights on working in strategy and consulting. After earning a graduate degree from the University of Chicago Booth School of Business, he became a consultant at McKinsey and Company in the Twin Cities, where he helps clients in the healthcare industry address strategy and operations challenges.*
In Dubuque, Yamoah served as a board member with the American Red Cross of the Tri-States and the Dubuque Rescue Mission. He was instrumental in building a housing program helping men transition permanently out of homelessness.
Over the past few years, Yamoah's been increasingly involved in closing disparity gaps. He's the healthcare leader for McKinsey's Institute for Black Economic Mobility, dedicated to advancing racial equity and inclusive growth globally. He's also invested in working toward health equity across racial, gender, socioeconomic, geographic, and other lines, which is why he joined the board of the American Heart Association in the Twin Cities. In the US, heart disease disproportionately affects people along racial and other lines, and the AHA is heavily committed to addressing these gaps.
The pandemic has underscored the profound health disparities in this country, and during this time, Yamoah has been coauthoring reports, conducting outreach, and leveraging his relationships with healthcare providers to amplify awareness.
"My mission is to make sure that people can live purposeful and healthy lives," Yamoah says. "So I continue to see my role as an advocate for closing health disparity gaps, often linked to socioeconomic factors. Food, jobs, housing, education, transportation. If we want people to live purposeful lives, those are the issues that are going to matter to me, and I'm going to continue to see how we can put practical solutions in place."
*Since this article was written, Yamoah has taken a senior leadership position as chief strategy and innovation officer at Cambia Health Solutions in Portland, Ore.