Heather Armstrong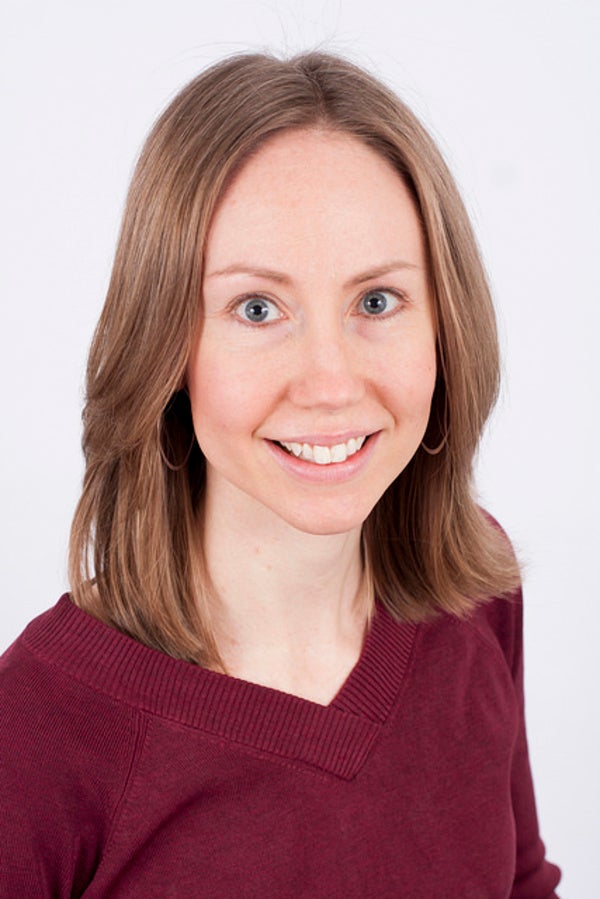 Professor of Music
Co-Head of Music Department
Oboe
Biography
Education: D.M.A., Oboe Performance and Literature, Eastman School of Music; M.M., Oboe Performance and Literature, Eastman School of Music; B.M., Oboe Performance, Houghton College
Heather Armstrong is Professor of Oboe, Double Reed Methods, and Theory at Luther College. She is the principal oboist of Waterloo-Cedar Falls Symphony and is a founding member of the Talus Trio, a Luther College faculty woodwind trio that has performed around the Midwest. In the summer she serves on the faculty of Luther's Dorian Summer Music Camps for middle school and high school students.
Heather is enthusiastic about collaborating with living composers and performing their music. She has received grants from the Hanson Institute of American Music and Luther College's Ylvisaker Endowment for Faculty Growth to support the commissioning and performing of new pieces. She regularly performs with the Iowa Composers Forum (ICF), and recently participated in an ICF project that took new music outside its usual home in the concert hall and presented it in smaller venues – at the Porter House Museum in Decorah, Iowa, and at the Figge Art Museum in Davenport, IA. Heather premiered Cast Me Away, a piece for oboe and percussion by Sun Mi Ro, at the International Double Reed Conference in Provo, UT, and in 2014 she collaborated with composer Brooke Joyce and the Waterloo-Cedar Falls Symphony to premiere Brooke's oboe concerto Une Cité Moderne. She performed the concerto during the IDRS conference at Lawrence University in June 2017.
Armstrong received her Doctor of Musical Arts and Master of Music degrees from the Eastman School of Music, where she studied with Richard Killmer, who remains a great inspiration. She received her Bachelor of Music degree from Houghton College and has also studied at the Banff Centre and the Chautauqua Institution. Before teaching at Luther College she held teaching positions at Houghton College, Hochstein School of Music and Dance, Roberts Wesleyan College, and Eastman Community Music School. She has performed with the La Crosse Symphony, Dubuque Symphony, Erie Philharmonic, and Binghamton Philharmonic, and has appeared in solo and chamber music recitals throughout the country, most recently at the Rochester Chamber Music Society, Cedar Valley Chamber Music Festival, Lutheran Summer Music, University of Nebraska-Lincoln, University of Iowa, Augsburg College, the University of Northern Iowa, and Winona State University.
Heather's interest in the Alexander Technique and Body Mapping informs her oboe teaching and has inspired her to attend workshops throughout the country and to organize workshops in AT and Body Mapping for students at Luther. She believes the pursuit of musical excellence in a liberal arts environment like Luther College helps to shape well rounded musicians who are prepared to create connections between their music making and the communities with whom they share their music.
MUS 130, 230, 330, 430 Applied Music- Oboe
For music majors in varied years of study. Non-majors and music majors in their secondary areas may register for these courses with consent of instructor. Studio seminars may be required. Additional fees will be assessed for these courses.
MUS 121 Theory I
An intensive study of music fundamentals and materials followed by an introduction to part writing in two voices (counterpoint). Activities include written exercises, keyboard exercises, composition exercises, and the analysis of musical examples. Music 131 is the honors section of Theory 1.
MUS 122 Theory II
A continuation of Theory I. Covers part-writing in four voices, harmonic function, phrase structure, sequences, the harmonization of melodies and basses, and an introduction to chromatic harmony. Activities include written exercises, keyboard exercises, composition exercises, and the analysis of musical examples. Music 132 is the honors section for Theory II.
MUED 265 Double Reeds Methods
Methods and materials of teaching double reed instruments to elementary and secondary students. Includes knowledge of and proficiency on double reed instruments, pedagogy, materials, assessment and grading for individual and small group studio lessons. Required for instrumental music licensure.
Eastman School of Music, Rochester, N.Y.
DMA, Oboe Performance and Literature: 2006
Eastman School of Music, Rochester, N.Y.
MM, Oboe Performance and Literature: 2001
Houghton College, Houghton, N.Y.
BM, Oboe Performance, summa cum laude, co-salutatorian: 1999
Primary Teachers
Eastman School of Music: Richard Killmer
Houghton College: Anna Hendrickson, Rachel Smith, Emily Agnew