Contact Information
Office of Alumni Relations
Loyalty Hall
Luther College
700 College Drive
Decorah, Iowa 52101
alumni@luther.edu
Phone: 563-387-1164
Fax: 563-387-1322
Summer Nordic Studies Institute
Luther College's Nordic Studies Institute consists of an 8-hour "short course" spread over three days, and supplemental activities that highlight various aspects of Nordic culture, including music, food, the arts, and the outdoor environment.
The second annual Nordic Studies Institute will be held on the Luther campus Tuesday, July 25–Thursday, July 27. Participants can extend their stay to enjoy Decorah's famous Nordic Fest, held Thursday, July 27–Saturday, July 29.
2023 Short Courses 
1. Rosemaling with Sally Stromseth – CLASS IS FULL
Rosemaling is the decorative painting of Norway. It is made up of C shapes and S shapes with stylized flowers and scrolls painted with blended colors and fine lines on a plain background. The style that will be taught in this class will be the Rogaland Style, which comes from the Southwestern coastal region of Norway. The Rogaland Style is symmetrical in design with blended colors. We will be painting in oils using very small brushes. Practice will begin on a background poster board with hopes of completing a Norsk Blue wooden piece before the class ends. (Maximum enrollment of 12).
2. Sami Bracelet Making with Norma Refsal '77 – CLASS IS FULL
Using traditional materials of the Sami people, including reindeer leather, pewter thread (lead free, 4% silver) and a reindeer antler button, you will create an iconic bracelet familiar and beloved by so many people. The indigenous Sami people (formerly referred to as Laplanders) live in the circum-polar region of the world in northern Norway, Sweden, Finland and the Kola Peninsula of Russia. Reindeer are an integral part of Sami life, both present and past, with many Sami people continuing to own and manage their own herds. Climate change is having an impact on their lives in this fragile part of the world, and we join with them in solidarity to create an environment that will preserve both their traditional ways of life and the animals they depend on. The bracelets will be made to fit each student and you will leave the class with a lovely finished piece of jewelry. (Maximum enrollment of 12).
3. A Taste of Norway:  Making Lefse, Krumkake, and Rosettes with Birgitta Meade '84 – 5 SPACES LEFT
Practice every step of the process of making these three classic Norwegian treats from ingredient selection, to cooking, to storage and  presentation. (Maximum enrollment of 12)
4. Flat-plane Woodcarving with James Miller '19 – 5 SPACES LEFT
For centuries, working with wood has been an integral part of Nordic society. From menacing Viking longships to daintily detailed ironing boards (
mangletre
), the products of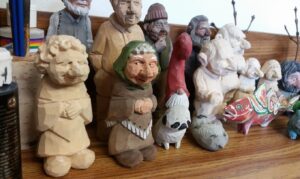 woodcarving have served both practical and decorative purposes. One of the handcraft remnants of woodcarving's impressive Nordic history manifests itself in a deceptively minimalistic style of figure carving now known as flat-plane carving. Together, we will focus our efforts on this style of carving, and each student will have the opportunity to create a 3-dimensional Nordic figure from start to finish using just a carving knife. (Maximum enrollment of 12).
Optional Evening Activity:
Scandinavian Sounds – learn and sing!   with Mark Potvin '01
Choral music traditions in the upper Midwest are indelibly linked to the musical heritage of Nordic immigrants. Among the subcultures within American choral music, the most influential and long-lasting may well be the one founded and guided by Norwegian conductor and composer F. Melius Christiansen. Christiansen's reach in this part of the choral world is pervasive. Participants will learn about the "Lutheran Choral Tradition" and engage in singing at a level suitable for folks of all interest and ability levels.
Registration
To register go here and click on the blue "Register Now" button.  Click that, and then you will be asked to set up an account in Iris to complete the registration. Please use a credit card and not PayPal, as Luther does not have PayPal capability.
More Information
Sally Stromseth was first introduced to rosemaling at Nordic Fest in 1981, when Bergljot Lunde was the demonstrating artist from Norway. Sally says that everything about her painting fulfilled a need she had for artistic expression. She has taught rosemaling in adult education, Elderhostel, at Vesterheim, and occasional private lessons in her home. Sally lives on a farm north of Decorah. She retired from Decorah Public Library after having served 20 years as children's librarian.
Norma Refsal developed a passion for metalsmithing began when her family lived in Telemark, Norway, in the late 1980s. After gaining experience, she began creating jewelry for the twenty-first century based on traditional Scandinavian-inspired, or neo-Nordic, designs. She creates jewelry for daily wear out of silver, leather, wood, and enamel, finding the simplicity of the design to be both timeless and elegant. 
Birgitta Meade '84 is a rural Decorah resident who was taught to make traditional Norwegian foods by her great aunts. She teaches environmental education at Luther and is offering this course with the support of the college's fabulous culinary team.
James Miller '19
James's fascination with carving began at age 11 when he decided to explore the spontaneous and simple joy of creating 3-dimensional figures in wood. Soon after, his skills were honed by a supportive Community Education woodcarving group, where he discovered the Scandinavian style figure carving. Since then, this journey has led James to create hundreds of carvings, teach classes online and in-person, create instructional articles, books, and videos, and even travel to Norway.
Mark Potvin '01  is conductor of Cathedral Choir and Norskkor at Luther. He teaches conducting, secondary choral methods, musical theatre, and assists in the supervision of student teachers. He is actively involved with the award-winning productions of Christmas at Luther as a member of the artistic team, technical director, and primary drama coach. 
Schedule Overview
Tuesday, July 25
Late morning – Check-in at Dahl Centennial Union; lunch on your own.
Courses will meet from 1 to 4:15 pm
Group picnic at 5 pm

Optional evening activity: Scandinavian Sounds – learn and sing! Led by Professor Mark Potvin '01. Explore how Nordic voices shaped the Lutheran choral tradition in the upper Midwest.
Wednesday, July 26
Breakfast in the Cafeteria.
"Friluftsliv" – optional morning walk.
Courses meet from 9 am to noon.
After lunch in the cafeteria, two optional activities:
1:30 guided tour of Vesterheim Museum.
3:30 group happy hour 
Dinner in the cafeteria.
7 p.m. Optional evening activity: Scandinavian Sounds – learn and sing!
Thursday, July 27
Breakfast in cafeteria
"Friluftsliv" – optional morning walk
Courses meet from 9 to 12 noon.
Closing session -Program evaluation and remarks by Professor Maren Johnson on how Nordic Studies enhances the mission of Luther College.
For those staying on, the Nordic Fest Opening Ceremonies begin at 6:45 pm in front of Decorah's courthouse.   
Full Resident Bundle (housing, meals, course fee and materials): $395 per person (single or double occupancy)
No Housing Bundle (meals and course fee, no housing): $325 per person
If you have a spouse, partner or child that will be accompanying you, but not participating in the Nordic Institute, housing is available for a fee of $75 per person. Meals are not included. Adults are invited to participate in all of the optional activities listed in the schedule.
Cancellation/Refund Policy
Prior to July 1 – $50 administrative fee
July 1 or after – $100 administrative fee
Farwell Residence Hall provides air-conditioned rooms with spartan furniture, including basic twin beds. Linens are provided, but you may want to bring your own pillow, an extra blanket, fan, and a reading light. Bathrooms are shared.
Those who wish to extend their stay for Nordic Fest can indicate that upon registration. The cost will be $37 per night for a single room; $34 for a double. The Luther cafeteria is not open during Nordic Fest but there are plenty of eateries downtown.
Contact Information
Office of Alumni Relations
Loyalty Hall
Luther College
700 College Drive
Decorah, Iowa 52101
alumni@luther.edu
Phone: 563-387-1164
Fax: 563-387-1322